GROW – Midlands Region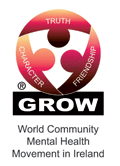 Address

Bolger House Patrick Street Tullamore Offaly R35 K0V8

Open Times

Monday: 9:00 am ‐ 5:00 pm

Tuesday: 9:00 am ‐ 5:00 pm

Wednesday: 9:00 am ‐ 5:00 pm

Thursday: 9:00 am ‐ 5:00 pm

Friday: 9:00 am ‐ 5:00 pm

Saturday: 12:53 pm ‐ 12:53 pm

Sunday: 12:53 pm ‐ 12:53 pm

Email

Website

Office Number
Description
GROW is a national community based organisation providing support and education around emotional and mental wellbeing
How does your service help people?
GROW's weekly support meetings offer members a practical path out of mental and emotional issues. The program empowers members to construct their own recovery plan and journey towards personal growth
Who does your service help?
A GROW meeting is not exclusively for those who are seriously ill or have a diagnosis of a mental illness. If someone is struggling with work, anxiety, depression, relationships, or everyday stressors in their life, a GROW meeting can help you find the resources you need to manage your overall well-being.
How can people access your service?
You do not have to wait to be referred you can come to a meeting at any time. A full list of meetings, times and venues can be found on GROW's website. There is no application or assessment form to be completed.
Our work is supported by