My experience working in retail during the COVID-19 pandemic
Caitlin talks about her sense of responsibility to customers and to the health of those around her
Written by Caitlin Grant
Voices - Experiences
Young people share their personal experiences.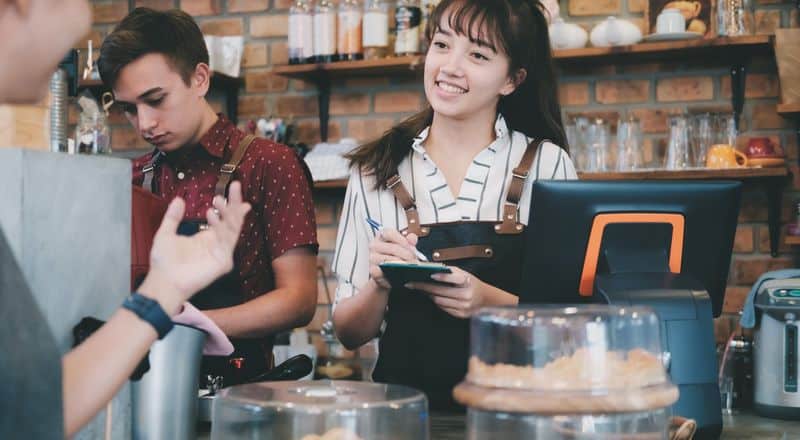 Almost two years ago, I started working in retail. It took me a while to adapt to it and to be honest I did find it difficult getting used to less free time and not being able to do everything I wanted. When the universities had announced they were closing due to COVID-19/ Coronavirus, I was grateful that I would still have that structure in my life and to be able to help people have access to groceries.
Greater risks
However, before I left to go to work, my parents pulled me aside and said they'd prefer if I didn't go. I was angry because I wanted to play my part in helping people. I was sad too because I knew it would help my own mental health by getting out of the house and doing something productive. It made sense for me to social distance though. My parents have both suffered from illnesses that have made them vulnerable and couldn't risk me bringing the virus into the house. At the time we didn't have masks, gloves, protective barriers or distance markings.
It was a difficult situation for me because while I didn't want to put my family at risk I also felt responsible for my job. I walked across to the shop anyway and had a chat with my manager about the situation I was in. I'm not going to lie, it was fairly emotional. She was very understanding and expressed that she can't get annoyed at people for not being able to work at that stage, that you should put your health first. What a relief. I told her if I could do anything that would allow me to social distance I would be up for it.
Being at home all the time
Not working, not having university or a social life is so strange. I'm one of the busiest people I know and most days I wouldn't have time to think. All at once everything stopped and it was like learning how to relax again. I did feel quite anxious because I was so used to doing things all the time so when I stopped I kept thinking I was forgetting to do something. In a way this was great because I was able to take care of myself, but the cabin fever was beginning to kick in.
About two weeks later, my manager called me to let me know they had launched a delivery service and there would be an opportunity for me to work in the storage room, getting the deliveries ready, doing some admin work and organising the products. She reassured me I could do it alone and it would be away from staff and customers. I was so excited. I had started feeling weird being in my house most of the day. However, going back to work was really strange. I hadn't been in since before the pandemic and so many changes had happened. All the staff were wearing masks and gloves. The glass shields had been put in place at the tills and the floor was marked to ensure social distancing. As a few others had left there was now a lot more pressure on the remaining staff and they all looked exhausted. It's incredible how quickly an environment can change.
Be open with your boss
I feel safe and supported now that I can work and protect my family at the same time. I'm happy that I was honest with my manager about how I felt and so grateful for new opportunities that have developed to adapt during this difficult time. It's understandable to feel anxious when we're put in a position where it increases our chances of becoming sick.
If you're in a similar situation, my advice would be to communicate how you're feeling with your manager or someone you feel comfortable with so you can work out a plan to make you feel safe. Offer any skills you have that could be useful to your workplace because they could be helpful in adapting to the situation. Keep in mind that your health, and the health of those around you, is the most important and should be prioritised.
Our work is supported by