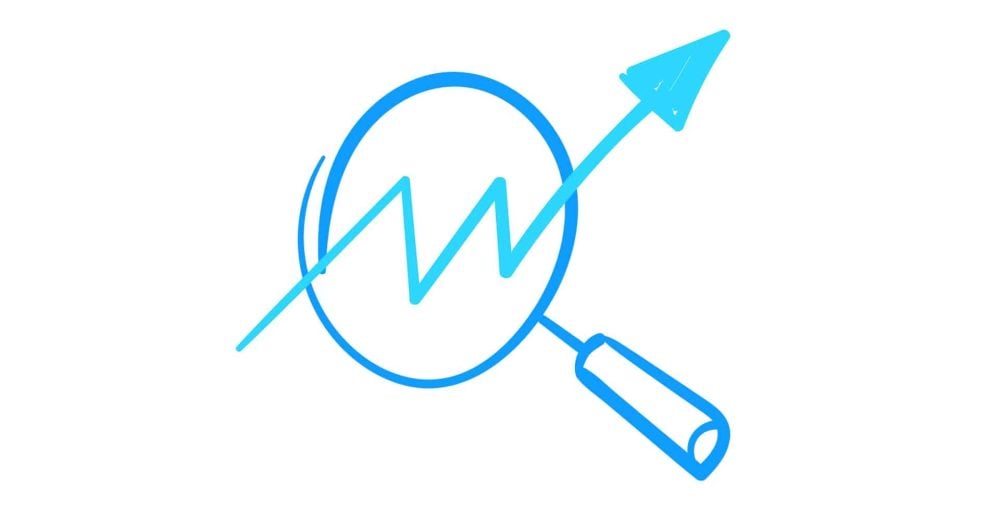 Everything you should know about us
At spunout, we believe in being transparent and accountable to our readers, texters, donors, funders and the public. This page aims to present the facts and figures behind our activities in a clear, readable format.
If you have any queries about any of the below you can contact us at [email protected] or by phone on (01) 675 3554 and we'll get back to you as quickly as we can.
Our Vision
An Ireland where all young people are empowered and supported to thrive.
Our Mission
Our mission is to work collaboratively with young people to support our mental health and wellbeing. We do this by creating evidence-based, person-centred digital solutions and safe, validating support spaces.
Our Values
Empathy
We believe in the importance of fostering and practising empathy in all of our interactions. By putting ourselves in the shoes of another, we hope to learn and seek to understand their thoughts, feelings and perspectives. We aim to create a safe and supportive environment where young people feel heard, understood, validated, and supported.
Compassion
While empathy helps us to understand, compassion motivates us to enact change. Through compassion we seek to alleviate the suffering of others and be sensitive to everyone's unique needs and circumstances.
Equity
Through representation and inclusion we are all invited to the table; through equality we are provided for equally; but it is only through equity that we acknowledge that people need to be provided for differently in order to achieve a just world. We are committed to an Ireland of equity. We recognise the systemic barriers that young people may face in accessing mental health support and aim to provide accessible services for all.
Expertise
We believe in providing evidence-based, high-quality services for young people. We are committed to staying up-to-date with the latest research, trends, and best practices in mental health and youth issues. We take pride in the level of expertise that we bring to our work.
Innovation
We embrace innovation by actively seeking out new and creative ways to approach mental health challenges in the digital landscape. We recognise that the field of mental health and technology is constantly evolving, and we strive to stay ahead of the curve by exploring new technologies, methods and interventions.
Our legal structure
spunout is a non-profit organisation. Our legal entity is Community Creations which is a Company Limited by Guarantee and a Registered Charity. Our Company Registration Number is 384783. Our Charity Registration number is 20057923.
Our Board of Directors
spunout is governed by a Board of Directors made up of experts with a range of experience in law, health, public relations, technology, finance, strategy and youth affairs. Two members of our Board are young volunteers nominated by the spunout Youth Action Panel. Directors serve on a voluntary basis with no remuneration and no Board expenses were claimed in 2022.
The current Chairperson of spunout is Tara Doyle who was appointed in March 2022. You can find a list of our current board members here.
The work of our Board of Directors is supported by three sub committees: Audit, Finance and Fundraising; Governance, Strategy and Risk; and People, Quality and Safety.
spunout Youth Action Panel
The spunout Action Panel is a group of 100+ young people from all over Ireland who play a pivotal role in our governance structure and ensure our service and message stay relevant to the people we serve.
You can find more information on the Action Panel and a list of our current Action Panel members here.
Our Governance
Our Board of Directors and executive team are fully committed to ensuring the highest standards in corporate governance. Our Company Constitution is available here and our Charities Regulator information can be accessed here.
Compliance with the Charities Regulatory Authority Governance Code
The Charities Governance Code outlines the minimum standards charities should meet in order to effectively manage and control their charity.
spunout has reported full compliance with the Charities Regulatory Authority Governance Code in Ireland. Our most recent annual declaration of compliance was on 27 October 2022.
Our Strategic Plan
The Board is currently finalising a new corporate strategic plan to guide the organisation through the period 2023-2026.
Our previous strategic plan can be viewed here. In light of the pandemic, the Board approved an extension of the life of this strategy to the end of 2022.
Our Finances in 2022
In 2022, we spent €2,624,829 out of a total income of €2,549,652.
The increase of income during 2022 can be attributed to a number of additional projects and grants awarded to the spunout and 50808 services. Overall, the largest part of our spending was on staff-related costs.
Annual Report and Financial Statements
We've provided our Annual Report for 2022, including our audited Director's Report and Financial Statements, to the Companies Registration Office and the Charities Regulator. You can download a copy of our latest Annual Report here.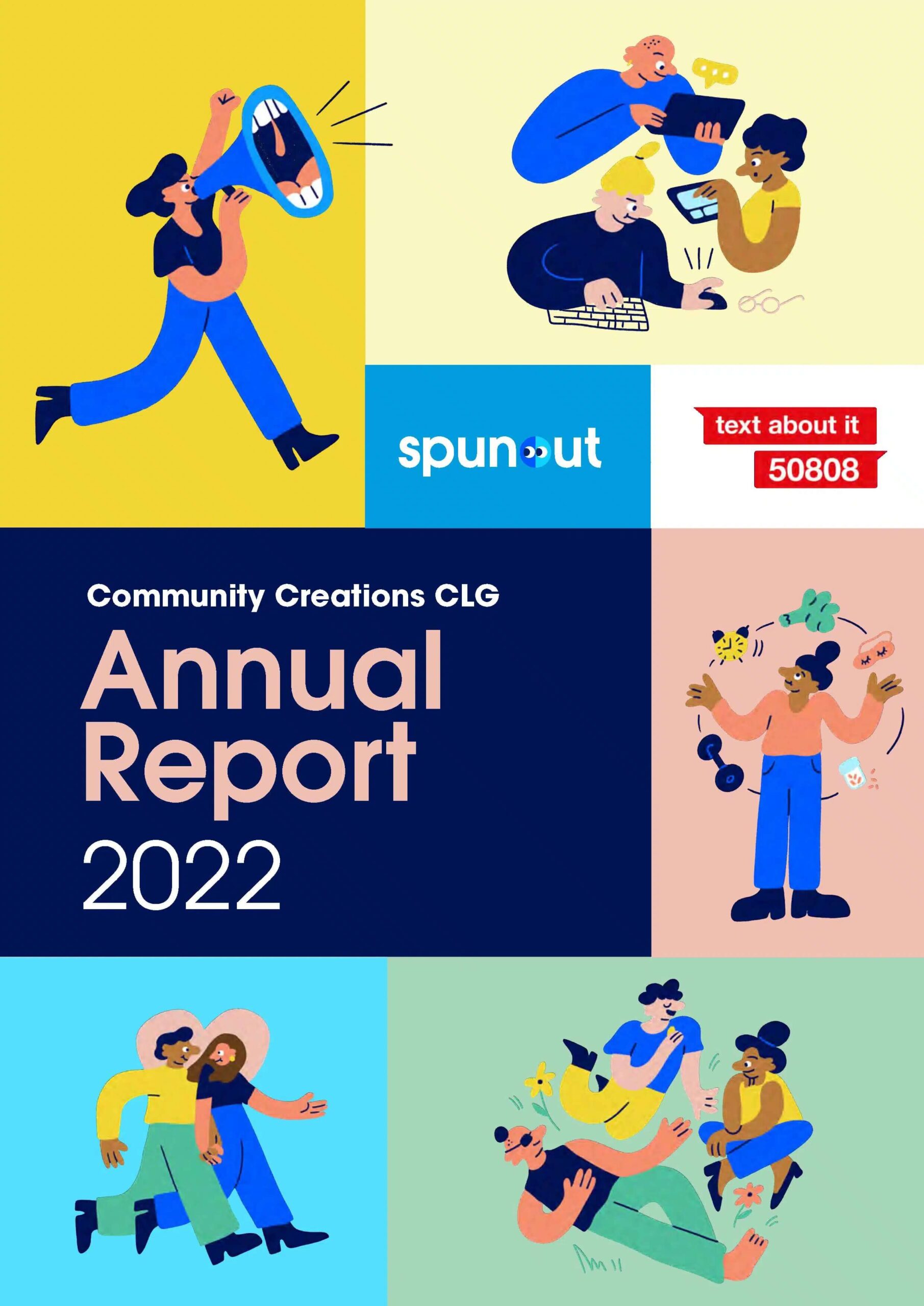 Triple Lock Standard
We are a triple-locked member of the Charities Institute Ireland. This means we are committed to best practice in transparency, accounting, fundraising and governance.
As part of meeting the standards of the Triple Lock, our Board of Directors has signed up to the Guidelines for Charitable Organisations on Fundraising from the Public. We are also in full compliance with the Charity SORP in our accounting, and have been working hard to ensure we always meet the standards of the CRA Governance Code.
SORP
The Charities Statement of Recommended Practice (SORP) is a set of best practice guidelines for how charities should prepare their annual accounts and report their finances. Compliance with the SORP obliges a charity to provide a very high level of information about its operations and to prioritise transparency and accountability in its financial management. spunout is among the 10% of charities in Ireland preparing their accounts using SORP.
Our Fundraising Principles
A signed copy of our Statement of Guiding Principle of Fundraising can be viewed here.
We have produced a Donor Charter outlining our commitment to users, donors and funders, which can be read here.
Management Remuneration
Our highest earning member of staff is our CEO, who was paid €76,095 in 2022.
No full-time employee was paid less than €30,000 per annum. You can find out more about our current staff members here.
Our Funders
Our main funders in 2022 were:
The Health Service Executive (HSE) which has funded our work through a Section 39 grant every year since our foundation
The Department of Children, Equality, Disability, Integration and Youth through;

Youth Services Grant Scheme
Youth Climate Justice Scheme
Youth Funding Capital Grant Programme
Youth Information Centre Scheme

The Department of Health through the Sláintecare Integration Fund
Rethink Ireland through the Innovate Together Fund
Community Foundation Ireland through the COVID-19 Fund
Pobal through the Scheme to Support National Organisation
Our Partners
Throughout 2022, we were honoured to be chosen as the charity partner of Schuh, 48, and the Ireland Inc. Digital and Innovation Summit. All our partnership decisions are subject to a rigorous review through the implementation of our Ethical Fundraising Framework. The purpose of this framework is to clearly identify spunout' approach to deciding on fundraising partnerships, and to document the standards we expect to be upheld in the decision-making process of receiving funds from any external source.
Our Impact in 2022
In 2022, spunout hosted 2,021,104 unique website sessions, which was 101% of our annual target. We supported 2,412 people through our Pathfinder/Youth Information Chat service, and helped 23,174 texters through our Text About It service. Crucially, 14-19% of monthly support conversations involved texters in high-risk situations, and we carried out 678 Active Rescues where texters were in immediate physical danger.
2022 was our most successful year reaching people on social media. More than 908,000 young people saw our content on Facebook or Instagram this year, and we reached more than 825,000 young people through our new TikTok account. Overall, our social media engagements increased by more than 300% between 2021 and 2022. For more information on our impact during 2022 a copy of our Annual Report can be found here.
Readers and Texters Outcomes 2022
This year, spunout received a 96% satisfaction score for both the quality and relevance of our youth information content. Furthermore, 86% of readers felt supported by the service, and 77% said that spunout had helped them to make more informed decisions.
For Text About It, 88% of texters rated the service as helpful, with 88% also agreeing that the volunteer they engaged with had genuinely cared for their wellbeing. Our Pathfinder/Youth Information Chat service achieved a satisfaction score of 91% in 2022.
Testimonies
"I was so hard on myself after engaging in self-harming activities, and they comforted me and helped me get the help I need. Thank you for keeping me alive." – 'Sarah', 14, Cork.
"They were really helpful and gave me all the information I needed. Great service." – 'Quinn', 24, Donegal.
"Youth Information Chat were really nice and helpful and they clearly care" – 'Nat', 18, Co. Mayo.
"Thank you very much, our conversation helped me feel much better, and now I think I can start working on trying to make myself better." – Anonymous.
"When I was in my worst times, spunout helped me feel I wasn't alone." – Anonymous.
Our Top Content in 2022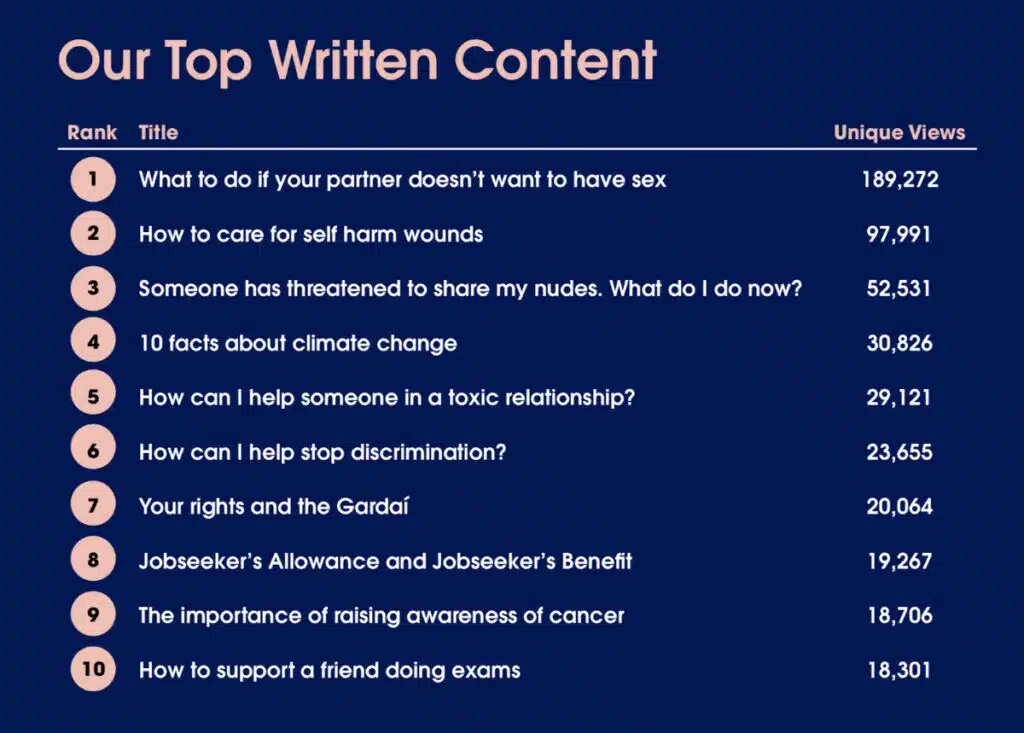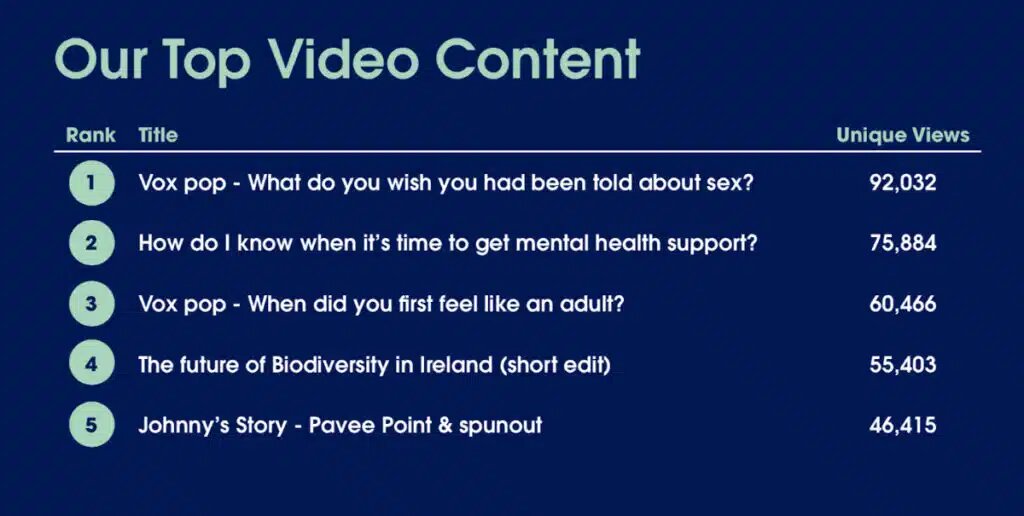 Complaints
We take all feedback seriously, especially complaints. If you have a comment about any aspect of our work, including fundraising, you can contact spunout by email, phone or in writing.
Please give us as much information as possible and let us know how you would like us to respond, providing relevant contact details for yourself. We aim to respond to all complaints within five working days.
You can email us at: [email protected]
You can phone us at: 01 675 3554
Or you can write to us at:
Complaints
Spunout
Sean MacBride House
48 Fleet Street
Dublin 2, D02 T883
If you make a complaint relating to fundraising activities that we cannot resolve to your satisfaction, the next level of the complaints procedure is to contact the Audit, Finance and Fundraising Sub Committee. You can email the group at [email protected].
Any and all matters of illegality will be addressed immediately to An Garda Síochana.
Our work is supported by