Young, Paperless & Powerful: Undocumented in Ireland
The Migrant Rights Council event heard from young undocumented people living in Ireland
Written by Rían Browne O'Neill
Voices - Experiences
Young people share their personal experiences.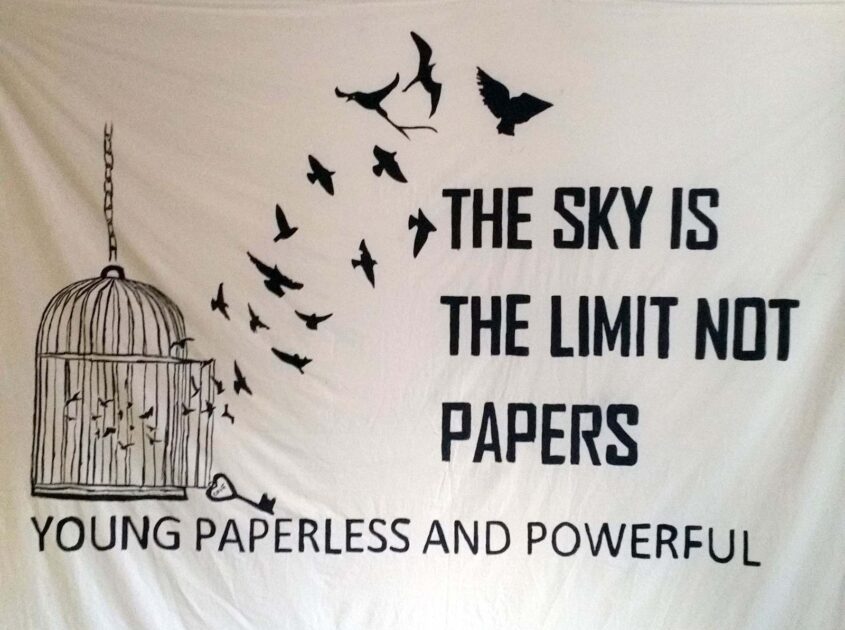 As part of International Youth Day 2016 the Migrant Rights Council of Ireland held an event hosted by a group of young activists called Young, Paperless and Powerful, to highlight the experiences of undocumented young people living in Ireland through the power of spoken word. The room was buzzing with anticipation as people chatted over refreshments and found their seats. The room was decorated with pictures of the Young Paperless and Powerful group as well as a wall of solidarity where the audience could leave messages of support.
At the top of the room, right next to the stage, hung a large banner depicting a silhouette of birds flying free from a cage with the Young, Paperless, Powerful name written beside it. The event began with an introduction by three enigmatic MC's – MC Rapunzel, DJ Caprice and MC Jay – who welcomed us all and spoke about what we were to expect during the evening, spoken word pieces about the barriers that they face as undocumented young people living in Ireland that prevent them from getting access to basic things like education and employment and how this has impacted their lives. They also reminded us to refrain from taking pictures or videos to keep the performers identities anonymous.
They encouraged us to stand in solidarity with their cause and not to view them as victims. Acknowledging the fact that for some of the performers this would be their first time speaking out about their status and experiences. To break the ice, we had a crash course in secret handshakes. It was a fun way to start the night and a great way to dissipate the nerves of the performers and to relax the audience. Ombudsman for Children Dr Niall Muldoon made an opening speech. Speaking about the number of Irish people who have emigrated and began new lives for themselves in other countries, the barriers that many undocumented young people in Ireland face when it comes to third level education, time spent in direct provision and how the limitations of living undocumented in Ireland can affect a person's mental health.
MC Rapunzel was the first performer of the night. Her piece told the story of her parents emigrating to Ireland and travelling over to join them as a young girl. Her spoken word piece was a personal story that was echoed many times in other performances throughout the evening. MC Rapunzel went on to draw attention to the restriction felt by many young undocumented immigrants in her spoken word piece – "I am like a butterfly… but without wings, my dreams crushed right down to its core." The evening continued on with more spoken word pieces.
"9 years here, 9 years of fear…as you watch your friends take the road to continue you must stay behind and watch it pin you." – Sara Jane
"I've been sitting in the same seat hoping for better, telling myself these circumstances will never matter." – DJ Caprice
Standing on a stage and telling your story in front of an audience is, understandably, very nerve wrecking and scary but, nerves aside, each performer had the audience captivated, in the palm of their hand. Their words transported you into their world, and for a moment a glimpse into what it must feel like to stand in their shoes. There was an awesome sense of comradery and supportiveness among the members of YPP as each performer was introduced on to the stage to perform their piece. Although the pieces touched on deeply emotive and personal struggles the one uniting factor of them all was the defiance and determination expressed by each performer to change the situation that they are in so that they have the opportunity to attain their own ambitions for their future and others in the same position as they are.
The final performance of the night came from Sleeping Beauty, recounting her family's move to Ireland, how a place that seemed like heaven didn't transpire to be in reality. "My dad moved to Ireland when I was nine; from a very young age I had to pretend I was fine."
"A piece of paper will decide whether I rise… or fall." Afterwards Edel McGinley, Director of the MRCI, delivered the closing speech. She commended the members of the YPP for their amazing performances. She drew attention to how much of a disgrace the government's slow progress on regularisation has been. The MRCI's Justice for the Undocumented campaign has been running for five years asking the government to introduce a regularisation scheme, which would mean that undocumented workers and their families would have the opportunity to regularise their immigration status. Irish politicians often use this same solution to advocate for undocumented Irish in the US. She also delivered a piece herself, highlighting YPP and their fight for regularisation in Ireland. At the end of the evening all members of the Young, Paperless and Powerful group took to the stage for a final bow.
The pride in their hard work was eminent as they stood before a standing ovation from the audience. The strength and potential of these young activists was inspiring to watch. Many thanks to the MRCI & YPP for inviting SpunOut along!
If you would like to find out more about regularisation and MRCI's Just for the Undocumented campaign you can visit their website. You can also watch a short film from Young, Paperless and Powerful here: https://vimeo.com/132984011
Young, Paperless and Powerful from Migrant Rights Centre Ireland on Vimeo.
Young, Paperless and Powerful from Migrant Rights Centre Ireland on Vimeo.
Our work is supported by