Top 10 ultimate Halloween movies to watch
Fancy a scream, some gore or bloodbaths? We've got you covered.
Written by Colm McCall
Voices - Opinion
Young people share their point of view.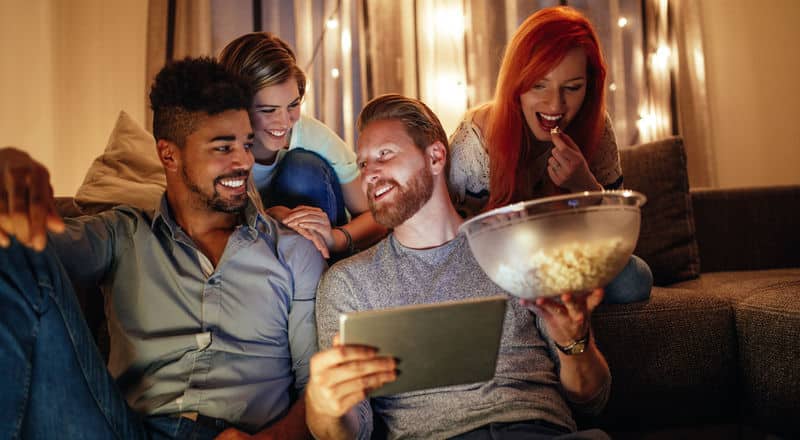 I've put together a list of my favourite Halloween to get you psyched for the spookiest night of the year. While the final day of autumn may not be as popular as a certain December holiday, it is one of the key points on the calendar, as the countdown to cold begins. So I think it is important to mark such an event and change in the best possible way; by viewing a selection of classic horrors and timely flicks. While this list will be mainly made up of horror movies, I have thrown in the odd surprise for those who may not be as fond of the cinematic staple.
I wanted to include a film which may have fallen by the wayside in terms of modern mainstream popularity.  An absolute classic from the German Expressionist era, and probably painfully familiar to Film Studies students both past and present (myself included)! While it is a silent movie, this vampire piece is excellently paced with stunning visuals and is genuinely creepy. Present day cinema owes a great deal to early filmmakers like F.W Murnau and Fritz Lang. Without them, the emo endearing style of Tim Burton may never have been born.
It is interesting now looking back at how much a particular style of visual art had such a major impact on how we see cinema today. Had it been without Conrad Veidt playing Gwynplaine in The Man Who Laughs (1928), Bob Kane would have never been inspired to create the Joker or we may never have even gotten Tim Burton. If you enjoy watching this silent hit, or if you need a little extra insight for studying, I recommend checking out Shadow of the Vampire (2000). It focuses on some of the events surrounding the filming of Nosferatu, starring John Malkovich, Willem Dafoe and Cary Elwes.
As the saying goes, "Like a fine wine, things only get better with age." I would gladly lobby for that saying to be changed to "like Alfred Hitchcock's Psycho, it got better with age." The Englishman is, without doubt, my favourite director of all time. The master of suspense carefully crafts his stories wonderfully.
This movie is definitely the best of the bunch. One of his few out and out horror films, this movie does everything right. From playing with the audience's expectations to flawlessly creepy tension building, this classic is both thrilling and occasionally frightening. Also, it is worth consulting the second instalment, despite not being directed by Hitchcock, Psycho 2 (1983) is a reasonably solid sequel, especially when one considers the quality of its first one.
This film is probably the ultimate October 31st choice. I have watched this on the last three Halloween nights and this year probably won't be any different. Unlike the last movie, this picture hasn't quite stood the test of time, at least not to the same degree. Its visuals are quite dated and I can understand how some people may not be able to take it so seriously. But, if you can get past the bellbottoms and trendy hairdos, you will see that there are few who argue that this is John Carpenter's greatest work. It is overflowing with atmospheric tension and an irresistible charm, which is wonderfully engaging. Plus, there is a reason its timeless score is so iconic. It is the purest sound of Autumn and fear combined.
Whether you call to it as psychological thriller or horror, this flirtation with the horrific is a masterpiece. From the opening scene with the aerial shots emphasising the isolation of the Overlook Hotel to the closing credits, the audience is met with sophistication, which you doesn't often expect or receive with this kind of movie. Jack Nicholson doesn't even have to open his mouth to be creepy. He simply raises his eyebrows and we're hooked. Some may complain that the film is too slow to really get moving, but in my opinion it is necessary to truly build the tension for this slow burner. Also, the legendary "here's Johnny" line was totally improvised, which just shows what a great actor Jack Nicholson is. Like Hitchcock, I would really recommend all readers to check out the other films by director Stanley Kubrick, especially The Killing (1956), A Clockwork Orange (1971) and Full Metal Jacket (1987).
Truly my favourite horror movie ever for so many reasons. There are very few films of any genre, where every aspect and detail is fully thought out. For instance, I love how blockbuster powerhouse James Cameron conjured the idea of the terminator cyborg in a feverish nightmare while in a hotel abroad. Wes Craven's imagining of dream monster Freddy is no different. For starters, he was bullied in school by a peer called Fred Krueger. The famous green and red sweater worn by said bogeyman was fashioned based on a concept the filmmaker had discovered in regards the human retina's inability to differentiate between the two colours when placed side by side. The setting for the suburban terrorising was to take place on Elm Street which was the name of the street where Craven used to teach and also the street name on which JFK was assassinated.  I find this film and its many quirks highly fascinating. Audiences need films such as this to restore faith in horror; not remakes or reimaginings but rather original ideas done well, not lousy cheap scares like Annabelle (2014).
I dare you to say his name five times! Despite the fact that it isn't real and is just a movie, I still have my apprehensions. I believe this movie is more sophisticated than what others say. Probably somewhat overshadowed by writer Clive Barker's earlier cult favourite Hellraiser (1987), I definitely feel this movie offers up a great deal more depth than Pinhead and company. First off, the casting of Tony Todd as the title character is perfect. His presence, stature and distinctive deep voice are all mesmerising. Yet, a key part of my fondness for this film is an aspect which probably isn't mentioned enough. The racial themes and overtones, add a dimension of substance, which lifts the film from the category of 'forgettable' to classic status. The ending, I feel let's it slightly down, but I think that overall it is well worth a watch.
The first of the non-horrors to show up on this list. It is a simple enough movie, bringing together a host of likeable characters all combined with wit and fun. Its level of humour is perfectly measured, never allowing it to overturn the essential dark elements of a Halloween flick. The three witches played by Bette Midler, Sarah Jessica Parker and Kathy Najimy are incredible. Their hatred is endearing yet not overburdening to the point that we forget that they are essentially the villains. Hocus Pocus is a great Halloween movie for kids both young and old. You will laugh, sing and may even be frightened but one thing is for sure, you will be entertained – I put a spell on you!
Growing up while out trick or treating in our housing estate, my friends and I would debate which holiday was better, Halloween or Christmas. I think this film is ideal viewing for both holiday occasions. An emo favourite, what has always fascinated me is its ability to stay simple while also covering deep topics, which is also enticing to adult audiences. The cast of characters is nothing short of wonderful. Whilst Tim Burton was not in the directorial hot seat for this dark outing, his stamp is all over it.
1993 marked an important year for children's horror cinema, with the cartoon network movie 'The Halloween Tree' also getting plenty of attention.  I think it's most refreshing when films are really imaginative and creative in a bid to make something truly original.
Scream's mix of traditional slasher horror with comedy, reenergised the horror genre in its weakest period ever. Following a string of bad movies, director Wes Craven was also in need of a lift. Also, throughout the Scream series, one can really notice how Craven uses its scripts to highlight the clichés in the genre and his frustration with the seemingly unwavering trend. I love how Craven blended elements from past films such as When a Stranger Calls (1979) and Friday the 13th, with altering trends from the then, present day.
Saw (2004)
If it's Halloween, it must be Saw. I am truly fed up with people who have been doubting this movie because of the ridiculous number of inferior sequels that the financially successful franchise spawned. This film was a trendsetter, which brought scary movies into the 21st century. Made on a shoestring budget, it still managed to attract legitimate stars Danny Glover (Lethal Weapon, 1987) and Cary Elwes (Kiss the Girls, 1997). Of course, with each annual sequel the budgets went up and quality went in the opposite direction, but I don't think that fact should be allowed overshadow what set the ball in motion. A really innovative concept teamed with mystery and suspense made for an original hit which will be sure to stand the test of time. Admittedly, not for the faint hearted, but this movie is definitely worth it. Game over!
Our work is supported by