Tune in to Upbeat on Air!
Promoting positive mental health on Ireland's airwaves.
Written by Tricia Purcell
Factsheet
Fact checked by experts and reviewed by young people.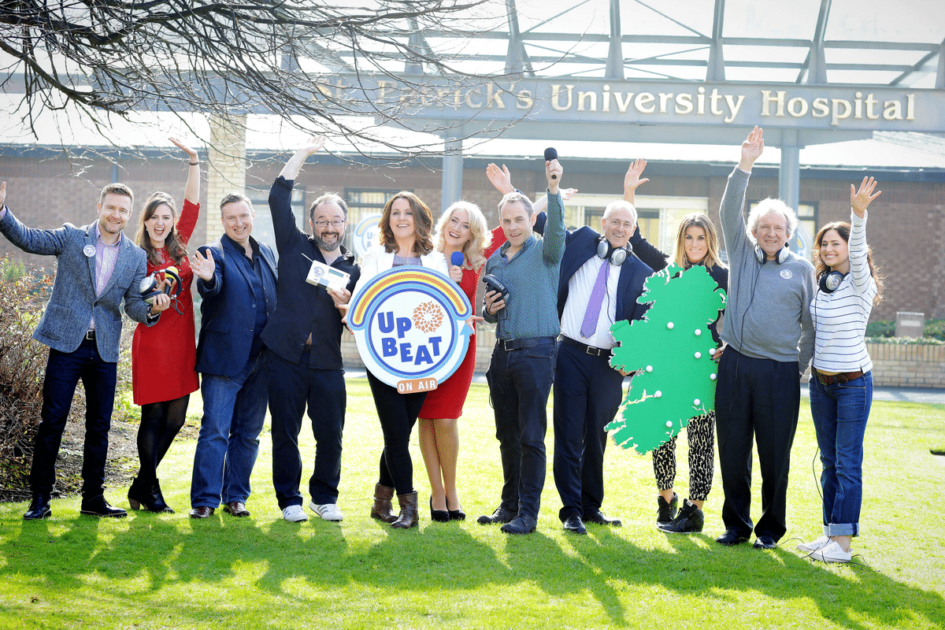 This week sees the digital pop-up radio station, Upbeat, promoting positive mental health over the awirwaves from St Patrick's Mental Health Services.
From Monday 23rd to Friday 27th March, a whole host of presenters will cover a wide range of topics about positive mental health. Visit upbeat.ie to find out more about tuning in frequencies and get more information on the week's programming.
Follow Upbeat onTwitter for more insights from the show's guests and presenters. Join the conversation with #Imlistening The text number for listeners to contact Upbeat on Air – 085 2299028.
Day 1 of 5 live. Show 2 has begun pic.twitter.com/JPmwOjAxFU

— Upbeat (@upbeat) March 23, 2015
Some of the show's presenters include:
Alison Canavan
This is Alison Canavan's second time to present the Morning Show with RTE's Shay Byrne on Upbeat on Air. One of Ireland's top models Alison has grown to become known as Ireland's only celebrity parenting specialist over the past four years. Alison has been a vehement supporter of mental health charity Walk in My Shoes and is a dynamic advocate for mental health issues in Ireland.
Paddy Cullivan
Presenter, writer, actor, and musician, Paddy Cullivan is a multi-disciplined entertainer who is at home on TV, Radio, writing opinion pieces for the Evening Herald, sketches and songs for Radio One's 'Callan's Kicks', as an MC, a performing satirist and comedian, a voiceover artist, creative consultant and festival planner, as well as being an accomplished piano player, guitarist and lead singer of the Late Late Show House Band, the Camembert Quartet.
Corina Grant
With 20 years in the fashion industry, Corina Grant is one of Ireland's most popular and recognised models, and also provides make-up and styling services for brides and bridal parties. Still in demand as a model, she has branched out into other areas too, working with teenagers both on a one to one basis, on the website www.udazzle.ie, and through schools to help build self-esteem and improve body image. Corina also has a column every Sunday in the Irish Sun.
Karina Buckley
Karina Buckley is from Inniscarra in County Cork. She joined the RTÉ weather team in May 2000 after graduating from UCC with a degree in biochemistry. Her academic interests lie in science communication, the topic of her master's degree, but in her spare time she enjoys theatre, music and dance, having studied ballet in her youth. Karina also enjoys running, reading and watching TV.
Ruth Scott
A graduate of Limerick's 95FM and the breakfast show on Dublin's 98FM, Ruth Scott now hosts the second biggest radio show on RTÉ 2FM, The Saturday Show, with co-presenter Paddy McKenna.
Ruth has also taken on a role with the Healthy Ireland Council, which becomes involved in health promotions to make them accessible to everybody. She is also involved with the Dublin Women's Mini Marathon. Ruth's partner is Rob Morgan, the son of the late Father Ted star, Dermot Morgan.
Trevor Keegan
Gossip Guru, TV Producer and Presenter
Trevor's philosophy about mental health is that we need to look after it, just as we need to exercise and eat well for our physical health.
'The mind needs nourishment in the form of talking about what we are going through, and seeking advice and guidance from those we know and love, and professionally, if necessary. I am particularly passionate about encouraging men to talk, and I really think parents play a part in encouraging kids to talk about their feelings and anxieties from as early an age as possible. Boys need to be targeted in school to show them that acknowledging their feelings isn't soft; if anything it's the bravest thing we can do – to realise we all have vulnerabilities, and it's a completely natural part of living
Louise Heraghty
TV and radio presenter, and also a qualified fitness instructor, Louise Heraghty is originally from Sligo and has been living in Dublin over 11 years, where she began her radio career as a traffic broadcaster with AA Roadwatch.
Since then she has worked in 98FM, Today FM and 2FM, and is currently a broadcaster with Radio Nova, as well as presenting the weather on RTE Television.
Aidan Power
Television and radio presenter Aidan Power co-hosted 98FM's breakfast show The Morning Crew for two years, and also hosted Dublin's first ever New Year countdown street party, as part of NYE Dublin Festival 2013.
He has hosted a variety of children, teens, sports and family TV, including Superbloopers with Zig and Zag on RTÉ, and song-writing competition The Hitwith Nicky Byrne.
Aidan presented a new show on RTÉ called Foul Play in December 2013, featuring pranks to see if some of our best known sporting stars really are good sports! More recently Aidan hosted a new series for TRTE Television, called Shake down the Town.
Alan Shortt
Actor & Comedian, Alan Shortt is a Dublin based comedian, writer, actor, satirist and media skills trainer. His Cork roots gave him a good ear for accents, and his political impressions have been seen and heard on RTE's Irish Pictorial Weekly, Bull Island, and The Late Late Show.
Shay Byrne
RTÉ Radio One's early morning Risin' Time presenter, Shay Byrne grew up in Artane and originally studied accountancy, before joining RTÉ as a continuity announcer in 2005. He became a stand-in presenter, and has worked on shows with Ryan Tubridy and Derek Mooney, and well as being the RTÉ radio commentator for the Eurovision Song Contest since 2011.
Our work is supported by