Emma's super easy five ingredient pancake recipe
These pancakes are fluffy, delicious and can be made with ingredients that are really easy to find.
Written by Emma O'Toole
Factsheet
Fact checked by experts and reviewed by young people.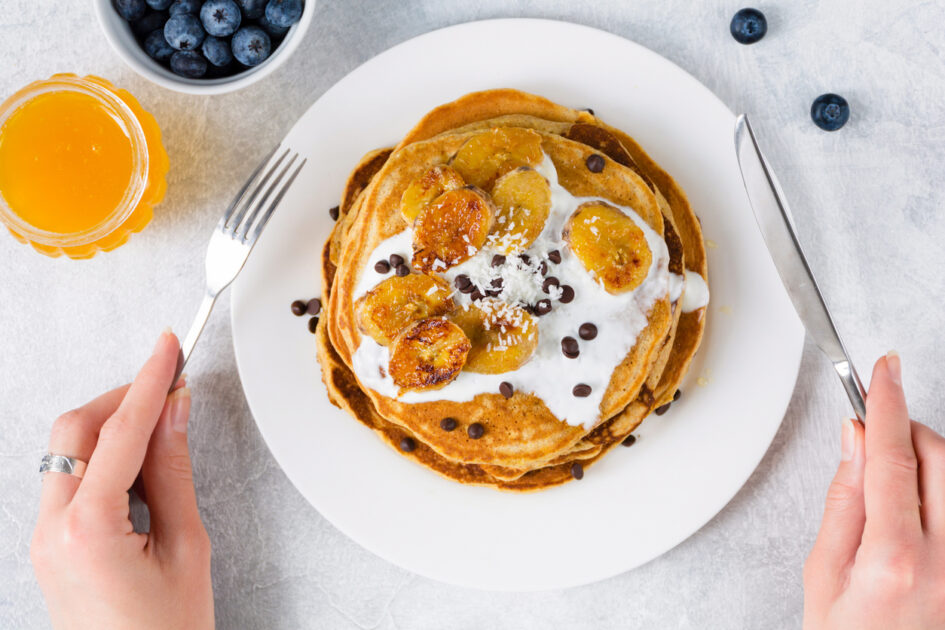 So when I bought my Nutri-bullet I wanted to find recipes that were quick and easy but did not compromise on taste. These pancakes will work in any blender so you do not need to purchase a Nutri-bullet to make these.
I love the fact the are based around staple ingredients that hopefully you do not have to go to far to look for. The are super fluffy and delicious in my own opinion and from the words of my ten-year-old niece. If you would like to double the batch I would recommend making two separate batters with the same amount of ingredients and blend separately.
Enjoy!
Ingredients
2 Eggs (organic if possible)
1 banana
1 tablespoon chia or flax seeds – good source of omega 3
½ cup of oats
A few tablespoons of milk of choice
Method
To start off place all the ingredients into a blender (any type of blender will work) and blend for 2/3 minutes.
Once fully blended, check the consistency. If it seems thick, add a little more milk and blend for 30 seconds.
Now turn your pan on high and add your oil of choice (spray, rapeseed oil, coconut oil)
Once the pan and oil are hot, reduce the heat to medium and pour on half a cup of pancake batter on. I sometimes use a ladle or just pour straight from the mixing cup that comes with the blender.
Cook the pancake for 2/3 minutes until it's light brown. Do what your most comfortable with but I do tend to cook one pancake at a time. It has given me the best results
Once your batter is all gone, and your stack is nicely piled it is time for the best part…Toppings.
I like to add greek yoghurt, fruit that's available (I like blueberries and pomegranate), peanut butter (any nut butter would be fabulous), some seeds to add crunch and make them look pretty and cinnamon.
Feel free to add your own toppings. Other great additions would be dark chocolate, honey or jam!
I hope you enjoy and check out my blog for other recipes: FindingUAgain
Our work is supported by