Sam's vegan thai green curry
This curry is spicy and full of flavour. It's pretty quick to cook if you're short on time.
Written by Sam Pearson
Factsheet
Fact checked by experts and reviewed by young people.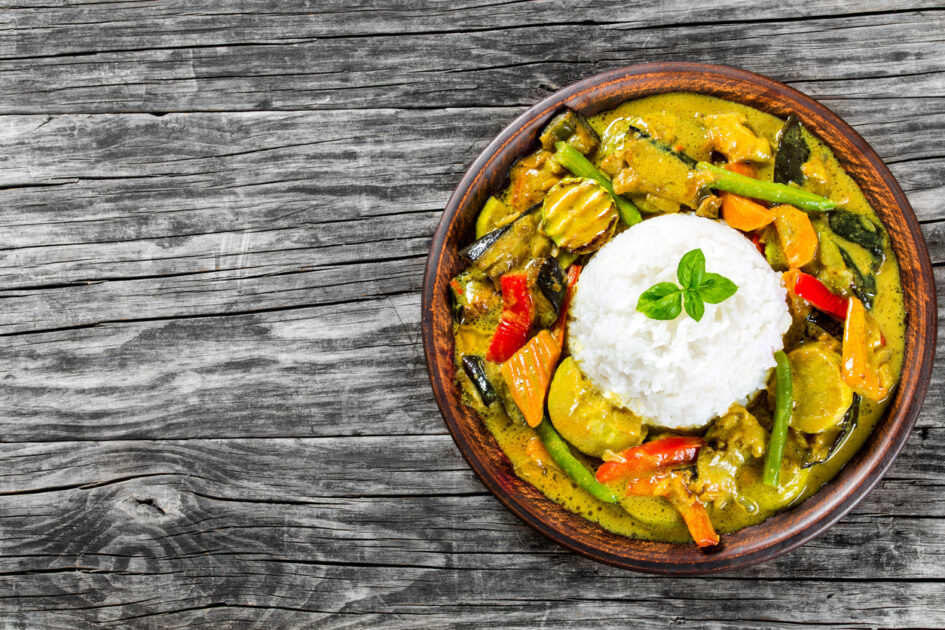 Sam runs vegan food blog greeneggs. Through his recipes and reviews, he is on a mission to show that going vegan doesn't mean you have to miss out on delicious comfort food.
After making the move to veganism a vegan thai green curry was one of the first things I had to put my mind to adapting. Some of the ingredients in this recipe aren't that easy to get your hands on in normal supermarkets as it is based on a traditional Thai recipe, most notably galangal, fresh peppercorns, kaffir lime leaves and sweet basil leaves. I have put substitutes for all of these in the recipe except kaffir lime leaves (which can be found in most major supermarkets). If you're up for it, a trip to an Asian supermarket will have all of the ingredients here and more. If not, it will still be plenty tasty with the substitutions.
As with most of my recipes, the veg here can easily be swapped out for whatever you have lying around. If it's a hard vegetable, just be sure to par boil before adding to the pot. As the mushroom, courgette and aubergine listed here are all quite water heavy, the sauce may be a little thin at first so let it bubble for a bit longer if it's not the consistency you want after the veg is added.
Prep Time: 15 minutes
Cook Time: 20 minutes
Serves: 4 people
Ingredients
Curry paste:
2 tsp coriander seeds
2 tsp cumin seeds
6 cloves garlic minced
6 kaffir lime leaves roughly chopped. Fresh/frozen are the best, dried if not.
1/2 onion roughly chopped
2 thumb sized pieces galangal (thai ginger) OR ginger peeled and minced, use
1 handful fresh coriander roughly chopped
1 tsp tumeric
2 stalks fresh lemongrass roughly chopped
2 tsp fresh peppercorns or dried and soaked
1 Green Chilli minced, more if you want spicier
3 tbsp dark soy sauce
For the curry:
2 tins coconut milk
1 Aubergine cubed
1 courgette cubed
200 grams mushrooms roughly chopped
1 vegetable stock cube
1 tbsp sugar
1 tbsp soy sauce
1 large handful sweet basil leaves regular basil is also fine
Instructions
Curry paste:
Heat a dry pan to a medium heat. Add the cumin and coriander seeds.
Cook for 2-4 minutes until golden taking care not to burn them.
Add roasted seeds to the blender.
Add the peppercorns to the blender.
Blend at a high speed until roughly blended.
Roughly chop lemongrass stalks, onion, garlic, green chilli, kaffir lime leaves, fresh coriander and galangal and add to the blender.
Add the tumeric and soy sauce.
Blend until a coarse paste forms.
For the curry:
Add the coconut milk and all of the curry paste to a large pan and cook on a medium heat until the coconut milk starts to boil.
Add the courgette, mushrooms and aubergine and boil for 12-15 minutes until soft.
Crumble the stock cube and add to the pot along with the soy sauce and sugar. Stir until fully combined and simmer for another 2-3 minutes.
Remove from the heat, stir in the basil leaves and cover until ready to serve.
Enjoy!
Our work is supported by