Free tickets available for the European Union Contest for Young Scientists
The event showcasing science projects from young people across Europe takes place in Dublin's RDS on 14-19 September 2018
Written by Hannah Byrne
News
Information about the latest news and opportunities.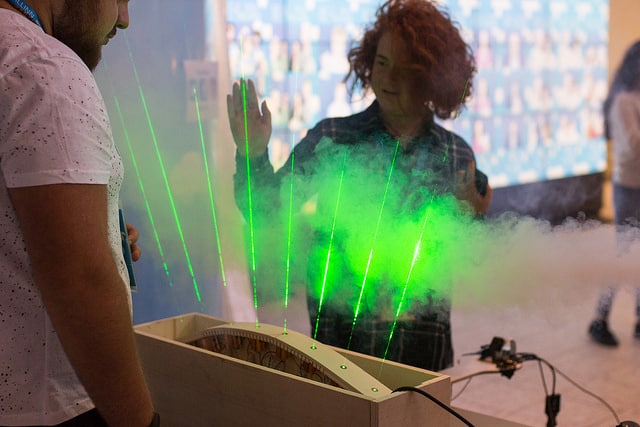 Students from 38 countries across Europe will be coming to Ireland next month for the 30th annual European Union Contest for Young Scientists (EUCYS). The event will be held in the RDS in Dublin from 14-19 September. There will be 90 projects shown at the event, presented by 139 students.
The event will be open to the public from 15-17 September. This gives anyone with an interest in Science, Technology, Engineering and Mathematics (STEM) an opportunity to see the projects that are on display. There will also be talks and performances, including psychologist James Soper and his "Your beautiful biased brain" show, and a performance from "Scientific Sue" and her fire-breathing dragons. The tickets are free of charge. You can purchase tickets for the event here.
Mari Cahalane, Head of EUCYS 2018, said "We are encouraging people of all ages who have an interest in science to come along to the contest this September as having EUCYS on your doorstep, and being able to attend free of charge, is a once in a generation opportunity."
What is EUCYS?
EUCYS began as a European Commission project in 1989 to encourage young people to get involved in science and consider a career in scientific research.
Who can compete?
In order to take part in EUCYS, your project must have won a national science competition, such as the BT Young Scientist & Technology Exhibition in Ireland. The winners of those contests have the opportunity to compete in EUCYS.
The contest is open to all EU Member States, as well as invited guest countries and countries associated to the EU research framework programme. Some of the countries taking part this year from outside of Europe include China, Canada, Russia, and South Korea.
The winner of the 2018 BT Young Scientist contest, Simon Meehan, will be representing Ireland at EUCYS with his project, "Investigation of the antimicrobial effects of both aerial and root parts of selected plants against Staphylococcus aureus"
Prizes
The prize for the overall winner is €7,000. Other prizes include a trip to the European Organization for Nuclear Research (CERN) and a visit to the European Space Agency.
Ireland and EUCYS
Ireland has taken home the top prize at EUCYS fourteen times. When you combine first, second, third, and special prizes won by Irish contestants, Ireland has won 43 awards overall.
European Commissioner for Research, Science and Innovation, Carlos Moedas said "Ireland is a fantastic hub for STEM innovation and we are really excited to be hosting the event there this year".
Our work is supported by