Beyond limits: Empowering young people with disabilities
An event for young people with disabilities will take place at Croke Park this month.
Written by spunout
News
Information about the latest news and opportunities.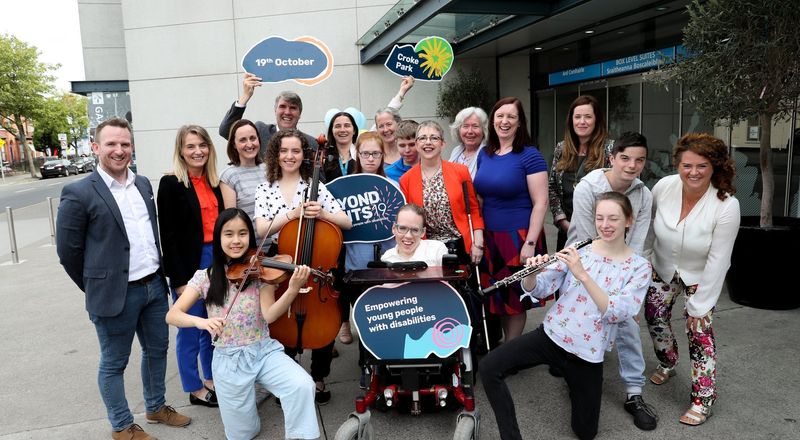 Beyond limits: Empowering young people with disabilities is an event for young people with disabilities and their parents, siblings, carers and friends. There will be talks, exhibitors and platforms to discuss the opportunities and issues young people with disabilities may face.
The event was launched in August by Julian Benson of Dancing with the Stars, who will be presenting the event, along with Disability Rights Activist Joanne O'Riordan and Paralympic Gold Medalist Michael McKillop who are speakers and event ambassadors.
What's happening at Beyond Limits?
The event will be opened by President Michael D Higgins. Julian Benson will be presenting the event along with Jason Hopkins (19) and Karen O'Mahony (18) representing Gaisce.
It will include:
Talks from people with disabilities discussing their achievements
Information about technology, education and employment opportunities
Information about sports and activities
Opportunities for conversations about inclusion and relationships
When is it on?
The event will take place at Croke Park on Saturday 19th October.
Where to get tickets
Tickets to the event are available at beyondlimits.ie.
How to get there
Dublin Bus, Luas and DART will be providing free transport to all of those attending the event within the Dublin area.
Rail: The closest train station is Drumcondra train station which is 550 m from the stadium and the closest DART station is Connolly which is 1.3 km away.
Luas: Croke Park is 1.3 km from Connolly Red Line Luas stop and 1 km from both Parnell and Marlborough Green Line Luas stops.
Bus: The following Dublin Bus routes pass close to Croke Park: 1, 7, 11, 13, 14, 16, 27a, 27b, 29a, 31/a, 31b, 32, 33, 40, 40b, 40d, 41, 41b, 41c, 42, 43, 44, 53, 123, 122, 13.
Who is it organised by?
Beyond Limits is organised by the Ombudsman for Children's office and supported by 2FM. Organisations involved in Beyond Limits include Special Olympics Ireland, Gaisce, The Disability Federation of Ireland, Inclusion Ireland, Arts and Disability Ireland, Young Carers Ireland, The National Youth Orchestra, The GAA, Cara Sport Inclusion Ireland, The National Parent's Council, The School of Inclusive and Special Education in Dublin City University, Trinity College Dublin School of Education, Zeminar, The National Council for Curriculum and Assessment, Ernst and Young, Silicon Republic and UrAbility.
Our work is supported by