SpunOut.ie's Dublin Pride Guide 2018
Events are taking place from 21st -30th June
Written by Grainne Jones
News
Information about the latest news and opportunities.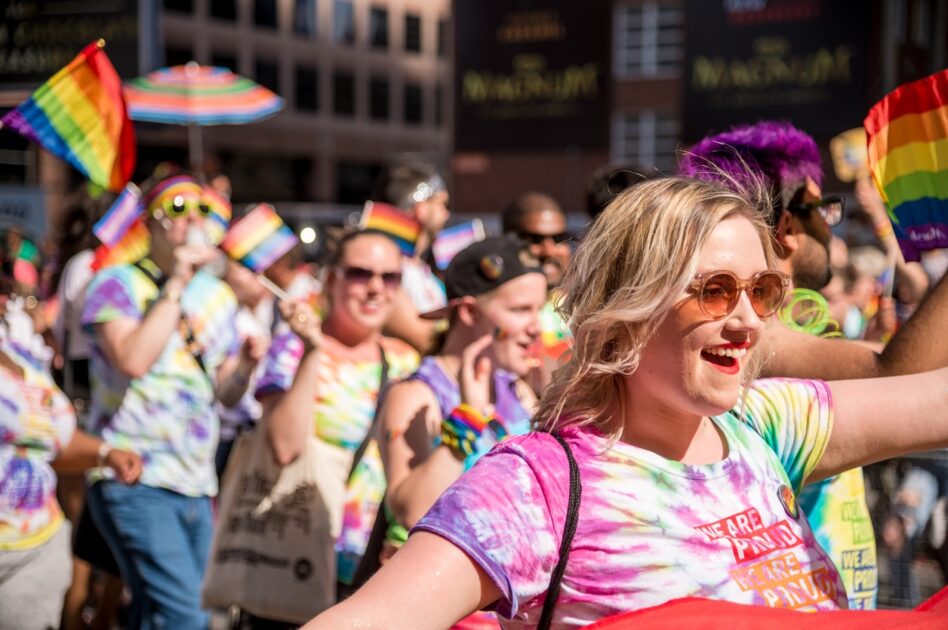 Dublin Pride week is currently taking place across the city from the 21st to the 30th of June. Many of the events taking place are alcohol free and suitable for people under the age of 18. Below you will find a list of some of these events and the full programme for Dublin Pride festival can be found here.
SpunOut.ie's pick of Pride events 2018
Wednesday, 27 June
Girls' Night In Pride Party
Girl's Night In Pride Party is a free "speed-friending" event that will have friendly chats, and food and drink to celebrate Pride week. It takes place in Outhouse on Capel Street but access for people with disability issues is not available.
Time: 7:00pm
Location: Outhouse, 105 Capel Street, Dublin 1
Price: Free
Post Marriage Equality: A State of Mind
This is a talk that gives an opportunity for members of the LGBTI+ community to talk about issues that are ongoing despite all the changes that have happened over the past few years.
The event will talk about sexual health, mental health, drink and drugs, and how we treat one another. Guests will include the CEO of Pieta House, Brian Higgins, the Artistic Director at Project Arts Centre, Cian O'Brien, and the Director of ShoutOut, Bella Fitzpatrick.
There will be complimentary food and drinks served at the event. All proceeds of the ticket sales will go to Gay Switchboard Ireland. The event is strictly over 18s because alcohol will be served.
Time: 7:00pm
Location: LinkedIn Head Office, 2 Wilton Place, Dublin 2
Price: €5, book online, tickets available here
Thursday, 28 June
Wellness Workshop – understanding and taking care of your mental health
This event is a one-day workshop to help people understand and take charge of their mental health. Those who take part will learn about a wide range tools and tips that can be used in everyday life to help improve personal wellness.
The workshop runs from 9:30am to 4:30pm and will include regular refreshments as well as a light lunch.
Places for the event are fully funded by the National Office of Suicide Prevention and the Iris O'Brien Foundation, as well as other donors and fundraisers.
Time: 9:30am – 4:30pm
Location: The Wisdom Centre, Cork Street, Dublin 8
Price: Free but registration is required, you can register here
Dublin Pride Annual Debate
The Pride Annual Debate will include speakers such as Senator Fintan Warfield of Sinn Fein, Justin McAleese of Fianna Fail, Sara Phillips of TENI and broadcaster Dil Wickremasinghe.
Time: 6:30pm
Location: Outhouse, 105 Capel Street, Dublin 1
Price: Free
Karaoke Session
This event is a free Karaoke session which will include a raffle for Lagunitas Circus tickets in London.
Time: 8:00pm
Location: Street 66, Parliament Street, Dublin 1
Price: Free
Friday, 29 June
Moving Screening: "Pride"
There will be a screening of the movie "Pride", hosted by The Workers' Party socialist film club Reel Politics. Reel politics is a fundraising event and suggested donations are €5 or €3 for unwaged. All proceeds of the screening will go towards funding The Workers' Party.
Time: 7:30pm
Location: 24a/25 Hill Street, Rotunda, Dublin 1
Price: donation based, the suggested donation is €5
Special Pride AA Meeting
Pride is a special time for celebration, but for LGBTI+ people with alcohol issues it can be a difficult experience.
This event is for those in the LGBTI+ community who are concerned about their drinking to come together to an open public meeting of the LGBTQ Group of Alcoholics Anonymous (AA).
Time: 8:00pm
Location: Outhouse, 105 Capel Street, Dublin 1
Price: Free
Our work is supported by