How to buy a used car in Ireland
It's good to know what to look for when it comes to buying a car second hand
Written by spunout
Factsheet
Fact checked by experts and reviewed by young people.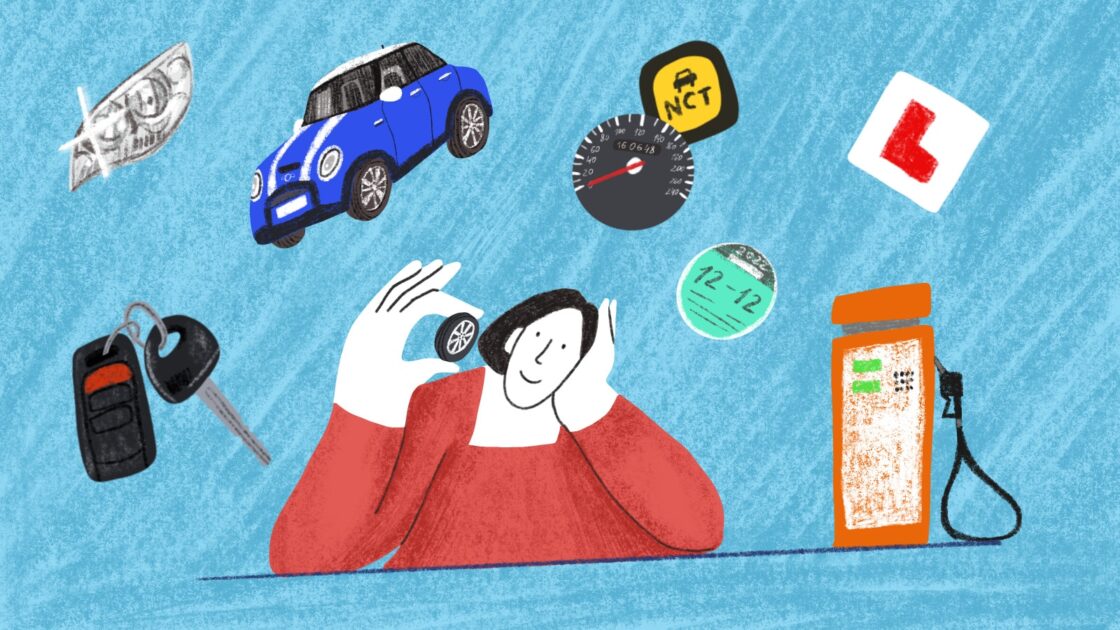 Getting your own car can be exciting, but it can also be an expensive purchase. For some people, a car is necessary to get around, especially in areas with limited public transport or for accessibility reasons.
If you're buying a car, there are some things to keep in mind to make sure you're getting the best deal and your car is in good condition.
In this article:
Costs related to owning a car
When it comes to getting a car, it's not just the vehicle that you need to consider. There are many other expenses involved that you need to factor in.
Car-related expenses
The up-front costs of the car itself
Vehicle Registration Tax (VRT)
Car insurance
Motor tax
National Car Test (NCT)
Maintenance and repairs
Petrol
Paying for parking
The cost of driving lessons and tests if you do not have your full licence
All of these expenses can add up, so it's important to make sure you can afford it before you make your purchase.
How to pay for a car
You have a few options when it comes to paying for a car. If you have the funds, you can purchase the car outright in one payment. This means it will officially belong to you.
You could also take out a loan, which would mean getting the money for the purchase from a credit union or bank and then repaying the loan over time, with interest (a fee for taking out the loan). You will be the official owner of the car if you take out a loan. Find out more about taking out loans.
Hire Purchase (HP) and Personal Contract Plans (PCP)
You can also look into Hire Purchase (HP) agreements or Personal Contract Plan (PCP) agreements. This means the finance company will own the car and you will make payments over time. The car will officially belong to the finance company, and ownership will transfer to you after the last payment has been made. With PCP agreements in particular, the final payment is usually very significant and you may need to take out another loan to repay it. If you can't afford this, you may need to enter into another finance agreement to keep the car or get a different one. Be careful if you are considering HP or PCP agreements, because this can be a complex process and a big financial commitment.
If you plan to take out a loan or do a HP or PCP arrangement, make sure to fully inform yourself of what's involved, the risks, and the repayments. Make sure you can afford to make your payments before signing anything.
Find more information on paying for your car through the Competition and Consumer Protection Commission website.
Things to check when buying a used car
When buying a used car, here are some things you should look out for when viewing:
Are the tyres in good condition?
Is the wheel arch intact and in good condition?
Are the pedals, gears and steering wheel in good condition?
Are all of the seatbelts intact?
Do the lights and indicators work?
Is the paintwork chipped or have any parts been repainted?
Are there any signs of rust?
Do the keys work in the doors and the ignition?
For a full list of things to check when buying a car, you can use this CCPC checklist.
Checking the mileage
The odometer reading tells you the total mileage of the car (how much distance the car has travelled). The NCT disc will tell you what the odometer reading was the last time it was checked. Compare the reading in the car to the number on the NCT disc. If the NCT number is higher than the one showing in the car, it may have been altered (or 'clocked'), which means the person selling it wants it to appear that the car has been driven less than it has.
Where to buy a car in Ireland
You can either buy a car from a garage or dealer, or from a private seller (buying directly from someone who is selling their car).
Garage or dealer
If you buy your car from a garage or dealer, you will have a number of rights that you won't have if you go through a private seller. If something goes wrong, you will have rights under Irish and EU consumer law if you buy through a dealer.
Before buying from a dealer, do some research to make sure they have a good reputation. Find out if the dealer is a member of the Society of Irish Motor Industry (SIMI) and if they follow the SIMI code of ethics around customer service and business practices. You can check if they are a member on the SIMI website.
When you buy from a dealer, whether new or second hand, they must provide a Vehicle Registration Certificate. It's recommended that you also ask for:
Details on any wear and tear or issues you should be aware of
A written warranty or guarantee, and how long it is valid for
The history of the car and its previous owners
The car's service book and the handbook or manual
The NCT certificate (if the car is over 4 years old) and/or VRT certificate (if the car is imported)
Two sets of keys
A signed receipt for payment
Private seller
If you buy from a private seller, you will not have the same protections under Irish and EU law as you would with a dealer. This means if something goes wrong after buying the car, there may not be anything you can do to get your money back or get compensation.
The first thing to investigate is that the car is not currently under a finance agreement like a hire purchase or a personal contract plan. If the current owner is still making repayments to a finance company, they do not officially own it until they have made their last payment – this means they may not have the right to sell the car to you.
You should also take the following steps before agreeing to buy a car from a private seller:
Ask to test-drive the car
Check the car's history through official records websites like Cartell.ie
Check the car's log book to view the current Vehicle Registration Certificate and verify who the current owner is
Make sure the car has been serviced and ask if the car has a service book that has been filled in with details of its last service
Ask a mechanic or engineer or someone with knowledge of cars to take a look at it for you if possible
Thoroughly check the inside and outside of the car to make sure everything is in good condition and there are no signs of wear and tear. The CCPC Car Buyer's Checklist can help you to keep track of everything.
After you have agreed to purchase the car, you will both need to sign the back of the Vehicle Registration Certificate (VRC) to transfer ownership. Never pay the seller before you have thoroughly checked the car and you have made sure that the certificate has been signed.
Things to do after buying a car
There are a few things you are legally required to do after buying a car. These include:
Paying Vehicle Registration Tax (VRT) if the vehicle is imported
Transferring ownership of the vehicle to your name
Taking out insurance – you must have this before driving in a public place, and you will also need insurance before arranging motor tax
Making sure motor tax is paid and is in date
Making sure the NCT is in date if the car is over four years old
What to do if something goes wrong after buying a car
If something goes wrong after you buy your car, the steps you can take depends on whether you purchased it from a dealer or a private seller.
If you used a finance agreement like Hire Purchase or Personal Contract Plan to pay for your car, then you are not the official owner of the car. Speak to the finance company if there is a fault with your car who may be able to resolve the issue, or talk to the garage or dealer if they are the ones who set up the finance agreement.
Garage or dealer
If you bought from a dealer or garage, you have certain rights and protections. This is because the car must be as described, be of satisfactory quality, and fit for purpose. If the car does not meet these conditions, you can make a complaint to the person who sold you the car.
You may be entitled to a repair, replacement of faulty parts, or a partial refund. If the car is still under warranty, you may have extra protections, so make sure to check the date and conditions of your warranty. If it is not under warranty, you are still entitled to a repair, replacement or refund if the car is faulty.
Private seller
When you buy from a private seller, you have far fewer protections. If an issue comes up after your purchase, contact the seller and see if you can work out a solution. If you can't come to an agreement about what to do, you can look into taking them to the Small Claims Court.
For more information on what to do if things go wrong, visit the CCPC website.
Illustrations by Marina Marinina.
Need more information, advice or guidance?
We offer information, advice and guidance about the issues that matter to you. Our online Youth Information Chat service is for 16 to 25 year olds and is available Monday to Friday, 4pm to 8pm (excluding Bank Holidays).
Our work is supported by