Hurricane Ophelia & Red Weather Warning: What you need to know
A 'Wind Warning' with a 'RED' status has been issued for all of Ireland
Written by spunout
News
Information about the latest news and opportunities.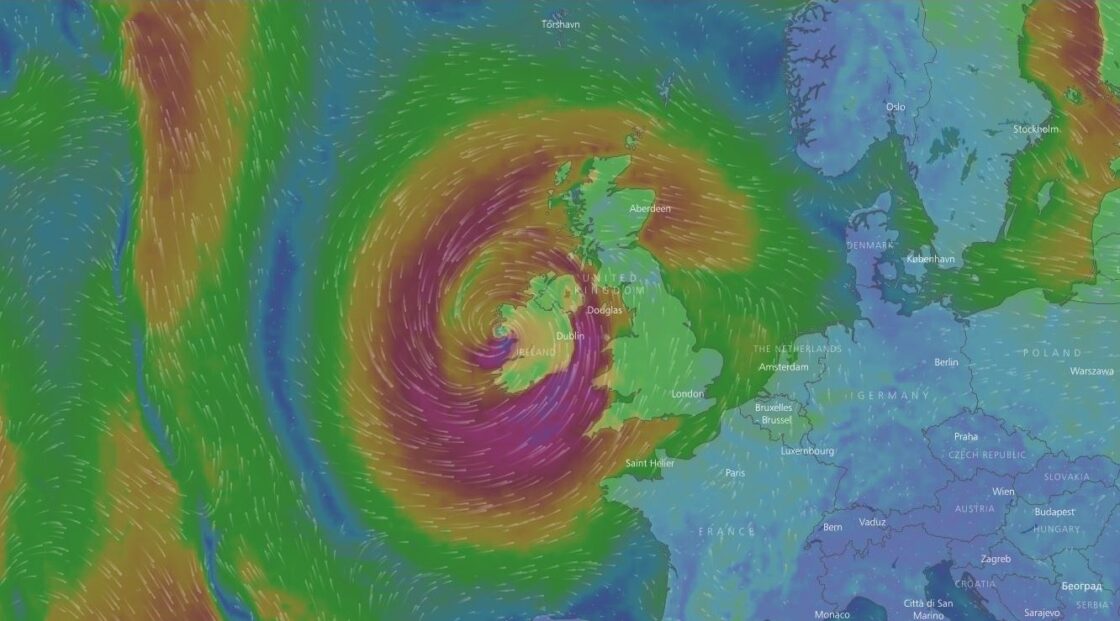 Late on Sunday evening, Met Eireann, Ireland's national meteorological (weather) service issued a 'Wind Warning' with a 'RED Status' for Ireland for Monday, 16th October 2017. Here's what you need to know:
What is a RED weather warning?
There are three levels of weather warning; YELLOW (be aware), ORANGE (be prepared), and the most serious is RED (take action).
According to Met Eireann the issue of RED level severe weather warnings is a rare event and means people in areas issued with a red warning should take action to protect themselves and/or their properties.
This could be by moving themselves and their families out of the danger zone temporarily; by staying indoors; or by other specific actions aimed at reducing the effects of the weather conditions.
What is this particular RED warning for?
Met Eireann have issued a 'Wind Warning' for the whole of Ireland.
As ex-Hurricane Ophelia is forecast to move directly over Ireland during daytime Monday, violent and destructive gusts are forecast with all areas at risk and in particular the southwest and south in the morning, and eastern counties in the afternoon.
Heavy rain and storm surges (rising water) along some coasts will result in flooding.
There is potential risk to lives, and this warning should be taken seriously.
Should I be worried, how bad is it going to be?
Ireland has not experienced wind speeds like the ones predicted for Ireland on Monday in a very long time, so it's hard to know what will happen.
Weather forecasters are urging us all to stay indoors as a precaution and to take certain steps to stay safe (see more below).
It is a good idea to check on vulnerable people (older people, people living with disabilities, and others) to make sure they will be safe tomorrow and that they have everything they might need.
Hopefully, the storm will pass over Ireland with little damage, but it is best to be prepared for the worst case scenario.
Do not worry too much as it can sound scary, especially with the media hype, but this is a rare weather event and the warnings help us to prepare and take the storm seriously.
How will I be affected?
Everyone is being advised to stay indoors on Monday and all unnecessary travel is to be avoided.
The Government have confirmed all schools, colleges, universities, and creches will be closed for the day. It has also been confirmed that primary and secondary schools will remain closed on Tuesday, October 17th.
Many hospitals have confirmed that appointments have been cancelled, although Accident & Emergency Departments will remain open.
Many local authority services like libraries and leisure centres will also be closed.
I work, what should I do?
If you work and you haven't yet been given insructions by your employer, it might be an idea to get in touch with your boss to check the situation.
Some employers will suggest employees work from home, and if they don't you could suggest it yourself.
If you think travelling to work would put your safety at risk you should stress this with your employer and inform them you are staying indoors at home.
If you have no choice and have to travel into work tomorrow, make sure you travel safely, keep an eye out for falling debris, fallen power cables and definitely don't cycle a bike to work in high winds.
Keep an eye on social media for travel disruption updates.
RTE Radio One's Morning Ireland programme has promised to keep commuters up to date in the morning also, so it would be a good idea to tune in.
What happens if I run into difficulty?
In an emergency, call 112 or 999 immediately and ask for the emergency service you need; gardai, ambulance, fire brigade or coast guard.
If you see power cables down, call the ESB (1850 372 999) or if you suspect a gas leak call Gas Networks Ireland (1850 205 050).
If there are trees down in your area or you notice other things which your local authority can assist with, you should give them a call.
Other advice from the National Emergency Coordination Committee on Severe Weather:
All unnecessary travel should be avoided on Monday, while the storm is passing.

Listen to local radio and national media broadcasts regarding the current weather situation.

High seas predicted, the public are advised to stay away from coastal areas during this period.

Very strong winds are predicted making driving conditions hazardous, especially for the more vulnerable road users, e.g., cyclists, pedestrian's, motorcyclist and high sided vehicles. Road users should pay particular attention to the risk posed by fallen trees and flying debris.

Given anticipated weather conditions, tomorrow should be a no bike day.

Power outages are likely to occur in certain parts of the country, with contingency planning activated by the ESB. The ESB is advising the public to stay away from fallen cables that may have broken due to the high winds. ESB Emergency Services can be contacted at 1850372999.

Bus Éireann's schools transport services will not be operating in counties covered by Red level warnings. Because of the duty of care owed to children and to avoid the risk arising from travelling, the Department of Education and Skills is instructing all schools to act on the Department's advice and remain closed.

Crèches and Montessori facilities should also remain closed tomorrow.

People are asked to check in on isolated and vulnerable neighbours today in advance of the oncoming severe weather conditions and again after the worst of the event has passed.

People are advised to remove patio furniture, rubbish bins and any loose items from around buildings, which can be turned into missiles by the wind.

The public are again reminded to monitor Met Éireann forecasts for their area and to be aware of the weather conditions and to heed safety warnings. Information is available across social media platforms and other traditional media sources.
Follow @emergencyIE and @MetEireann on twitter for further updates
Transport Cancellations
Here are some of the updates on transport around the country:
Bus Eireann
Bus Éireann have cancelled all services nationwide for the remainder of the day. Service will resume at 5am, Tuesday October 17th.
The Eurolines coach and ferry services are cancelled this evening.
Check www.buseireann.ie for updates
Dublin Bus
All Dublin Bus services were withdrawn at 10am.
Dublin Bus has suspended all routes for the remainder of the day.
Dublin Bus plan to resume a normal schedule with the first bus on Tuesday, October 17th.
Check www.dublinbus.ie for updates
Irish Rail
All trains including DART, Dublin Commuter, Intercity, Cork Commuter and Regional have now been cancelled for the remainder of the day.
The following services have already departed, and will be completing their journey to their destinations

12:55 Rosslare to Connolly

13:36 Connolly to Rosslare

13:00 Sligo to Connolly – delayed at Killucan due to fallen tree

13:05 Connolly to Sligo

Service is expected to resume tomorrow, Tuesday 17th October, provided all fallen trees, leaves and other debris can be cleared from the lines.

Check www.irishrail.ie/news/ophelia for updates
LUAS
All LUAS services have been cancelled on Monday.
The LUAS will not be running on the red or green line on Tuesday October 17th due to damage to the lines.
Check www.luas.ie for updates.
Dublin Airport
Dublin airport is operational today, but up to 135 flights have been cancelled.
This includes services operated by Aer Lingus, Ryanair, British Airways, Air France, CityJet, Emirates, Qatar Airways, Luxair and KLM.
See the Dublin Airport website for more information.
Some helpful updates as of Sunday night:
All schools are to remain closed tomorrow Tuesday October 17th.

— education.ie (@Education_Ire) October 16, 2017
We wish to confirm that all our services are cancelled until 5am tomorrow morning #ophelia @rtenews @TodayFMNews see https://t.co/aXY6WF434U

— Bus Eireann (@Buseireann) October 16, 2017
#DBSvcUpdate All services suspended for the remainder of the day #Ophelia – https://t.co/0uRvRD7axh pic.twitter.com/482Sa3vH0c

— Dublin Bus (@dublinbusnews) October 16, 2017
Just in: there'll be NO @Luas services tomorrow morning (on EITHER line), due to #Ophelia damage to a technical room at the Red Cow depot

— Gavan Reilly (@gavreilly) October 16, 2017
All trains cancelled this eve Mon 16th October. Services resume Tues 17th Oct subject to line inspections https://t.co/ZOHwurtrN3 #Ophelia pic.twitter.com/I0okamGMts

— Iarnród Éireann (@IrishRail) October 16, 2017
If driving in strong winds, speed should be reduced & extra distance should be allowed between your vehicle and other road users. #Ophelia

— An Garda Síochána (@GardaTraffic) October 15, 2017
Crews are on standby to deal with the effects of Storm Ophelia. If you have issues with your water supply please call us on 1850 278 278.

— Irish Water (@IrishWater) October 15, 2017
All Schools,Colleges and other Education institutions closed tomorrow 16 October see https://t.co/IrcHWyyBKM

— education.ie (@Education_Ire) October 15, 2017
Due to status red weather alert Dublin City Councils Parks, Libraries, Swimming Pools and Sports Halls will be closed to the public tomorrow

— Dublin City Council (@DubCityCouncil) October 15, 2017
Severe weather conditions tomorrow please be careful and remember vulnerable neighbours and relatives

— Age Action (@AgeAction) October 15, 2017
All hospital outpatient appointments are being cancelled tomorrow. See @HSELive for details #Ophelia @emergencyIE https://t.co/nfCjO4yxWw

— MerrionStreet.ie (@merrionstreet) October 15, 2017
Status RED weather warning extended across the country. Members of the public asked to avoid any visits or walks to coastal or cliff areas and waterways. #Ophelia see: https://t.co/fik1305pzS

— An Garda Síochána (@GardaTraffic) October 15, 2017
STATUS RED WIND WARNING in place for Ireland IF you lose supply see https://t.co/VMtxFrW7FY please ring 1850372999 for emergencies #ophelia

— ESB Networks (@ESBNetworks) October 15, 2017
⚠️Be prepared! Find out what to do if your gas meter or gas appliances are affected by #Opehlia #StaySafe Visit https://t.co/eK7W1pTV8z pic.twitter.com/5nSdolTYga

— Gas Networks Ireland (@GasNetIrl) October 15, 2017
#Ophelia Update Our priority will be taking calls relating to emergency & dangerous situations on ESB Networks on 1850 372 999 #staysafe pic.twitter.com/L0BrMc9WIy

— ESB Networks (@ESBNetworks) October 15, 2017
All Dept. Offices & Intreo centres to close tomorrow. Cust. payments won't be affected. We will reschedule all cust. appointments #Ophelia

— welfare.ie (@welfare_ie) October 15, 2017
Our work is supported by