Sign the #InOurHourOfNeed petition for 24/7 crisis mental health support
Mental Health Reform are inviting the public to sign their petition
Written by Hannah Byrne
News
Information about the latest news and opportunities.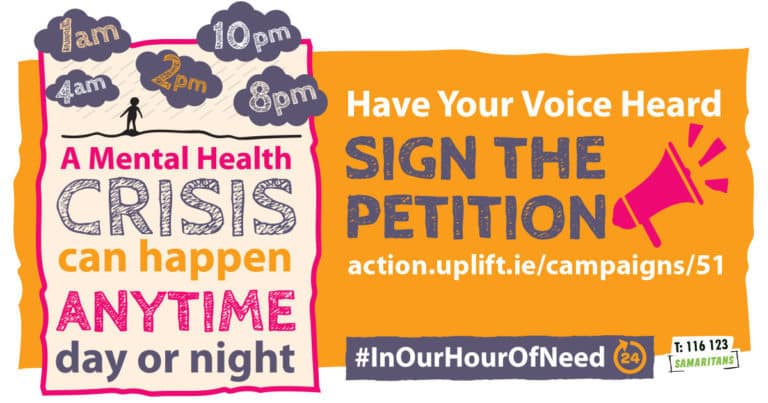 Mental Health Reform's #InOurHourOfNeed campaign calls on the government to provide 24/7 crisis mental health supports to communities across Ireland.
In February 2017, Minister of State for Mental Health and Older People, Helen McEntee, promised to produce a roadmap for improving out of hours mental health services in Ireland. It has been 9 months since that first pledge, but the roadmap has yet to be published.
This renewed campaign hopes to send a message to the current Minister of State, Jim Daly, that it's time for the government to act on crisis mental health services.
Improving crisis mental health services
Mental Health Reform believe that people dealing with a mental health crisis should not have to go to A&E during night and weekends, where they will face long waiting times, and may not get the specialist care they need.
Instead, the organisation suggests there should be holistic, 24/7 community based services around the country. As a short-term improvement, MHR recommend specialist staff be available through direct access mental health clinics 7 days a week, a system that could be supported through 24/7 telephone support.
Click here to read more about Mental Health Reform's position on 24/7 crisis mental health support.
Sign the petition!
Mental Health Reform are asking the public to sign their petition calling for 24/7 crisis mental health services to be available in every community across Ireland! Sign the petition here and spread the word using the #InOurHourOfNeed hashtag!
For more information visit www.mentalhealthreform.ie
Our work is supported by