Women's Aid Launch #TooIntoYou October Campaign 2018
Charity hangs poster on side of Liberty Hall to highlight public awareness campaign
Written by Rebekah Connolly
News
Information about the latest news and opportunities.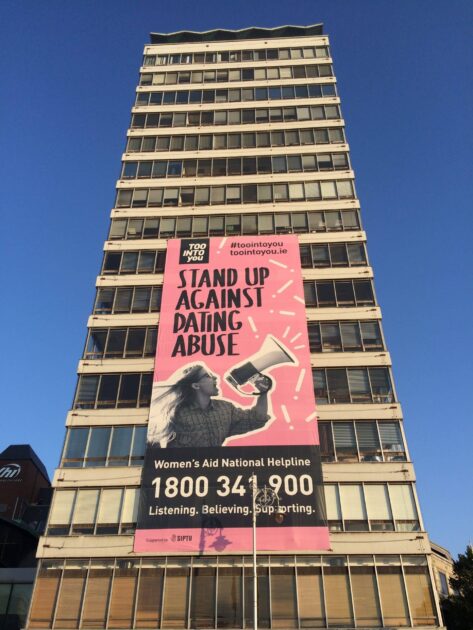 Women's Aid have launched their #TooIntoYou national public awareness poster and online campaign this October. As part of the campaign a six storey high poster has been hung on the side of Liberty Hall in Dublin and will stay there over the next three weeks. The #TooIntoYou campaign aims to highlight the subtle but harmful ways that young women can experience abuse from their boyfriends or exes.
#TooIntoYou
Sometimes what felt like positive attention and attentiveness at the beginning of a relationship can slowly turn into more negative, controlling attention as the relationship continues and it can feel more difficult to break up or ask for help. To encourage discussion about healthy and unhealthy relationships the #TooIntoYou campaign features seven characters:
Controlling Conor
He insists on picking your clothes and comments on how you look or dress.
Send Nudes Niall
He puts pressure on you to do sexual things that have made you feel uncomfortable or makes you do sexual things you do not want to do.
Needy Neil
He complains that you spend too much time away from him and insists on you spending all your time with him.
Dramatic Dan
He is jealous and suspicious and accuses you of cheating on him all the time.
10 missed calls Ben
He constantly calls you when you are on nights out with friends and gets angry when you don't answer.
Triple Text Thomas
He sends you constant messages checking up on you when you are not with him.
Why don't you love me Luke
You feel afraid to break up with him because he has told you he will hurt you or himself.
Other signs of abuse can include:
He has a bad temper and you feel afraid to disagree with him.
He hits, kicks, shoves or threatens to hurt you.
He demands your passwords and checks your emails and social networking accounts to see who you've been talking to.
If you recognise any of these characters in your own relationship or are worried by any other signs, why not take #TooIntoYou quiz on the Women's Aid website. If you are affected by dating abuse or a worried about someone else you can visit the TooIntoYou website or call Women's Aid Freephone Helpline on 1800 341 900.
Help promote the #TooIntoYou campaign
If you would like to help promote the #TooIntoYou campaign in your school, college or community you can contact Women's Aid on 01 678 8858 or email them at [email protected] and they will send posters and postcards to you free of charge, while stocks last.
Other ways to support the #TooIntoYou campaign
Share the #TooIntoYou website online and with friends and family, and help spread the word about healthy and unhealthy relationship behaviours
Add the Women's Aid National Freephone Helpline number 1800 341 900 to your mobile contacts in case you or someone you know should ever need it.
Find out how you can support a friend or family member who is experiencing relationship abuse here.
Follow Women's Aid on Instagram, Facebook and Twitter, and share information on #TooIntoYou on your profile, or share this information with friends via email.
Sign up to their e-newsletter to stay informed and participate in further Women's Aid actions.
Donate to the help keep the #TooIntoYou running at TooIntoYou.ie.
Our work is supported by