Where can I get free condoms?
You can access condoms for free at the following locations
Written by spunout
Factsheet
Fact checked by experts and reviewed by young people.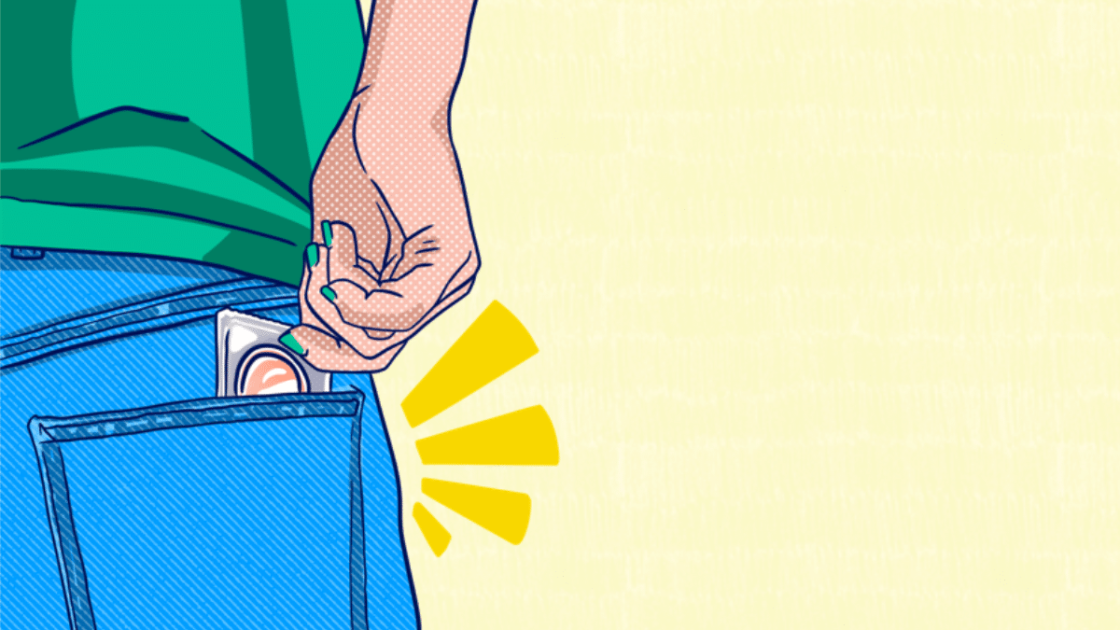 Using a condom every time you have sex is the best way to help protect yourself against STIs, HIV and unwanted pregnancy. There are several locations around Ireland where you can pick up free condoms and you can also order them for free online from some sexual health services.
Where can I get free condoms in Ireland?
Third-Level Colleges
Many students unions provide access to free condoms. If you are a student, check with your student's union office. If they do provide them, make sure to check that the condoms are in date and have the Kite CE mark on the wrapper.
Dublin
HIV Ireland provides condoms and lube to several locations around Dublin. You can get free condoms and lube at:
Limerick
GOSHH offers a free condom postal service (for anyone aged 17+). 6 condoms and lube are posted in discreet packaging to a person's address. As part of the service, you can choose either regular or magnum-sized condoms.
Location: GOSHH, Redwood Place, 18 Davis Street, Limerick

Opening Hours: Monday 2:15 pm to 5:00 pm, Tuesday to Friday 9:30 am to 5:00 pm
Galway
Sexual Health West distributes free condoms and lubricant from their office in Augustine St. They also offer a free condom and lubricant mail service. Please fill out the registration form and they will send condoms and/or lubricant directly to your door.
Location: Sexual Health West, Ozanam House, St. Augustine Street, Galway

Opening Hours: Monday to Friday 9:00 am to 5:00 pm (closed from 1 pm to 2 pm)
Cork
The Sexual Health Centre Cork offers a nationwide free condom postal service (for anyone aged 17+). 6 condoms and lube are posted in discreet packaging to a person's address. A phone call will be made to verify any order before sending it to prevent prank ordering. You can order as often as you like. You can also drop into the Sexual Health Centre to pick condoms up in person.
Location: The Sexual Health Centre, 16 Peter's Street, Cork

Opening Hours: Monday to Friday 9:00 am to 5:00 pm
How can I protect myself against STIs?
There are many great options to help protect your sexual health, but none of them are 100% effective. Even if you use condoms every time you have penetrative sex, you are still at risk of getting genital warts and herpes, as these can be passed through skin-to-skin contact. Going for an STI check or taking a home STI testing kit with a partner before having sex, can be a great way of protecting yourself and those you have sex with against STIs and HIV. However, not all STI checks check for all STIs, so it is important to speak to your healthcare provider and ask them what is being tested for as part of your screening.
Discussing with your sexual partners the type of contraception or protection options available to you, and agreeing on a type that works for everyone involved can help to reduce the risk of pregnancy, STIs and HIV. Looking out for sores or symptoms on a partner's genitals before having sex with them, can help to identify STIs that they may not be aware of. If you do see any signs that someone may have an STI, do not have sex with them until you know for certain it is safe to do so. Asking someone about their sexual health history is the responsible thing to do before having sex, and it should not be taken as an insult if someone asks you about yours.
The HSE National Condom Distribution Service provides condoms to the settings listed on this page.
Feeling overwhelmed and want to talk to someone?
Get anonymous support 24/7 with our text message support service
Connect with a trained volunteer who will listen to you, and help you to move forward feeling better
Free-text SPUNOUT to 50808 to begin
If you are a customer of the 48 or An Post network or cannot get through using the '50808' short code please text HELLO to 086 1800 280 (standard message rates may apply). Some smaller networks do not support short codes like '50808'.
Our work is supported by