Common myths about sex between men
The facts and the myths about sex between men
Written by spunout
Factsheet
Fact checked by experts and reviewed by young people.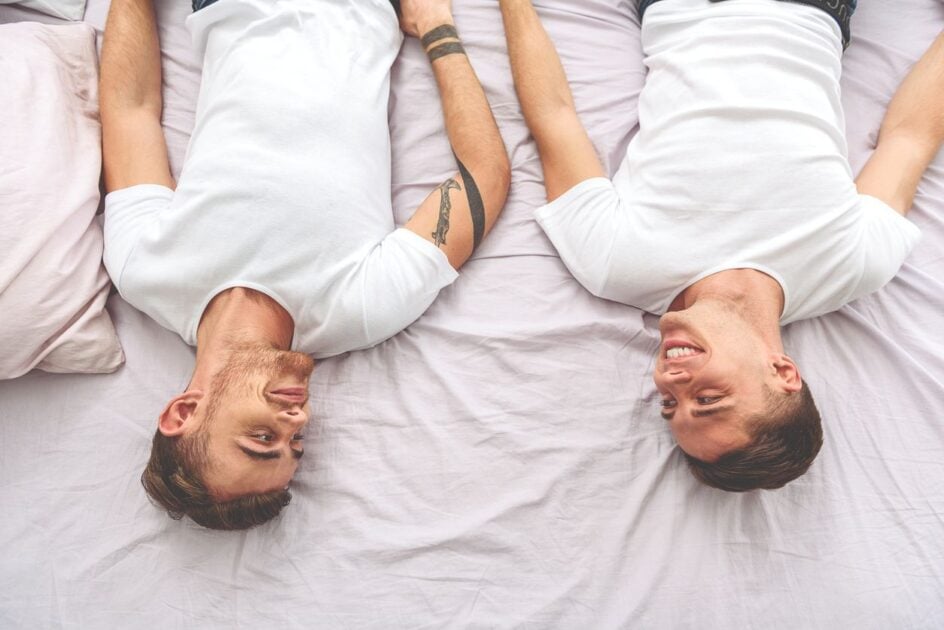 Myth: Men who have sex with men (MSM) only have anal sex
This is false. Some MSM may have anal sex every time they have sex, but many won't. Plenty of MSM aren't into anal sex at all, and choose not to do it. There are tonnes of ways for two men to have sex apart from anal sex. For example, lots of MSM will prefer mutual masturbation or oral sex.
Myth: Anal sex really hurts
This is false. Anal sex can hurt, but it doesn't have to. If you use plenty of lube, and don't do anything you are not ready for, you might really enjoy it. If no matter what you do it's still sore, then don't worry about it – there are plenty of other ways to have sex .
Myth: All MSM have to be either a bottom or a top
This is false. There are some guys that will identify exclusively as a bottom (the receiving partner in anal sex) or as a top (the giving partner in anal sex), but there are plenty of guys that won't. In some relationships, both partners may do both roles at different times, and in some relationships, anal won't even take place at all. It all depends on personal preferences.
Myths: Tops are masculine and bottoms are feminine
This is false. What you like sexually does not define how masculine or feminine you are. The sexual position you prefer doesn't have to say anything about who you are as a person. And either way, there's nothing wrong with being masculine, feminine, or a mixture of both.
Myth: MSM men always have unprotected sex
This is false. MSM use condoms just like everyone else. Remember, MSM can be at a higher risk of HIV transmission, so it's really important to use condoms every time you have sex to help minimise this. Check out our article on condoms here.
Myth: Vaseline works as lube
This is false. Vaseline damages condoms. It is an oil based lubricant and this can makes them ineffective. So when you're wearing a condom, vaseline does not work as lube. For more information on lube, check out our article here.
Myth: All MSM men have loads of sex all the time
This is false. Just like people of any sexual orientation, some MSM are sexually active and some aren't. How often you have sex is affected by how safe you feel emotionally and physically, as long as you're ok with what is happening and feel good.
Myth: Gay relationships are never monogamous
This is false. Plenty of gay guys are in committed relationships with one partner.
Myth: You can't catch STIs from oral sex
This is false. This is a big misconception. You are just as likely to catch most STIs from oral sex as you are from anal sex. So make sure you use a condom, every single time, even for oral sex. Remember, if you have blisters or open sores in your mouth while giving oral sex, you will be more suspectible to STIs.
Myth: If you're a man who has sex with men, you're likely to become infected with HIV
This is false. If you use a condom every time you have sex, than your likelihood of catching HIV is just as low as anyone else's. Remember, if you are sexually active, you should get regularly tested for STIs. STI testing is quick and painless, and usuaslly free. For a list of free STI clinics in Ireland, click here.
Remember that in the Republic of Ireland the legal age of sexual consent is 17, and in Northern Ireland it is 16.
Our work is supported by