A starter's guide to your capsule wardrobe
Less is more when it comes to making your wardrobe sustainable, here's how to keep it interesting.
Written by Ciara Mannion
Voices - Advice
Young people share advice based on their experiences.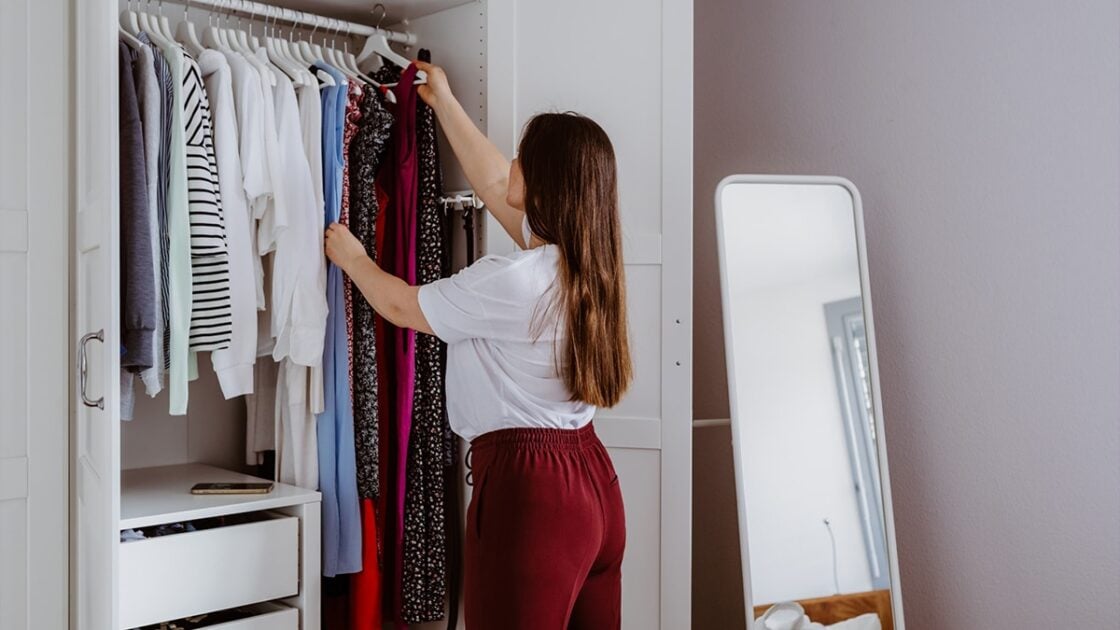 When someone like Apple billionaire Steve Jobs wore the same thing every day: a black turtleneck, Levi's jeans, and New Balance sneakers, we started to wonder if less really means more. Successful people, in particular, seem to wear the same outfit continuously- and it's not a coincidence.
Every day more and more people are switching to capsule wardrobes to save time as well as money. If you aren't familiar, a 'capsule wardrobe' is a term coined by Suzie Fox of Wardrobe Boutique in the 1970s to describe a collection of essential items that never go out of style. Here is a guide to keeping fewer items for a better wardrobe.
Recycle the things you don't wear
Capsule wardrobes are every minimalist's dream because it is a chance for a fresh start. Most of us buy a large number of clothes and wear them for a small amount of time, resulting in a lot of clothing waste. Still, in Ireland, we dispose of 225,000 tons of textile waste each year. Most of these clothes end up in landfills. 
An RTE news report states that recycling these textiles would reduce direct greenhouse gas emissions by over 300,000 tons per annum. To put that into perspective, that's the equivalent of reducing annual car use by almost 50,000 cars. So, it's more sustainable to reuse the clothes you already own and want to keep wearing.
Use this cleanout to remember that the large majority of new trends are just recycled and upgraded versions of trends that were popular in previous decades. A typical capsule wardrobe has 33 items by category. However, there's no wrong or right number, you can easily stretch to 40 or 50 if you are starting out.
Keep the items that make you feel confident and look great. Donate your unwanted clothes to your local charity shops, clothes bank or thrift stores. One example of a capsule wardrobe could include 12 long sleeve shirts, 5 T-shirts, 5 polo shirts, 4 sweaters, 3 cardigans, 8 pairs of trousers and 3 pairs of shorts. You can always edit to suit your style if that includes, for example, dresses and skirts. 
Treat this advice as a general guide. The most important thing in building a capsule wardrobe is to build it around silhouettes that you know suit your body and make you feel confident, and are also true to your own style.
Get to know your style
Rachel Zoe once said that "style is a way to say who you are without having to speak." And I couldn't agree with her more. How you present yourself to the world is a projection of what your life looks like. To achieve this, you could choose a palette of three or four colours that you love to wear to ensure your wardrobe is mixable, maximising the number of possibilities. I would suggest focusing on the basics and in your favourite colours that are complementary to lay a great foundation for your wardrobe. A capsule wardrobe isn't for everyone but it helps if you want to understand your style better.
You can always incorporate patterns into your style to add variety. Stripes are always easily worn with other colours and can really tie a look together. Great for shirts and ties, plaid prints make a statement with their eye-catching patterns. Use sparingly so it blends with the rest of the colours in your outfit. You can always tone down prints with light wash denim or sugary pastel shades. Don't forget to play with textures like handcrafted embroidered trims and woven leather to complete the vibe.
Choose accessories and shoes you use daily
Add accessories to prevent any look from getting too bland. Rock a sparkling silver watch or go for a gold chain for a gorgeous shine. It's also very easy to liven up a simple garment with a bright coloured bag or scarf. Either way, you won't camouflage into the background once you have these accessories sorted. I would suggest choosing accessories that you normally wear on a daily basis as well as some new quirks.
Finishing Touches
To finish off your capsule wardrobe, it's crucial to have a few pairs of shoes that can be versatile for a variety of seasonal events. Forget shoes tough enough to make your toes bleed and eyes water when comfy runners are the perfect throw on and off solution. Just try not to wear the same shoes day after day. Shoes last longer if rotated on a daily basis. It's also healthier for your feet to let the shoes rest and completely dry out.
Our work is supported by