How to get involved in sustainable fashion activism
Find out how you can become a sustainable fashion activist through education, communications and climate actions.
Written by spunout
Factsheet
Fact checked by experts and reviewed by young people.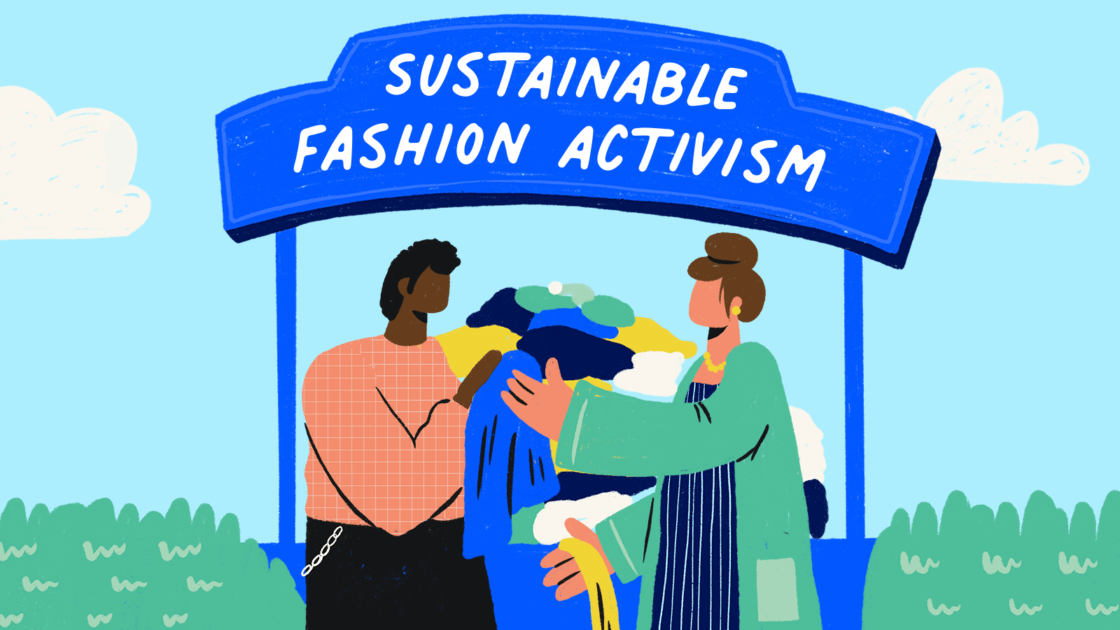 Sustainable fashion activism involves taking action to lessen the negative impact clothing has on people and the planet. While being sustainable in your own life is important, we need real, systemic change from fashion companies and political decision makers to finally tackle this issue. 
Activism is a way to push for that change, and there are many different ways to be a sustainable fashion activist.
How to get involved in sustainable fashion activism
Regardless of your knowledge on the topic or how much time you can commit, there is a form of sustainable fashion activism to suit you.
Educate yourself on the fast fashion industry
The first step you can take as a sustainable fashion activist is to learn more about the fast fashion industry. While greenwashing and unsustainable practices have become widespread, there is also lots more information available now about how our clothes are made. By reading books, watching documentaries and listening to podcasts about the fashion industry, you will be able to make confident, informed decisions when buying clothes.
Find out about more organisations campaigning for a more sustainable fashion industry at the end of this article.
Spread the word to family and friends
Many well-known fast fashion brands gain popularity through targeted advertising campaigns, but also through another powerful tool: word of mouth. You can adopt this same tool and use it to educate people as a sustainable fashion activist. Once you have learned a bit about the industry, talk about it with your family and friends. It's not necessary to know everything to start a conversation and it might inspire them to research more or continue the conversation with others. If someone asks you a question and you don't know the answer, see it as an opportunity to expand your knowledge.
Try to avoid being judgemental when you have these discussions. The topic could be totally new to some people and it's a very complex issue. Even those that are aware may not have found ways to access sustainable sourced products yet. Remember that everyone has a role to play in sustainable fashion activism. Instead of focusing on what you and others aren't doing, try to talk about what you can do, and the positive changes that you are making. You can make activism an enjoyable experience by joining with others to learn and make positive change.
Call out greenwashing
Greenwashing is a marketing technique that is used by companies to give the impression that their products, practices and policies are more environmentally-friendly than they actually are. It is sometimes hard to tell the difference between greenwashing and truly sustainable practices. However, by learning about what greenwashing is, you will be better placed to recognise it and call it out.
You can call out greenwashing by posting about it on social media, highlighting it to your friends and family, and contacting the company to let them know how you feel.
Contact a brand directly
Social media and email can allow you to contact companies privately. If you feel comfortable doing so, you can send a brand a direct message or email to find out more about their sustainability practices. This will show them that their customers are interested in supporting sustainable and ethical companies.
Perhaps you already know that a company is not committed to ethical and sustainable fashion and want to let them know. By finding some contact emails for the brand, you can send an email that outlines your disappointment and how you would like them to do better. Learn more about contacting businesses about their climate policies.
Organise a sustainable fashion focused event
You can spread the word about sustainable fashion by organising an event in your school, college, workplace or community. There are many options to choose from, and places like your local library will provide free venues. You could screen a documentary about the fast fashion industry, invite a guest speaker from a sustainable fashion company or arrange a clothes swap party. This is a great way to spread awareness and find like-minded people in your social circles. Textile Mountain is a great documentary that will showcase the issue and solution.
Join sustainability groups
Bonding with other people, online or in person can be a great way to start a conversation about sustainability, gain more knowledge and feel part of a positive change.
There are plenty of online groups that focus on being sustainable in everyday life and clothing. If you think your local community might benefit from having a group to promote sustainability in the area but you can't find one, why not start one? You can host ​​sustainable fashion focused events that are accessible to you, your school and your community.
Organisations and groups are a great way to start campaigns too, like no buy months, changes to legislation and calls for transparency. You can also get involved with Reuse month, every October in Ireland, or create events to raise awareness about UN dates, Earth Day, or events to showcase the importance at local level.
Support sustainable companies and practices
You can become a sustainable fashion activist through making more sustainable choices. Purchasing second-hand clothing where possible, learning to mend your clothes and only buying what you truly need are some ways you can do this. You can also choose to support and promote brands that you know are truly sustainable.
Find out more about how to make more sustainable fashion choices.
Leading by example can be a very powerful form of activism. Through taking responsibility for your own actions, you might inspire others to do the same.
Be kind to yourself
When getting involved in any sort of activism it is really important to take care of yourself. As you continue to learn about the fashion industry, you might become overwhelmed by all of the issues that exist and want to fix them all. That is completely normal. However, it is important to understand that you cannot change the entire industry on your own. This does not mean that your actions don't make a difference but rather, that they form part of a larger movement. The more individuals that take action, the more likely it is that we can change the industry as a collective.
Take the time to give yourself credit for everything you are doing in your role and acknowledge the positive actions being taken by others around you. Seek support from others in the community when you need it. If you need to step back from time to time, that is completely ok.
Organisations such as Fashion Revolution, Clean Clothes Campaign and Fair Wear Foundation offer free online resources for those who want to learn more about sustainable fashion.
Read more about using the internet for activism.
Cover image by Cathy Hogan
Feeling overwhelmed and want to talk to someone?
Get anonymous support 24/7 with our text message support service
Connect with a trained volunteer who will listen to you, and help you to move forward feeling better
Free-text SPUNOUT to 50808 to begin
If you are a customer of the 48 or An Post network or cannot get through using the '50808' short code please text HELLO to 086 1800 280 (standard message rates may apply). Some smaller networks do not support short codes like '50808'.
Our work is supported by