Top 10 tips for applying to university
Applications without all the stress.
Written by Alexandra Trant
Voices - Advice
Young people share advice based on their experiences.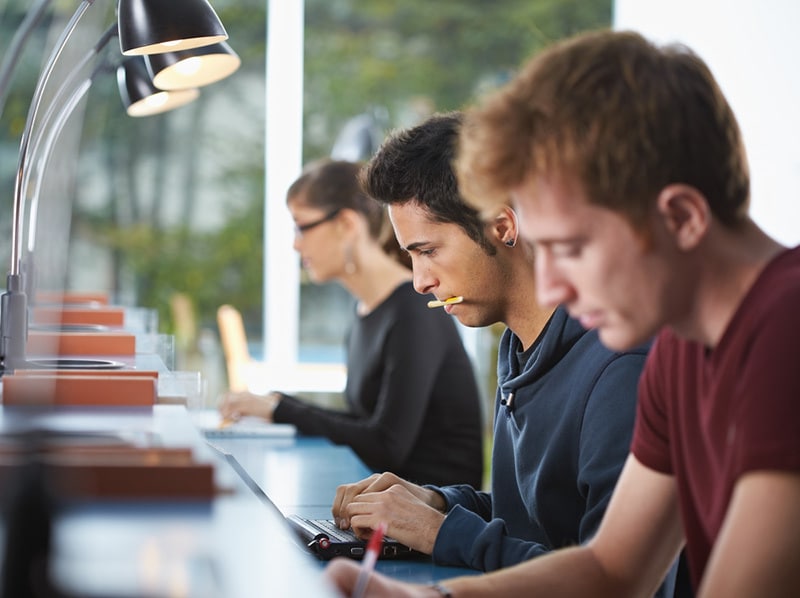 Deadlines are fast approaching for CAO and UCAS applications, which can feel like a time bomb for students who are completely confused about what they want to study. Most are repelled by the idea of trawling through courses. I, however, was a bit of a nerd for looking up courses last year, simply because I was so excited about the prospect of college life. While it did lead to my friends deeming me a wannabe career guidance teacher, it also gave me some useful tips for conquering the CAO/UCAS systems. Here are some I thought I'd share.
Always read the prospectuses
This is a great starting point for looking up courses, with most colleges having theirs online. Most prospectuses provide very useful information about the entire course outline rather than just the first year. Have a flick through each of the colleges before you've even thought about attending. Websites such as Course Hub are also great for getting student reviews of colleges and particular courses.
Attend open days where possible
While most open days have already occurred, many colleges such as NUI Galway will have another one in spring for students who wish to change their CAO. These open days are fantastic for interacting with current students and for getting a feel of the university atmosphere. If you've missed the open day, many universities will facilitate you if you wish to have a look around, or even want to attend some lectures. Just contact the admissions office.
Don't restrict yourself
It's worth looking at universities in Northern Ireland and England as well as those in the CAO system. University of Ulster and Queens in Belfast offer several courses that are not available in the Republic, and often similar courses there, may require lower grades than the CAO point system. Do be aware however that fees may be higher. Plus, many UCAS courses will require an interview, as well as submission of the compulsory personal statement. (See point 7)
Apply to CAO/UCAS early
It only takes a few moments to sign up for both systems. Even if you only have an idea of one course, put it in. You can always go back and adjust your choices (with a few exceptions – point 6). There will be no hassle to meet the deadline come January, and you can laugh at your friends while they are stressing to get over the unavoidable site crashes closer to the deadline.
Read the CAO/UCAS handbooks and websites
These resources provide important information about the application process, the college courses and their deadlines, seriously worth taking a look. Also, keep an eye on the CAO website regarding recent updates website (under 'Alert Lists') that are not in the handbook. New courses that may be perfect for you could just have been created, or another course you had your eye on might have been cancelled.
Check your course deadline
While you can still apply to the CAO later in the year, there are several restricted entry courses that you must apply to early. Medicine is an example, as well as veterinary in UCAS. If memory serves me right, these courses will be marked in the CAO handbook. Look out for unusual courses too, as several drama and performance courses (such as music in Trinity College) are also restricted entry.
Tackling the personal statement
For those applying to the UCAS system, the personal statement can be tricky. The best advice I can give you is that you should simply state your reasons for wanting to do your course, why it interests you and why you would be so much more fantastic than everyone else (as they are all rubbish compared to you). Well, maybe not that far, but play on your strengths. Include any significant detail you can think of – no one else is going to do it for you.
Ensure you meet all course regulations
Several colleges have certain subject requirements that you must fulfil to be eligible for a place. Most science courses require at least two sciences subjects, while for many arts courses (in the NUIs especially) you must have another language other than Irish and English. If you don't follow certain rules you may not get in, even with the points.
Place the courses in the order YOU want
I cannot stress this enough. The CAO system is rigid; if you get your first choice, you are stuck with it. Your offer only changes if you get a higher offer than your original one. This is why it's important to put the choice you want most down first. I've heard horror stories of people placing courses that they really wanted as their second or third choice, as they didn't think they'd get the points for it. Come results day, they got their points for their desired course, but were stuck with whatever they had as a first choice. The same goes if you put down a less-desired course, but with higher points as your first choice.
Try not to panic
Figuring out what course to do for the next three or four years is tough, it's no lie. If you're completely unsure, use your favourite school subjects as a starting point. General arts and science courses are also good as they allow you to taste several areas before specialising in later years. Furthermore, with the CAO you have until late June to change your mind (except for restricted entry courses). So just relax, do as much research as possible and I'm sure you'll make a choice that's right for you.
I hope that the above points have helped in some way. Best of luck to all those sitting the Leaving Cert come June, I hope you all get the grades you need!
Our work is supported by