Halloween costumes on a shoe string
With a love of dressing up for Halloween, Mairead gives her favourite fancy dress ideas you can do on a budget
Written by Mairead Collins
Voices - Experiences
Young people share their personal experiences.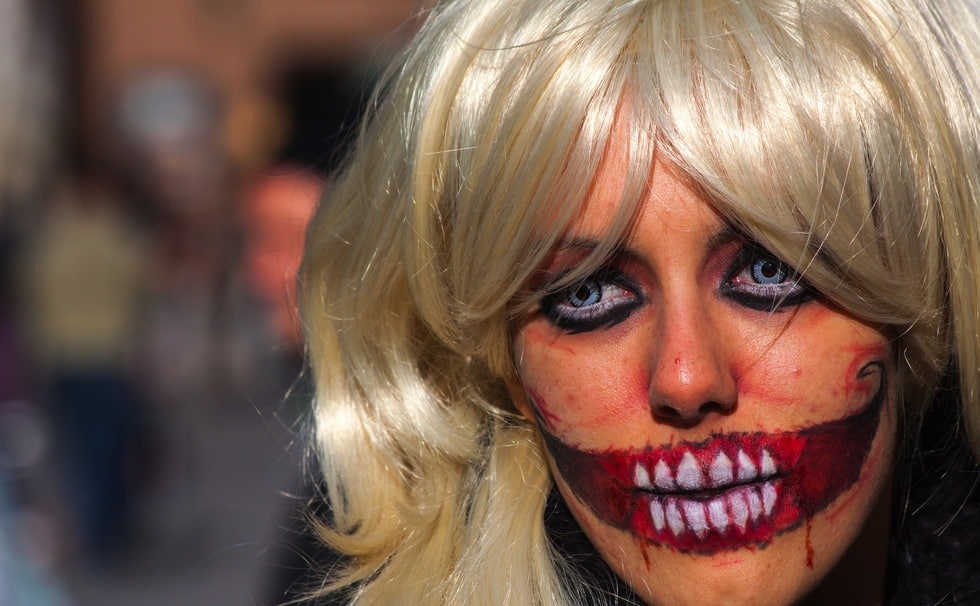 After five Halloween Balls, 20 Halloween parties and 30 fancy dress parties, I think I can safely say I know my costumes. (Pity there isn't a degree in this!) I love Halloween. It's my Christmas and I pride myself on doing fancy dress on a budget. So whether you are a Make & Do fashionista or someone who has just drawn a blank on this year's costume, I urge you to cast aside thoughts of the online panicked purchase and I shall take you through my costume box of budget buys.
First things first, you have to pick your genre and stick to it. Rarely will a last minute buy result in the ultimate Halloween outfit. A cross between sexy kitten and the girl from The Ring will be about as successful as Freddie Kruger meets Little Bo Peep. There are about five standard genres that make an appearance at every Halloween/fancy dress party and there is a quick way to budget track them all.
Scary Halloween
Let's start with my personal favourite: Scary Halloween! I love this the most because it's what Halloween fancy dress is all about. With all due respect to the multiple Mario families and Disney princesses that fill a colourful void at fancy dress parties, Halloween is really the only opportunity to connect with your inner creep and give everyone a good scare.
If you want to spend any coinage in this area, it should purely be on makeup.
The zombie epidemic would be a great example of this. You can wear your normal clothes and then just get your face paint on! The trick for the hair is to back comb it, dose with talcum powder to make it grey and then just add a couple of leaves from the garden. Done. The key to make up for your skin is really liquid latex. You can buy it online or in shops but be sure to test it out on your skin in advance of covering your face with it. White and black face paint and fake blood are also needed and will be just as good if you can't get a hold of the liquid latex.
The great thing about terrifying costumes is that they don't have to be anyone in particular. You will rarely see matching zombies and some of the best costumes I've seen in the last year are the simple zip face where you can dress as normal, so you can be as creepy as you want. This is probably the one area where you can really experiment as you go along but don't start your makeup without having a picture of the end result in mind first. With this one too, always make sure you have plenty of baby wipes to hand!
Sexy Halloween
Then there is Sexy Halloween. Oh sexy Halloween, where did you come from and why are you still here? Sigh. I can't say it's my favourite category for Halloween as it's not scary but it still falls under fancy dress and is incredibly popular so I shall proceed with some ideas. There are tons of these costumes online and in store but it can be difficult to get a reliable shape and size and why bother when you really can do it yourself. Fairies, Cats, Mice, Devils, Elves, Ladybirds, Bumble Bees, Butterflies and Bunnies are only tip of the iceberg when it comes to this genre.
Whereas with scary, the key to success is makeup, with this category it is all about prop. You could wear a top and bottom of any colour that you already own, add wings and a wand and you are a fairy. Same goes for devil horns and staff, cat ears and whiskers, bunny ears and tail. The great thing about these financially is you can usually pick up these props on the cheap or if you are feeling more creative, make them yourself. Word of warning though with this one, I have seen costumes such as Sexy Pizza Slice and Sexy Crayon costumes advertised under this genre. No, just no.
Celebrity
The next genre is Celebrity. With the celebrity costume, you can always count on the usual suspects like Elvis and Marlyn Monroe but this category will usually vary party to party depending on what is in the news at the time. No prizes for guessing who will be the main act at this year's Halloween event. (I hear they are calling it the 'twerkocolypse'?) When it comes to being successful with a look from this grouping, something signature to the celebrity is the answer.
So you know when you see a studded white glove you think Michael Jackson or when you see Shutter Shades you think Kanye so you can easily build the outfit around that. People rarely have to ask "What are you dressed as?" as the prop item, hairstyle, clothing and so on is the giveaway.
Punny
One of my favourite categories is the Punny one as pun humour is one of my guilty pleasures. You know that guy that turns up in a tee-shirt with an iron burn on it and says he came to the party as Iron Man? Yes, that guy. That type of wit is the way to go in this field. Same goes for the girl with a cereal box covered in fake blood that came to the party as a cereal killer. I'm sure you can see where I am going with this. This is undoubtedly the best option for the person on a tight budget, has to come up with a costume on the last minute or can often just be the wittiest of the people at the party.
Groups
Finally, the Group category. This is always great fun. If you and a friend or group of friends are still at a loss as to what to dress up as then try out something together. The budget busting tips for this genre really depend on what category your group decide to go with but the same rules apply; if it's scary it will all be about make up, 'sexy'/cute is about prop, celebrity is about their signature and punny will depend on the pun.
The list is endless for group costumes; cartoon characters, superheros, oopa loopmas, a bunch of bananas, pack of cards, dominos, or set of matches. Basically, pick one thing and then make it as a group. Often inanimate objects make this category easy for a larger group financially as material, make up, props etc can be bought and used altogether.
The moral of the article is: you don't have to splash the cash or be really arty to do Halloween or fancy dress well. It's all about thinking out your idea, realising that less is more, not to be afraid to try something out and trust your own ability when it comes to your own creativity.
Happy Halloween!
Our work is supported by