The ultimate Christmas movie list
19 films to get you into the Christmas spirit
Written by Cian Desmond
Voices - Opinion
Young people share their point of view.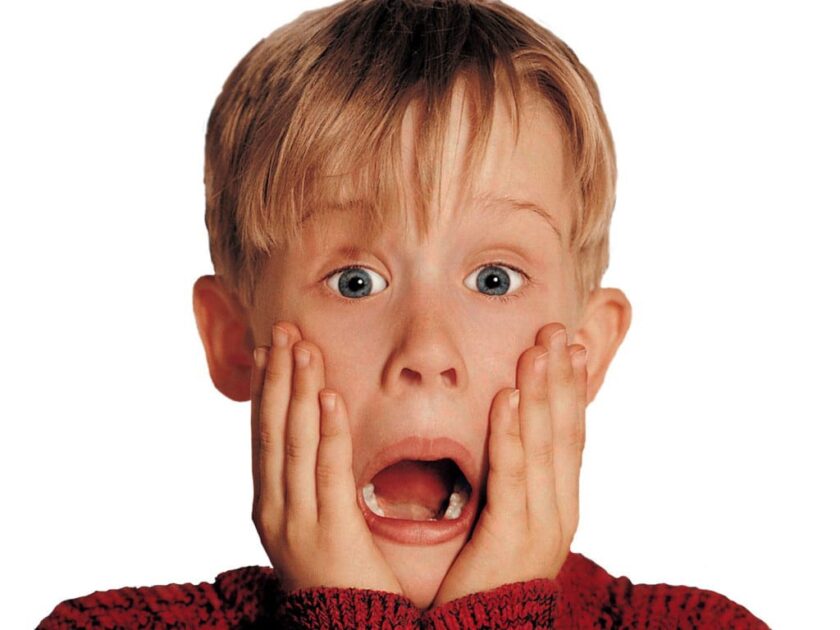 As our hemisphere slowly turns its face from the sun and the days get colder and shorter, we suddenly realise that radio stations and shops are playing the same few tunes that are… so familiar somehow… with jingle bells? Oh yeah! It's Christmas time!
We feel a sudden urge to wear woollen sweaters and sit by a crackling fire, perhaps nibble on festive treats. But what to watch when reclining in such comfortable conditions? You have to watch at least a few holiday films to get you into that Yuletide spirit. While you may scoff disdainfully, there are some genuine good Christmas movies out there. To help ye out, we've come up with a list of films, some classic, some little known, to get you through the holiday season.
To start off the list, here's a few oldy goldies. You might not have seen them before, but trust us, they're good (even though they're in black and white!).
Classic
1. It's A Wonderful Life (1946)
An absolute gem. 1940s drama showing the true meaning of Christmas. A man down on his luck finds out, with the help of his guardian angel, just how much he means to his community, and all the good he has in his life. With Jimmy Stewart.
2. Christmas in Connecticut (1945)
A unmarried, urban magazine writer who writes about her perfect domestic life in the country is placed in a pickle when she has to host an injured hero, and her boss over Christmas. To do so, she has to conjure up a husband, a baby and an idyllic country manor!

3. White Christmas (1954)
Superb musical. Bing Crosby and Danny Kay star as famous entertainers who hold a surprise fundraiser for their former army commander. Funny and unforgettable.
Runners-up:
Miracle on 34th Street
The Shop Around the Corner
Modern Classics
4. The Muppets Christmas Carol (1992)
In my opinion, the best version of Dickens' classic tale. This is insanely witty and clever reboot of the heartwarming story, with singing puppets thrown in to boot!
5. The Family Man (2000)
Any Nicolas Cage fans and/or haters out there? No matter what, you'll enjoy this offering from the legend. A loose remake of It's A Wonderful Life, this is a really touching and sometimes funny drama. With Nicolas Cage!!!
6. A Christmas Story (1983)
Nostalgia-fest 40's set holiday film, revolving around one kid's Christmas when all he wants is the Red Ryder BB gun! "You'll shoot your eye out!"
Runners-up:
The Santa Clause
Die Hard
Comedy
You need a few chuckles this Yuletide season. Most of these comedies are suitable for all ages, but some are not, so check it out before sitting down your little siblings or grandparents!
7. Home Alone (1990)
Ultimate kid Christmas comedy, whether you're young, or young at heart. Kevin, 10 years old, accidentally gets left at home over Christmas break and gets up to great hijinks, including defending his home from two bumbling robbers!
8. Elf (2003)
I considered putting this under modern classic, but it's just too darn funny. If you haven't seen this Will Ferrell tale of a man who grows up thinking he's an elf, then you've got a treat in store!
9. Deck the Halls (2006)
A hilarious, yet lame, movie. All the great holiday movies are a little bit lame, but this revels in it! Danny De Vito and Mathew Broderick battle to have the most spectacular Christmas house lights in the neighborhood- that can be seen from space!
Runners-up:
Christmas with the Kranks
Scrooged
Jingle All the Way
Family
Now here's a list of films that everyone can enjoy, even if you pretend to yourself that you're watching it "ironically"… (You know you love 'em!)
10. A Charlie Brown Christmas (1965)
A classic 60s animated TV movie featuring Snoopy and all the gang from the Peanuts comic strip. Now this is a really dark, sardonic humor for kids. Charlie Brown tries to find the true meaning of Christmas amongst all the commercialized madness!
11. The Polar Express (2004)
Excellent animated film featuring the voice of Tom Hanks. A magical train takes a boy who doesn't believe in Santa to the North Pole. Fun and moving.
12. The House Without A Christmas Tree (1972)
Live action TV movie. Engrossing family drama. A girl who never had a Christmas tree in her house helps her widower father to rediscover the holiday spirit.
Runners-up:
Frosty the Snowman
Rudolph the Rednose Reindeer
The Family Stone
The Year Without a Santa Claus
Miracle on 34th Street (90s remake)
Rom-Com
'Tis the season for giving, and loving! Romantic comedies sometimes come under (not always unjustified) fire. But, if you don't like rom-coms, open your mind (and your heart) and check these flicks out.
13. The Holiday (2006)
Two very different people swap houses over the holiday season and discover new cultures and new loves.
14. Love Actually (2003)
Eight different couples. One hectic month before Christmas. What could go wrong?
15. Just Friends (2005)
A guy who was unpopular in high school, now a successful exec, returns to his hometown to woo his childhood friend and secret crush.
Runners-up:
Four Christmases
International
While none of the films in this article are actually Irish, the ones on this list are more foreign than most! Here are a few really good films that you might not have come across…
16. Joyeux Noel (2005)
A historical drama set against the backdrop of Christmas Eve 1914, during World War One. Three different armies put down their guns for one night and celebrate Christmas together. Told from French, German and British viewpoints, this is a really good watch.

17. The Nativity Story (2006)
A re-make of the "original" Christmas story. This is a strong drama telling the story of the birth of Jesus, with great historical authenticity.

Not-Christmas-But-Almost
It's a long break, and (*gasp*) you might want a break from all the Christmas cheer. If so, here's a few movies that aren't strictly Christmas, but so very, very close!
18. Groundhog Day (1993)
It's winter, it's snowing, it has a man who learns to love – close enough to be a Christmas movie! Bill Murray at his sarcastic best in a quirky comedy with heart.
19. Meet Me in St Louis (1944)
This movie actually has Christmas in it, even if for only part of it. A classic musical with Judy Garland following the joys and woes of one family in St Louis at the start of the 20th century.
Well, that about does it for Christmas films for one year. Hope you enjoy!
Our work is supported by