Climate change documentaries, podcasts and websites you need to see
Want to learn more about climate change and sustainability? Here are some documentaries, podcasts and websites to start your journey!
Written by spunout
Factsheet
Fact checked by experts and reviewed by young people.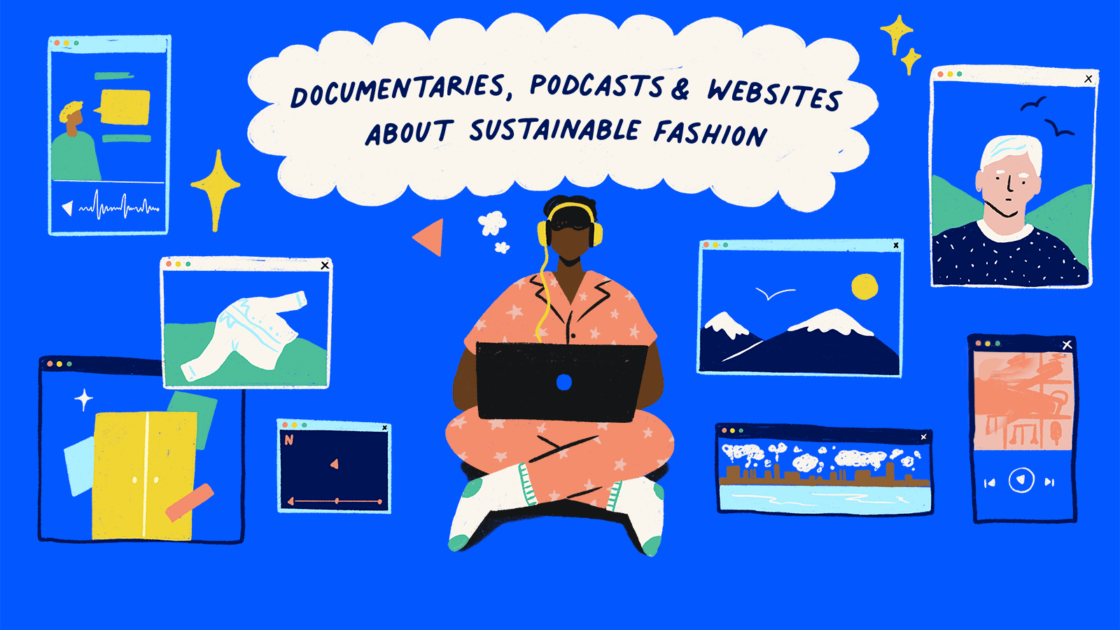 Interested in learning more about climate change and sustainability but not sure where to start?  Here are some documentaries, podcasts and apps that can help you learn more about sustainability, fast fashion, food waste, climate change and circular economy.
Documentaries about climate change and sustainability
Climate change
Blue Planet (2019) – a documentary series starring David Attenborough on Netflix showing how climate change is affecting nature and animals
Before the Flood (2016) – Leonardo DiCaprio travels around the world looking at the effects of climate change and speaking to prominent activists, scientists and politicians. The full 95 minute documentary is available on YouTube
2040 (2019) – a positive look on climate change and the future of sustainability if we adopt the technology available to us, like renewable energy, electric transport, carbon capturing and regenerative farming
Ice on Fire (2019) – a documentary on the potential scale of climate change and the technologies that could reverse the damage
Fast fashion
Toxic Tanneries Poisoning Workers in Bangladesh by VICE – a 12 minute mini documentary free to watch on YouTube, it gives a glimpse into one of the most damaging industries in Bangladesh.
The True Cost (2015) – a 92 minute documentary on the fast fashion industry and the damage it does to the environment and people.
RiverBlue (2017) – Another feature length documentary that shows how the chemicals used in manufacturing clothes are polluting rivers, and why this is a huge problem for the world.
Textile Mountain (2020) – this short documentary film exposes the social and environmental cost of the second hand clothing trade, tracing the path of our unwanted garments from recycling bins in Europe to landfills and waterways in the Global South.
Circular Economy
Minimalism (2016) – a close look at our relationship with material things and consumption. This feature length documentary on Netflix shows how a linear economy affects our lives.
Tomorrow (2015) – an uplifting sustainability documentary on creative solutions to environmental and social challenges.
Closing the Loop (2018) – Closing the Loop, the world's first feature-length documentary film on the circular economy
Podcasts about climate change and sustainability
Earth to Humans – An interview series featuring artists, scientists and activists fighting for climate justice and nature conservation across the world.
The Climate Briefing – Explores the key issues that shape international climate politics and interviews people from governments, international organisations and civil society organisations across the world.
Climate Conversations – Hosted by Irish Doctors for the Climate, this podcast dives into solutions for the climate and biodiversity crises we are currently experiencing.
Climate Connections –Dr. Anthony Leiserowitz from Yale University hosts a daily 90 second podcast on Climate change
Wardrobe Crisis – by Claire Press, author and former editor of Marie Claire Australia speaks to experts and looks at issues like ethics, sustainability and consumerism that face the fashion industry today.
Apps and websites about climate change and sustainability
Good on you – a source for sustainability ratings on over 3,000 brands. It also has tips, guides and articles on shopping sustainably
Happy Cow – an app to help you find vegan friendly places to eat near you. It works well in Dublin, Cork and Galway.
Manual for Environmental Justice – a digital toolkit for supporting environmental justice campaigners and communities, developed by Environmental Justice Network Ireland.
Depop – an app for buying and selling second hand clothes. Depop take 10% of profits from sales
Thriftify – an online charity shop selling to the UK and Ireland from all different charity shops from Oxfam to St. Vincent De Paul to Jack and Jill.
Repairmystuff.ie – an online directory to help you locate your local repair business
EPA.ie  Environment and You – a source of information on Ireland's environment and tips on how you can help protect your environment.
NUW – a virtual clothes swapping app, and a social network to share clothes with people in your local community and extend the life cycle of your wardrobes.
MyWaste.ie – a guide for managing your waste in Ireland responsibly, by recycling or using the right facilities. It also has great resources on waste in Ireland from the biggest issues we're facing to how to be active.
Too Good to Go – The Too Good To Go app lets you buy and collect food from restaurants, cafes, hotels and shops – at a great price – so it gets eaten instead of wasted
Cover image by Cathy Hogan
Our work is supported by