Canadian Prime Minister Justin Trudeau's visit with Taoiseach Leo Varadkar
Trudeau and Varadkar address the importance of having a gender balanced cabinet
Written by Megan Stonecipher
News
Information about the latest news and opportunities.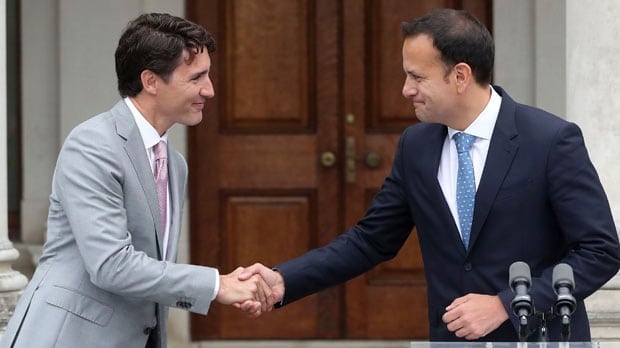 Today the Canadian Prime Minister Justin Trudeau and the new Taoiseach Leo Varadkar met at Farmleigh in Phoenix Park to answer questions from the Canadian and Irish press. The questions covered a variety of topics but the most popular topic addressed was the gender imbalance in Varadkar's new cabinet.
Varadkar has been under some criticism after recently announcing his ministerial appointments, where only 7 of the 34 positions were given to women. After both leaders were asked a question by the press about the importance of having a gender balanced cabinet, Trudeau spoke up and said "we need to get more women into politics, so we can promote them and give them the leadership roles that we need…It's not just the right thing to do, it's the smart thing to do."
The Canadian Prime Minister is praised for having a gender balanced cabinet, but did mention today that it took him several years to recruit more women into politics. He said that even though it is difficult to create gender balance in politics, it is very important to do so.
After Trudeau spoke, Varadkar stated that he would be following Trudeau's example by recruiting more women to run in the next general election. Varadkar then went on to say, "I'm very impressed by the fact that he has a cabinet that is gender balanced, I am always of the view that diversity leads to better decision-making. We should have a parliament that reflects and looks like the country it represents."
At the end of the press meeting Varadkar gifted Trudeau a rugby jersey and Celtic themed socks. Trudeau, who arrived yesterday, will be in Dublin until tomorrow morning before heading off to Edinburgh and then to Germany for the G20 meeting.
Our work is supported by