#GE2020 Lisa Chambers (Fianna Fáil – Mayo)
Lisa Chambers is running as a candidate in the 2020 general election in the Mayo constituency.
Written by spunout
News
Information about the latest news and opportunities.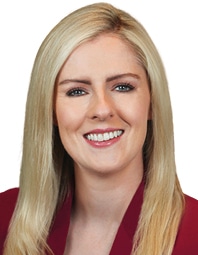 Name: Lisa Chambers
Age: 33
Preferred pronouns: She/Her
Political Party: Fianna Fáil
Constituency: Mayo
Candidate's stance on the issues that matter most to young people:
Climate Crisis
We need an urgent response but we also need an honest conversation about how we as a country are going to face this challenge together. There has to be an acceptance that it will require significant state investment and difficult decisions for government and citizens. As a rural TD I am acutely aware of the challenges for rural communities. We don't have public transport alternatives so we rely on our cars, agriculture is really important in rural Ireland for employment and the local economy and people still need to heat their homes. Rural communities will need financial assistance to make the necessary changes. Electric vehicles and solar panels are expensive and beyond affordability for most people. We need to ensure that those on lower incomes are protected as those on higher incomes can more easily afford to make these changes. I do believe it will be harder for rural communities to meet the climate challenged but we are ready and willing once we get some help. This is a global emergency and we must treat it with the sense of urgency it demands.
Reducing Homelessness
Fianna Fáil have in the past build homes, we have a proven track record on this, and we will do so again if in government. We have the lowest rates of home ownership in a generation and Fine Gael have failed utterly to get to grips with the housing crises. We are a first world country and we have money, no child should be growing up in a B&B or hotel room, this is a national disgrace. Not only must we build homes, we must also address the extortionate rental prices because this is part of the problem and driving people into homelessness.
Mental Health Services
Mental health services are way below what is needed. We currently spend approx 6% of the overall health budget on mental health, this must be increased to at least 12% to bring Ireland in line with the EU average. There is also a post code lottery when it comes to mental health services. Depending on where you live the service can be better or worse. In rural parts of Ireland mental health services are virtually non-existent with an over reliance on emergency departments which simply cannot properly deal with someone in mental distress. We need to ensure an equal service across the entire country and also a service that operates 24/7 and not just Monday to Friday.
Education Funding, including Third-level Fees
I want to see state funded third level education maintained. I am not in favour with saddling our young people with huge debt just as they are about to start their careers. I was lucky enough to get free third level education and want to see this maintained. Money should not be a barrier to any young person fulfilling their potential.
Funding for Youth Work
I would like to explore what option are available and see what we can do to better support our young people. Youth work is vitally important and I believe in investing in the next generation.
Direct Provision
We need to radically reform how we help those seeking asylum in our country. Application should be process far more quickly and I think it is appalling that people have lived in direct provision centres for years, this was never intended to happed and should not happen.
Learn more about Lisa
Get involved in our General Election 2020 coverage and let us know why you are voting by using the #WhyImVoting on Facebook and Twitter.
Our work is supported by