How does the Seanad work in Ireland?
Learn more about the Seanad and how it works as part of the Oireachtas
Written by spunout
News
Information about the latest news and opportunities.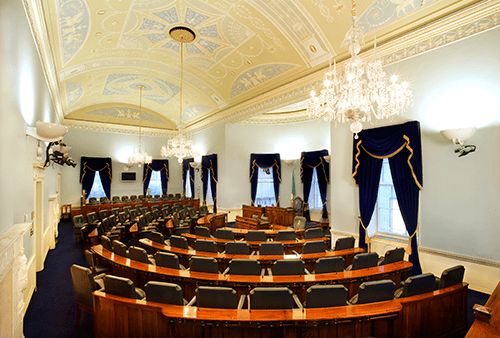 The Seanad, or Senate, is one of two Houses of the Oireachtas (the Irish Parliament), along with the larger and more powerful Dáil Éireann. Members of the Seanad are called senators or seanadóirí. They meet to debate and pass laws in Leinster House on Kildare Street in Dublin.
What is Seanad Éireann?
What do senators do?
The main purpose of the Seanad is to debate suggested laws (known as bills) which have been proposed by the Government. The Seanad can vote to change (amend) a bill, and can vote to delay, but not stop, a bill from becoming law. Senators can also introduce their own bills, which must be debated and approved by both the Dáil and Seanad to become law.
The Seanad is much less powerful than the Dáil. This is because, while the Dáil is directly elected by the people of the country, the Seanad is not.
Some more of senators' main duties are:
Working with the Dáil to suggest changes in law
Overseeing the work of government ministers
Making speeches on issues that are important to them
Most senators are also part of Oireachtas Committees, which are made up of groups of politicians who take an in-depth look at laws and public policies, before making suggestions for changes to the rest of the Oireachtas.
If the Seanad disagrees with a decision made by the Dáil, they can vote to delay it for up to three months but cannot prevent it from coming into force. Decisions of the Seanad, however, can be overturned or reversed by a vote of the Dáil.
How are senators elected?
Every four or five years, the people of Ireland vote in a General Election to choose their representatives (TDs) in Dáil Éireann. After a new Dáil has been elected, a new Seanad must be appointed within 90 days.
The Seanad is made up of 60 senators. Unlike TDs, senators are not elected by the public. Instead, they are chosen in a number of different ways:
6 senators are elected by the graduates of certain Irish universities
11 senators are chosen by the Taoiseach
43 senators are elected by Ireland's politicians, including TDs, county councillors and members of the previous Seanad
Who can vote in Seanad elections?
Ordinary citizens can only vote in Seanad elections if they have graduated from certain universities. Three senators are elected by the graduates of the University of Dublin (Trinity College). Another three senators are elected by the graduates of the National University of Ireland (UCD, UCC, NUI Galway and Maynooth University).
Graduates of other universities, such as DCU and the University of Limerick, cannot vote in Seanad elections. People who have not graduated from a university do not have a Seanad vote.
It is currently too late to vote in the Seanad Election of 2020. However, you can register to vote at any time if you want to have your say in the next Seanad elections, which could be any time in the next five years.
If you are a graduate of Trinity College Dublin, you can register to vote in Seanad elections at this link. If you are a graduate of UCD, UCC, NUI Galway or Maynooth University, you can register to vote in Seanad elections by emailing [email protected] or calling 01 439 2424.
How much are senators paid?
Senators get paid a minimum salary of €68,111 a year, which is taxed like any other income.
Senators are also able to claim expenses, or extra money to help them pay for their work. For instance, they can get additional money to fund their travel to and from the Seanad, to print leaflets explaining their work to voters, for their mobile phone bill, and more.
Senators also get an increased salary if they take on another job within the Oireachtas. This can include taking on a leadership role within their political party or group in the Seanad, or becoming Cathaoirleach. The Cathaoirleach is the chairperson of Seanad Éireann, who oversees debates between senators.
Retired senators can also claim a pension, which is higher or lower depending on how many years they spent in the Oireachtas and whether they were also a TD or Minister during their time in politics. The size of the pension can vary from a few thousand euro a year for some senators to tens of thousands for others.
How can I contact a senator?
If you would like to speak to a senator about their work or to share your views on a law or policy, there are several ways you can get in touch. Unlike TDs, senators do not represent specific parts of the country and so will not normally have offices outside of Leinster House.
You can contact senators by:
Visiting their website
Reaching out to them on social media
Phone or write a letter to their office (their details should be available on their website)
Email them: most senators can be reached at [email protected]
Our work is supported by