Tracking your menstrual cycle
Tracking your menstrual cycle can help you better understand your body and emotions during your monthly cycle.
Written by spunout
Factsheet
Fact checked by experts and reviewed by young people.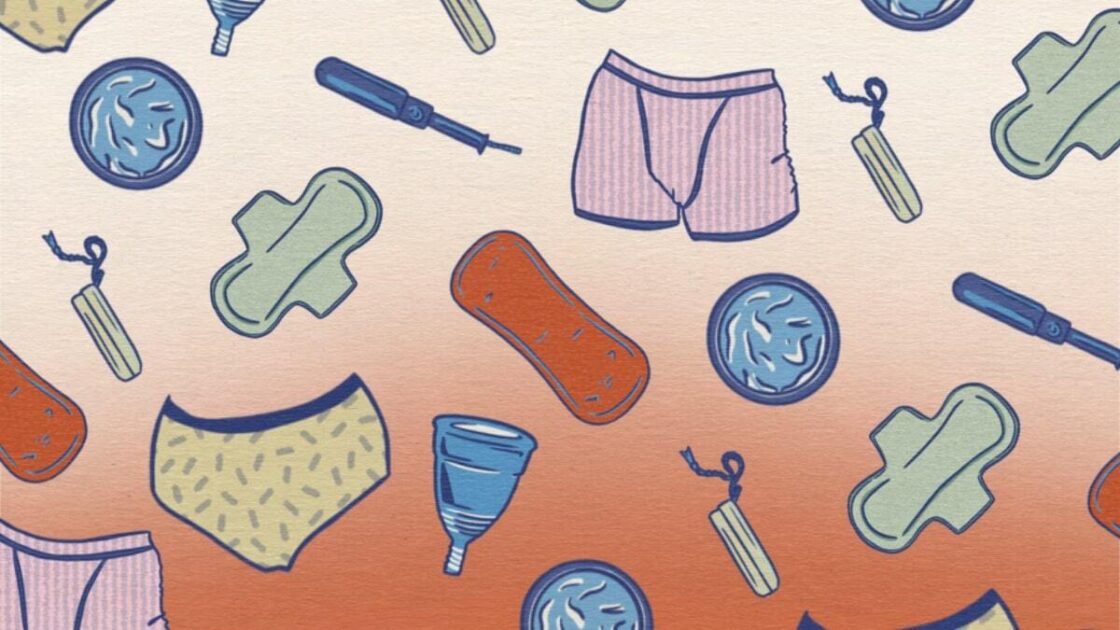 Tracking your menstrual cycle can be a helpful way of understanding your body and emotions. There are apps available where you can track your cycle, but you can also track your menstrual cycle yourself using a calendar or diary. Your menstrual cycle begins the first day you bleed on your period. You may have spots of blood or a dark brown discharge the days before your period, but mark Day 1 of your cycle as when a continuous flow begins.
Tracking your menstrual cycle
Days 1 – 7: Your Period
Your period will be individual to you, but on average it lasts between three to seven days. During that time you may experience cramps across your pelvic area and down your legs and back. The pain is usually caused by tightenings in the muscle of the womb. Muscles tighten so that the opening of the womb, called the cervix, will open to allow the tissue and blood out. (The opening is tiny – people are sometimes worried that the cervix is wide open, but that only happens when a pregnant person is in labour and about to have a baby).
Period cramps usually begin just before a period starts and continue during the period. You may also have other symptoms such as bloating, headaches, feeling upset and sad, constipation or diarrhoea and breast tenderness. Tracking your menstrual cycle, how you feel and what symptoms you have during your period can help you understand what you might need during that time to make yourself feel better
As you move past day five of your cycle, these symptoms begin to lessen and the flow of your period will become lighter and stop. You may experience improvement in your mood as you move into the follicular phase of your cycle, as the body is preparing for ovulation.
Day 7-14: Lead in to ovulation
Increased oestrogen and testosterone levels in the days leading up to ovulation can cause improvement in mood, sex drive and confidence. Tracking the positive effects during certain times of your menstrual cycle can be as beneficial as understanding that you may feel down in the lead-up to your period. It can help you prioritise doing certain things on days when you feel more motivated and outgoing.
For a 28-day cycle, day 14 after your period first began is when ovulation occurs and you have the highest chance of conceiving. However, there is a three-to-five-day window before and after ovulation where you're most likely to get pregnant. That's because sperm can live inside your body for up to five days, waiting for a mature egg to pass. This means that if you have sex on day ten and sperm enters the vagina, passes through the womb and into the fallopian tubes, it could still be there to meet the egg when you ovulate four days later. Tracking your fertile window can help you make the best choices for yourself depending on whether you are trying to get pregnant. However, contraception/protection should always be used, regardless the time of your cycle, if you are not trying to get pregnant.
The day of ovulation can change from person to person depending on the length of their cycle. One way to determine if you are ovulating is by checking your vaginal discharge. Cervical mucus increases in quantity and becomes clear and stretchy, like egg whites, during ovulation. Becoming familiar with how your discharge looks on different days of your cycle can help you better understand where in your cycle you may be. However, do not attempt to use this as a method of contraception as the signs can be misleading.
Day 14 – 28: Ovulation and PMS
After day 14, your hormones begin to change. Oestrogen levels drop and there is a rise in the hormone progesterone. This happens to prepare the lining of your womb for the implantation of a fertilised egg. If you do not get pregnant, oestrogen and progesterone levels start to drop around days 22 to 24 of your cycle. This change is thought to cause pre-menstrual syndrome (PMS), which can cause irritability, negative mood and skin issues in the coming days. PMS can cause the days leading up to your period to be a difficult time. Tracking your cycle can help you understand why you may feel heightened emotions the week before your next period is due. Understanding this can help you be kinder to yourself as your body goes through hormonal changes, or advocate for yourself if you are looking for help to manage your PMS.
You may experience PMS in the days leading up to your period. If you have not become pregnant during your monthly cycle, your progesterone and oestrogen levels start to decrease and another hormone, prostaglandin starts to rise. This hormone change will cause the walls of your womb to contract and the lining to fall away. This is menstruation, or your period, which is the beginning of the monthly cycle again.
The benefits of tracking your cycle
If you track your menstrual cycle for a few months, you can see what is normal for you. You may see a pattern of how long your cycle is, when your discharge indicates you are ovulating, if you have symptoms which may be due to PMS and how long your period will last. If, for example, you track your period for six months, you will be able to see how many days on average it is. If the lengths between your periods vary a lot, or your period also changes from month to month, it could be a sign that something is wrong. Tracking your menstrual cycle can be helpful as you can use it as evidence when speaking to a GP, sexual health professional, gynaecology nurse or gynaecologist. The more information you can give them about your cycle, the better they may be able to help you.
Feeling overwhelmed and want to talk to someone?
Get anonymous support 24/7 with our text message support service
Connect with a trained volunteer who will listen to you, and help you to move forward feeling better
Free-text SPUNOUT to 50808 to begin
If you are a customer of the 48 or An Post network or cannot get through using the '50808' short code please text HELLO to 086 1800 280 (standard message rates may apply). Some smaller networks do not support short codes like '50808'.
Our work is supported by