A playlist to soothe an anxious mind
Which songs do you listen to when feeling anxious?
Written by Nicole Glennon
Voices - Advice
Young people share advice based on their experiences.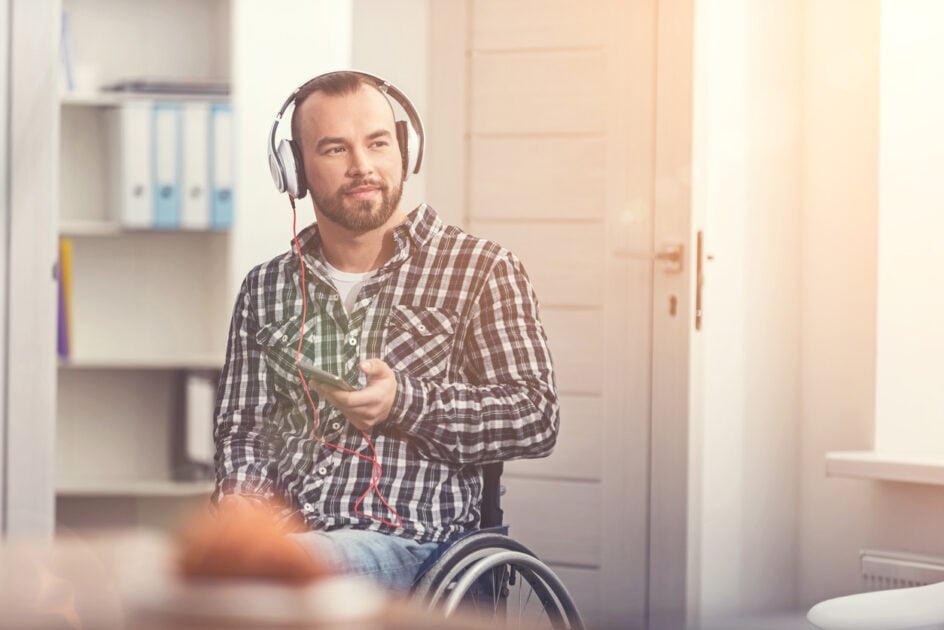 Mood and music can heavily influence each other; if I am feeling particularly low on self-confidence and don't want to leave the house, listening to a playlist of my favourite pop queens can hype me up for a night out. If I am feeling sad and just want to wallow it in for a while, a more mellow playlist with the likes of Damien Rice and Daughter will be put on rotation. As someone who suffers from anxiety, there are times when my head can feel fit to explode and the physical panic feels insurmountable. At these times, there are a number of songs that help to slow down both my breathing and my brain, and give me a sense of calm.
Weight of Your World – Roo Panes
Any Roo Panes song would be a good bet for soothing the mind, but this one is my personal favourite. Almost a lullaby in nature, Panes is attempting to soothe and reassure someone in this song, asking them to sleep, remember that tomorrow's a new day, and that all will be alright. The chorus is an assurance that all they've to do is ask and he will be there to "take the weight of your world, from your shoulders, girl." Maybe we can't all call up Roo Panes, but it's a profoundly beautiful way to reassure yourself that this will all pass, and in the meantime, there's someone there to listen.
"Nothing can get you
You know I've got you
You're in my arms"
Birdsong – George Ogilvie
If 'Weight of Your World' is a song reaching out to someone suffering, 'Birdsong' is the sufferer reaching out. Ogilvie is longing for a feeling of hope, something other than this "darkness" that covers his eyes. That feeling of hopeless, of darkness, is sure to be familiar to anyone struggling with anxiety or depression, but the song is not without the light. Ogilvie looks to the birds and promises to follow their song, "Til I find my way back home."
"This feeling of hope
Is something I want to hold
So I'll follow the birdsong
'Til I find my way back home"
Secret For The Mad – Dodie
Youtuber and singer-songwriter Dodie Clark said she wrote this song for a friend and for anyone who might feel like she did (the artist has spoken openly about her struggle with depression and depersonalisation). "Your bad brain will tell you lies," she said, "Listen to the part that tells you it will get better." It is reassuring to hear someone on the other side tell you that what you are going through is surmountable, and you will not feel like this forever.
"There will be a day
When you can say you're okay and mean it
I promise you, it'll all make sense again
I promise you, it'll all make sense again"
Cucurucu – Nick Mulvey
This song was adapted from a poem called Piano by D.H. Lawrence. The imagery painted in the opening verse is warm and nostalgic, a child being sung to by his mother. Oftentimes, anxiety can make us feel weak and childlike. There's something comforting in hearing Mulvey sing out "I weep like a child for the past." Ultimately, it's a beautiful song that makes us indulge in our longing to be cared for and feel a little less alone.
"Softly, in the evening dusk, a woman is singing to me
She takes me back down the vista of my years, until I see
I see a child underneath the piano, in the boom of the tingling strings
Pressing the poised feet of his mother who smiles at him as she sings
Cucurucu, cucurucu…"
Tomorrow Will Be Kinder – The Secret Sisters
This simple but stunning song featured on the Hunger Games soundtrack a couple of years ago. The American duo sing here about a day full of sadness and pain, when you don't know "where to start." But, rest assured, they say, for tomorrow will be kinder, and it's true, because you've seen it before. Another tune that will be kind to both your ears and your brain.
"Sorrow weighs my shoulders down
And trouble haunts my mind
But I know the present will not last
And tomorrow will be kinder"
Up & Up – Coldplay
When you've had your fill of wallowing, Coldplay's Up & Up is a good one to finish on. It's comforting and uplifting and hopeful, and the chorus feels like a chant. It's worth putting "Up & Up Coldplay Glastonbury" in to YouTube and watching the band perform it live with the help of Chris Martin's kids, and a crowd of thousands, who all sing together;
"We're gonna get it, get it together
I know, we're gonna get it, get it together and flow
We're gonna get it, get it together and go
Up, and up, and up."
My anxiety playlist: https://open.spotify.com/user/1168999665/playlist/0NXjMcZ5mS4i7G8s05rP0L?si=96XnlV3ZQQ6KjyNqGhesww
This article was written by a SpunOut.ie volunteer. Check out our volunteering options here and get in touch if you're interested in getting involved.
Our work is supported by