How music, radio and podcasts help with my mental health
Louise talks about how music, radio and podcasts are a vital part of her everyday life, and the benefits they bring to her
Written by Louise Harvey
Voices - Experiences
Young people share their personal experiences.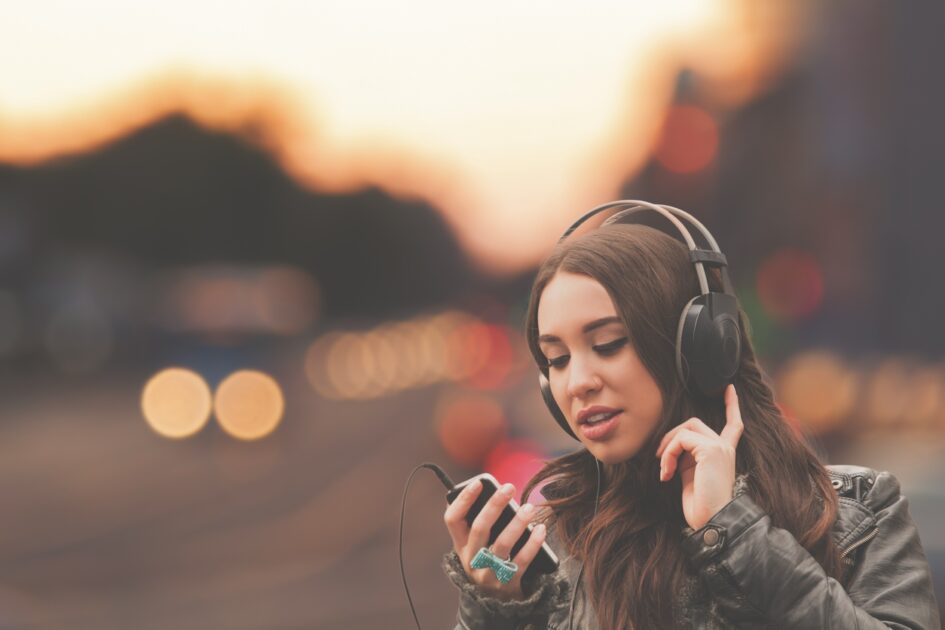 Music has always been a love of mine. I've played music from a young age, and as I've grown up, I still listen to music constantly. Music has the power to lift your mood, inspire you and help you feel connected with the world. The same can be said for radio and podcasts. You choose what you want to listen to, so it's very much a personal medium.
Music
There are very few times I don't listen to music; I listen to it when I walk, run, drive, study and when I'm with friends. It helps me to shut out the negative voice inside my head. It's a positive distraction. There are so many motivational playlists on Spotify to take advantage of at my fingertips, so why wouldn't I make the most of that?
It's also a bonus when friends have a similar taste in music to you. I love when someone shares a song with me. I find that when I share a song with someone, it opens up the possibility to chat more about the lyrics of that song. It helps me feel more connected with the world and those around me, because it reminds me that other people have the same feelings and have had the same experiences that I've had. Music makes it easier to bring these topics up, which I would otherwise find tricky to do.
Music events have also helped me to socialise more. I love nothing more than going to a music concert or a music festival with friends. In essence, you go to these events to listen to the music, but the real memories you make always include those around you.
Radio
On the other hand, radio is very much a personal experience which doesn't necessarily require anyone else but you. It's funny how many people say they don't listen to the radio but it's always there – in the car, in the shop, on the bus etc. I listen to the radio on my own and it helps me to relax. I can choose whatever station I want and change it at any time. Sometimes I will change over from listening to chart music to talk radio, for example.
Radio has exposed me to topics I wouldn't necessarily bring up everyday, and it helps break down taboo topics. I'd highly recommend looking up BBC Radio 1's "Gregathlon: Pedal to the peaks" event from last year. One of their presenters, Greg James, endured the near impossible challenge of cycling 500 miles, and climbing three of the highest mountains in the UK in five days for Sport Relief. The purpose of the challenge was to raise money for Sport Relief, but also to get the general public to talk about their mental health.
I have found that hearing other people talk on-air about their mental health issues has really started to break down the stigma attached to mental health. It has brought the topic to me on such a human level, and shown me the power that talking truly has on helping us all with whatever we may be going through.
Podcasts
Similarly to radio, you can listen to podcasts about any topic you love. Most recently, I have been listening to two podcasts to help calm my mind before bedtime – The Pat Divilly Podcast, and Happy Place (presented by Fearne Cotton). Pat Divilly helps give you ideas and inspiration on how to improve all aspects of your life. I started off with the "Prioritise Your Mental Health" episode and "The Social Media Diet" episode.
Happy Place sees Fearne Cotton sit down and chat to people about what brings them happiness. I found Gary Barlow's episode really interesting as he talks about body image and his struggles with it. Melanie C, from the Spice Girls, also talks openly about her depression in her episode.
It helps to hear these stories and experiences coming from people you see in the media and who you may have perceived to be a different person. It's helped me to see that no matter who you are, famous or not, we're all human at the end of the day.
This article was written by a SpunOut.ie volunteer. Check out our volunteering opportunities here and get in touch if you're interested in getting involved.
Our work is supported by