How to help people in period poverty
No one should have to go without the products they need during their period
Written by spunout
Factsheet
Fact checked by experts and reviewed by young people.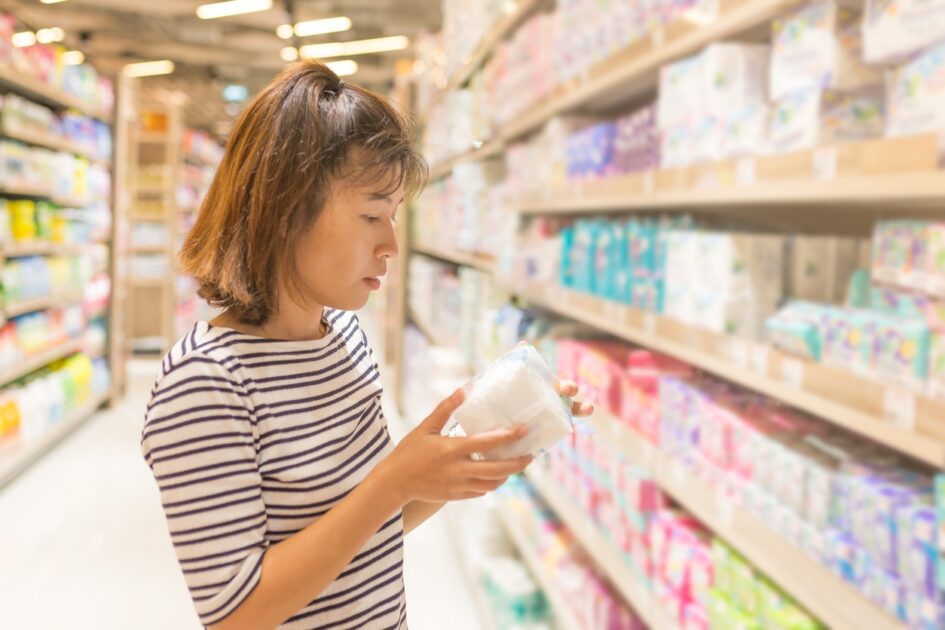 Period poverty is something that affects people all over the world. Before now, it was seen as a problem that mostly existed in developing countries, but more and more people are beginning to talk about period poverty as a problem that exists even in some of the richest countries, including Ireland.
As more research shows that young people in Ireland are experiencing period poverty, more people want to do something to help.
What is period poverty?
Period poverty means not having access to the products needed during a period, such as pads, tampons, menstrual cups, or pain relievers to help with cramps. This could be because of problems affording these products, or having difficulty accessing them for social or cultural reasons.
As a result, people have to find alternative ways of dealing with their period by using things like tissue paper, socks, and towels. It can also lead to missing out on school, college or work because they don't have the products they need to handle their period.
Who does period poverty affect?
Anyone could be affected by period poverty at some point in their lives, but in Ireland there are a few groups that are more likely to face these problems than others.
Low income households
One of the main reasons why people are experiencing period poverty is because they can't afford to buy period products such as pads or tampons. For low-income households, it might be difficult to include these products in the budget, and young people who need them might feel anxious about asking for them because of the cost. Instead, they go without and try to find alternative ways to handle their period
Homelessness
For people experiencing homelessness, access to period products and facilities like a toilet can be limited. Many people rely on donations to homeless charities to get the products they need, and they will have to use public bathrooms or shared facilities in hostels to change their products and clean up.
Direct provision
Some people living in Direct Provision in Ireland have said in the past they had to pay for sanitary products and pain relief to use during their period themselves, using money from their allowance of €21.60 a week. This meant they had to choose between their period and other needs. Many direct provision centres have since said that the Department of Justice have now agreed to provide sanitary products. However, this is still an example of how a person can find themselves in period poverty as a result of their circumstances.
Cultural and social causes of period poverty
Although affordability is one of the main barriers for people in period poverty, there are also cultural and social reasons why people can't access period products.
Many people who experience periods feel embarrassed talking about it. The idea of having to ask for period products, or even admit to having their period, can make some people feel ashamed. This is because historically, periods have been seen as something dirty that should be kept to yourself, rather than the natural process that they are. This is made even more difficult if a young person has no adult or older sibling in their immediate family who has gone through menstruation and who can guide them through the experience.
Things like premenstrual syndrome (PMS), which can cause some people to feel more emotional the usual right before their period, has been used as a way to make jokes or ridicule people. This prevents people from opening up about their period and talking about how it affects them.
This stigma can make it difficult for people to ask for help when they need it, and those around them who might be able to help may never realise that they need support.
The impact of period poverty
Period poverty can affect people in more ways than you might think. Aside from the inconvenience of not having any sanitary products, it can have an emotional, social, and physical impact.
Feelings of shame or embarrassment
Many people who have experienced period poverty have said they were embarrassed about the fact that they couldn't access to products they needed. Carrying around these feelings of shame can have a big impact on your mental wellbeing, and make it much harder to reach out for help.
Missing school, college, work, or social activities
A survey in Ireland showed that 61% of school-age girls missed school because of their period. No one should have to miss out on their education because they can't access period products. If people don't have the products they need, they lose out on opportunities and can become isolated during the time that their period lasts because they will have to turn down social activities.
Unsuitable alternatives
Many people try to find alternative ways to handle their period, with creating pads out of tissue one of the most common quick-fixes. Other people have said that they use socks or towels to soak up the blood. Not only is this material less effective, it can cause discomfort and irritation. Some of these solutions could also be unsanitary, and therefore unhealthy, for people to use.
Discomfort
A period is already an uncomfortable experience. Without access to pads, tampons, cups, or painkillers, it will be even less comfortable. While there may always be some level of discomfort, everyone who experiences a period deserves the opportunity to make themselves as comfortable as possible while it lasts.
How to help people in period poverty
You don't need to experience period poverty yourself, or even experience menstruation, to want to help the people who are currently dealing with this issue. There are a number of things you can do to help fight period poverty.
Talk about it
Ending the stigma around periods is one way you can help those who live in period poverty. Normalising conversations about menstruation, period products, and the issue of period poverty itself will make it easier for those who need help to come forward and ask for it. If feelings of shame and embarrassment are a barrier to people accessing products, it will help them to show that they have nothing to feel embarrassed or ashamed about.
Ask for free period supplies
Ask your school, college, or workplace to provide free period products like pads and tampons in the bathrooms so that those who need them can access them without having to ask. If the bathrooms are not unisex, you could ask for products to also be made available in men's rooms or in another shared space so that trans men who are still experiencing menstruation can also get the products they need.
Donate products to charities
Homeless charities around the country accept donations of pads, tampons, and menstrual cups to pass on to the people using their services. By making a donation, you can help to ensure that no homeless person goes without the products they need to get through their period. Homeless Period Ireland distribute donations to homeless charities across the country.
Contact your politicians
Get in touch with your local councillors and TDs and ask them to bring forward policies and initiatives to address period poverty in your area and nationwide. This could include providing free sanitary products in public buildings and schools.
Support international charities
While fighting this issue at home, remember that this is also a problem in developing countries where there are even fewer resources available.
Plan International's Because I Am A Girl campaign provides support to girls across the developing world who have fewer opportunities, face extra barriers, and experience period poverty. One of the programmes they run is Menstrual Hygiene Management Clubs, teaching boys and girls about menstruation, how to use period products, and breaking the stigma. Learn more about their research and work on period poverty here.
Feeling overwhelmed and want to talk to someone?
Get anonymous support 24/7 with our text message support service
Connect with a trained volunteer who will listen to you, and help you to move forward feeling better
Free-text SPUNOUT to 50808 to begin
If you are a customer of the 48 or An Post network or cannot get through using the '50808' short code please text HELLO to 086 1800 280 (standard message rates may apply). Some smaller networks do not support short codes like '50808'.
Our work is supported by