Supporting someone who has experienced sexual violence
Believing someone who has experienced sexual violence can be a huge support to them
Written by spunout
Factsheet
Fact checked by experts and reviewed by young people.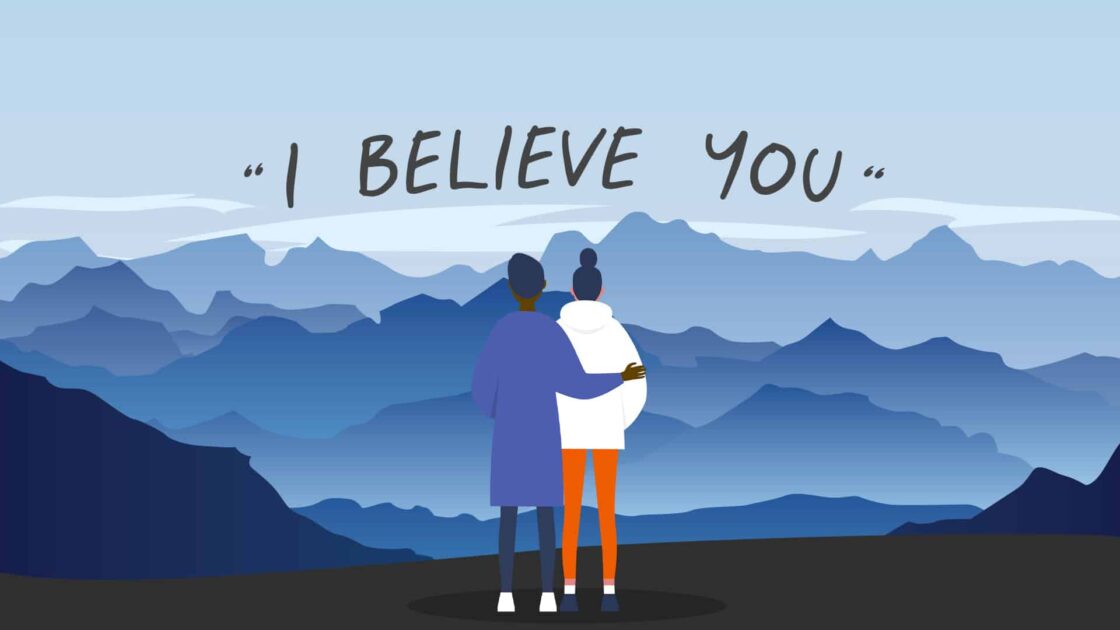 Sexual violence can be experienced in many different ways. Rape, sexual assault, sexual harassment, groping and dirty jokes are all forms of sexual violence that people, especially women and LGBTQI+ communities, experience on a regular basis. By recognising the many different and subtle ways people experience sexual violence, you can help be supportive of everyone who experiences sexual violence.
How to support someone who has experienced sexual violence
Believe their experience of sexual violence
A major issue for people who experience sexual assault is people believing them and taking what happen to them seriously. People are often told when they experience a sexual assault such as being groped or having their bum touched, that they are being "over-dramatic" if they get upset or react angrily to the person that has assaulted them. People labelling acts of sexual violence as "fun" or a "joke" do so to justify behaviour that they often know is wrong, to continue to control and have power over those they assault and avoid consequences for their actions. Believing someone who has been sexually assaulted or harassed is one of the most important things you can do to help them, and it is the first step in them feeling supported.
Ask how you can help
Sexual violence can happen at any time and will often happen on nights out or in crowded places. If someone you are out with experiences sexual violence, try to speak to them alone and ask how you can help. They may be in shock and not sure what to do, or try and brush the experience off as they feel embarrassed or ashamed of what has happened. Letting them know that you take their experience seriously and are there to help can show them that they are allowed to feel upset about what has happened.
You can also offer suggestions of things you can do to help such as:
Getting their belongings to help them leave

Moving away with them from the sexually violent person

Reporting the sexually violent person to staff at the venue

Offering to get them a taxi or help them get home

Going with them somewhere else where they feel safe

Offering to call the Gardaí

Offering to take them to a Sexual Assault Treatment Unit
Report the sexual violence
Some examples of where you can report sexual violence:
In school to someone you trust such as a teacher, year head or principal

In college to your Student's Union representative, campus security or a trusted member of staff

On public transport to the driver

In bars or clubs to a bouncer or to a member of staff

Online by using the report function on platforms such as Instagram and Twitter

In work to the HR department

In an emergency situation to 999 or at your local Garda station
Offer them advice on support services
Processing an experience of sexual violence can be extremely difficult and having professional support who can listen and offer perspective can be a great help. If you know someone who has gone through sexual violence, you may want to be there for them and offer advice, but that is a big role to take on, one you may not have the expertise to do. Being able to direct the person to support services can be a really practical way of supporting someone, as you recognise that you want them to get the best help possible.
Some supports for sexual violence include:
Go with them to a Sexual Assault Treatment Unit (SATU)
A SATU provides services to people who have experienced a sexual crime. They give the immediate medical, psychological, or emotional support that someone who has experienced sexual assault may need. The SATU service is for anyone aged fourteen or over who is the victim of a sexual assault or rape. All genders can access the SATU service.
Anyone under eighteen accessing the service must have a parent or legal guardian with them. This is because they will have to co-sign consent (give permission) with the person under 18 for the forensic clinical examination.
Offering to go with a friend to a SATU can offer huge support to them during the process. Small things like getting the bus with them, getting them snacks while they wait or helping them to get home after can all make a big difference during a difficult time. Often just being there to hold their hand or make small talk can offer comfort and let them know that they are not alone.
Spend time with them
After experiencing sexual violence a person may find it difficult to socialise or not want to be around crowds. Spending time with someone in the way that suits them can be a way to show support during a difficult time. Staying in and watching a movie or getting a take away can be a way to spend time together that they can enjoy while feeling safe. Ask the person what it is they are comfortable with and how they would like to spend their time and then respect the answer they give you. It may take time for them to want to return to certain places or activities and that is completely okay, what is important is to prioritise their comfort and safety.
Look after yourself
Supporting someone who has experienced sexual violence can be difficult and you may not have the capacity to be able to help them by yourself. Recognising that you cannot give your friend the support they need is not selfish, but is a way of ensuring they can get the best help possible.
If you are supporting a friend this can be an emotionally difficult situation and it is important to prioritise looking after your mental health and wellbeing also. If you are feeling overwhelmed, speaking to someone about what you are experiencing can be a big help and take some of the pressure away from you.
Feeling overwhelmed and want to talk to someone?
Get anonymous support 24/7 with our text message support service
Connect with a trained volunteer who will listen to you, and help you to move forward feeling better
Free-text SPUNOUT to 50808 to begin
If you are a customer of the 48 or An Post network or cannot get through using the '50808' short code please text HELLO to 086 1800 280 (standard message rates may apply). Some smaller networks do not support short codes like '50808'.
Our work is supported by