How to find student accommodation
Student housing can go quickly so you should start looking as soon as possible
Written by spunout
Factsheet
Fact checked by experts and reviewed by young people.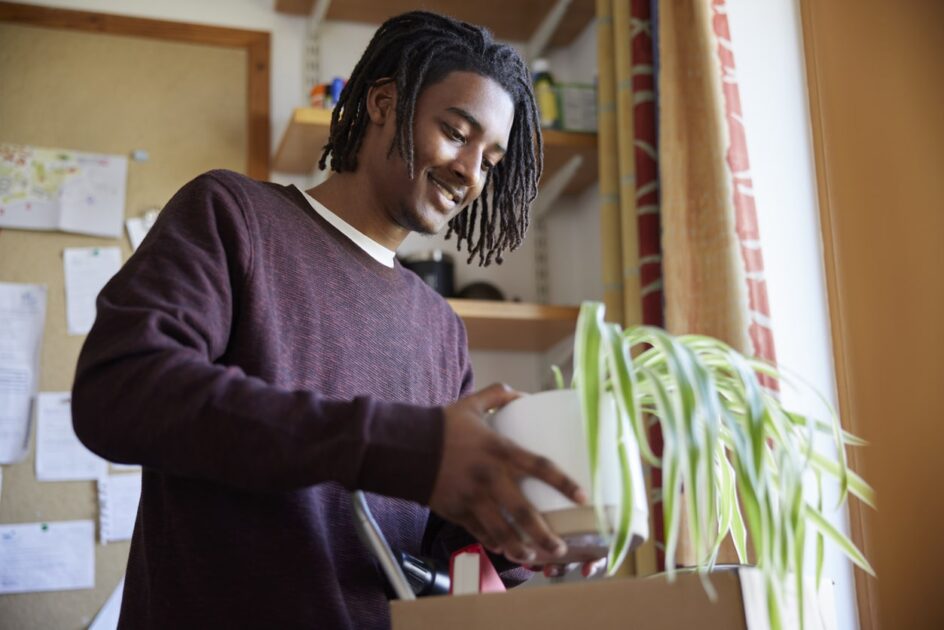 Once you have a place at university or college, you will need to organise somewhere to live quickly. Depending on your situation, you might continue living at home or you might have relations that you can stay with. However, for many people, college means moving to a new town or city and trying to find a flat for the first time.
In this article:
Deciding if student accommodation is for you
The decision to get student accommodation isn't as straightforward as it might have been in other years. With the blended learning system being adopted by most colleges, some students will be spending less time on campus.
Ask your college how lectures will be delivered
It's difficult to know what type of accommodation you need, or if you should be searching for student accommodation at all, without knowing how your lectures and tutorials will be delivered. Get in touch with your college and ask if they have confirmed how lectures will be delivered this year, or if they can give you an idea of what the upcoming academic year will look like. You can also reach out to your Students' Union to ask for advice around accommodation during blended learning, and if they can point you in the direction of available accommodation.
Even if your college is unable to give you a direct answer, the more students who contact them to ask, the more pressure there will be on them to make a decision.
Type of course
The type of course you're doing might determine how often you will be on campus. Some courses require students to go to labs, and you will need to be on campus for this. Others are more lecture and tutorial based. If you expect to be in labs or doing other on-campus activities, speak to your college or the course coordinator to find out how often you will need to be there.
Deciding if it's worth it
For some students, getting student accommodation may be their only option. However, if you have the choice between staying at home or getting your own accommodation, take time to consider if you feel moving out will be worth it. Accommodation can be expensive, and if you're only on campus for a few days within a month, you might not feel it's worth the cost. Weigh up the benefits of staying at home versus moving out, and make the decision that is right for you.
Look into the commute
Having a back-up plan if accommodation doesn't work out this year is a good idea. Look into the commute from your home to your college campus, and think about things like how much it will cost, how long it will take, and if it's something that could work for you. Remember that you might only need to do this for one week of the month, or even less. Exploring your commute can also help you to decide if accommodation is something you will really need, if there are not a lot of transport options available to you.
Choosing the right type of student accommodation
There are various types of student accommodation to consider.
Lodgings or digs
Lodgings/digs means renting a room in a family house. If you're very nervous about leaving home, this could be a good option for first year.
Positives of staying in lodgings/digs:
Some meals are provided by the family

You don't have to worry too much about cooking and cleaning

Bills are usually included in the payment

Lodgings are normally cheaper than private accommodation 
If you are planning to party lots, this isn't the best option as you will have to respect the family and be quiet after a certain hour. Before moving in, check if you need to pay to reserve your room during holiday time.
Student halls
On campus student residences/student halls are normally self-contained villages or buildings. Halls should have everything you need nearby (shops, launderettes, bars) and be easily reached from the university or college. Availability of student halls is increasing, so as soon as you know what college you're going to, call and ask about their accommodation. Read the prospectus so that you have a good idea of what the student halls are like.
Positives of living in student halls:
Halls are a good option for first year students as you can meet new people and become familiar with the campus

Instead of paying weekly or monthly, halls are paid for at the start of the student year and after Christmas

Renting in halls mean won't have to worry about bills or problems with landlords.

Usually, you will cook for yourself in halls
If you're not happy in halls, you will need to find another student to take your place before you can leave.
Private accommodation
If you are looking for accommodation and don't want to rent student accommodation, you can consider renting from a private landlord.
How to find student accommodation
Here are some things to try while searching for a place to live during college:
Ask student accommodation providers about flexible options
If you are looking for on-campus housing or private student accommodation buildings, get in touch with the provider and ask if they are offering flexible options. Some colleges have introduced flexible accommodation, allowing students to only book the time that they need in student housing. This means they can be on-campus when they need to be, and can spend the rest of the time studying at home.
Some hotels are now offering student rates for those who need to be near their campus for a few days at a time, but who aren't planning on living in student accommodation full-time. Look into hotels near your campus to see what they might be offering, and if it's within your budget. 
Look for accommodation options online
College Cribs is a website dedicated to listing student accommodation in Ireland. You can search for a room, a house to rent with other students, or for digs. You can also check out your college website as well as renting sites such as daft.ie or myhome.ie
Ask around on campus
Each college will have a Student's Union Welfare Officer to advise you on renting. You can also check notice boards on campus, where students often put up notices seeking flatmates, as well as houses offering lodgings off campus.
Grants for student accommodation
Student accommodation is expensive and many students cannot afford to rent and have to commute instead. In certain circumstances, there are grants available to students unable to afford their rent while studying.
The Student Assistance Fund
The Student Assistance Fund gives financial support to students in higher education who are experiencing financial difficulties. Students can apply for the fund to help them with either temporary or ongoing financial difficulties. The Student Assistance Fund provides a further source of funding for higher education students in addition to the Student Grant (SUSI)
Each year, the State allocates a certain amount of Student Assistance funding to all approved higher education colleges based on the size of the college's full-time student population. Students in need of financial support can then make an application in the college for assistance under the Fund. The Student Assistance Fund is not available in further education/PLC colleges.
Things to check when you find student accommodation
Signing a lease is a big commitment. It's important to know what you are agreeing to before you make any formal agreement.
Be careful of rent scams
There is a high demand for rented accommodation and because of this, rental scams are becoming more common. When looking to rent, it is important not to rush into a decision. Be aware of offers that seem too good to be true and always check the Register of Landlords to make sure your accommodation is legitimate.
Visit Threshold.ie for more information on rental scams, how to avoid them and what to do if you are scammed.
Signing a lease and your deposit
Take the time to properly read your lease agreement with a landlord and make sure you know what you're signing up for. Before signing a lease, ask about the deposit conditions. A deposit is a lump sum of money (often one month's rent) that you are asked to pay to cover any damage to the accommodation while you live there. Ask the landlord under what circumstances will money be taken from the deposit on moving out. In some cases, regardless of how clean you kept the apartment, money may be taken from the deposit for maintenance such as cleaning the carpets or painting the walls.
Many students find that when it comes to asking for their deposit back, the landlord charges them for damage already done to the flat. To avoid this happening to you it is best to:
Take photographs and notes of the condition of the room or house when you move in 

Email a copy to yourself to keep them safe and this will give you proof of the date when the pictures were taken

Make sure that the landlord gives you a list of items in the flat and a list of anything that needs to be repaired before you move in
If you follow these steps, you should not be asked to pay for anything that was already broken or damaged when you moved in. If you feel your landlord is illegally holding back your deposit from you, remember that you have rights. 
Know your rights
Above all, make sure you know your rights as a tenant. It can already be difficult to deal with landlords and find affordable accommodation as a student. Understanding your rights will make it easier to have conversations with your landlord and make sure you're getting the most out of your accommodation. Find out what to look for when renting a room, what you need to know about housing repairs, and what to do if you're having trouble during your tenancy.
Threshold can advise you on your rights and assist you with any tenancy issues.
Need more information, advice or guidance?
We offer information, advice and guidance about the issues that matter to you. Our online Youth Information Chat service is for 16 to 25 year olds and is available Monday to Friday, 4pm to 8pm (excluding Bank Holidays).
Our work is supported by