Where to find your nearest climate strike this Friday
Young people are continuing to strike and demand the government act on the climate crisis
Written by spunout
Factsheet
Fact checked by experts and reviewed by young people.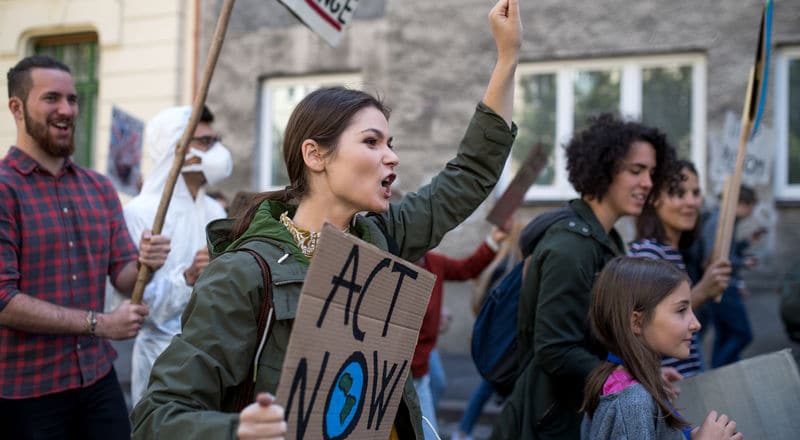 Another climate strike is happening this Friday 29 November around the country. The strike is part of Fridays for Future, a global movement calling on world leaders to respond with drastic action to the climate crisis.  The strike comes just days before a yearly United Nations climate summit kicks off in Madrid, and teenage Swedish climate activist Greta Thunberg is racing across the Atlantic by boat to hopefully make it in time.
Global Climate Strike: 29 November 2019
Young people will be taking part all across the country. Check out our list below to find a strike near you.
Dublin
1:00pm: a rally will kick off outside the Dail on Kildare Street
Cork City
12:15pm: protesters will gather on Lapps Quay
12:30pm: march begins
Cavan
2:00pm: protest will start at the Market (Town) Square
Limerick
1:00pm: demonstrators will begin marching from Arthur's Quay Park to City Hall
Tralee
9:00am: rally will start outside the Kerry County Council Offices
Navan
2:00pm: protest will start at The "Bull" (Market Square)
Ennis
12:00pm: protesters will start gathering at "The Height"
Naas
1:00pm: meeting at the Town Hall
Waterford
9:30am: march will begin from John Robert's Square – The Mall
Greystones
2:00pm: protesters will meet at Burnaby Park
Kenmare
9:00am: strike will start outside the Courthouse
Kilkenny
2:00pm: protest will start at the Town Hall
Maynooth
12:30pm: demonstrators will gather in Maynooth Square
Dundalk
1:00pm: a rally gets underway in Market Square
Drogheda
1:00pm: protesters will gather at The Mall
Letterkenny
10:00am: Demonstrators will gather at Market Square
Fridays for Future
The Fridays for Future movement started just over a year ago, when Greta Thunberg refused to go to school and sat on the steps of her parliament to protest against her government's lack of action on the climate crisis.
Greta has now become a household name, and has given speeches at climate summits around the world and inspired young people the worldover to start their own school strikes.
Don't see a strike in your area?
If there are no demonstrations near you, send an email to [email protected] for more information on how to start your own school strike.
Can't go but still want to make a difference?
If you aren't able to make it on Friday, there are lots of things you can do to have your voice heard on climate change.
Lobby your politicians
You could reach out to your politicians, both at a local and national level. This is sometimes called lobbying. Find out more about Read up on how to lobby and find out how to lobby politicians specifically on the climate crisis.
Use your vote
Voting for politicians that you believe will address the climate emergency is also another way to stay active on the issue. Check out our article on all you need to know about registering to vote in Ireland.
Learn about climate change
Want to know about climate change and the effects it will have on Ireland? Curious to see what Ireland has done so far to address the climate crisis?
Here are some articles that might help you out:
Our work is supported by