Exercises for people with limited mobility
Sitting down exercise is great for people who use a wheelchair or who have limited mobility
Written by spunout
Factsheet
Fact checked by experts and reviewed by young people.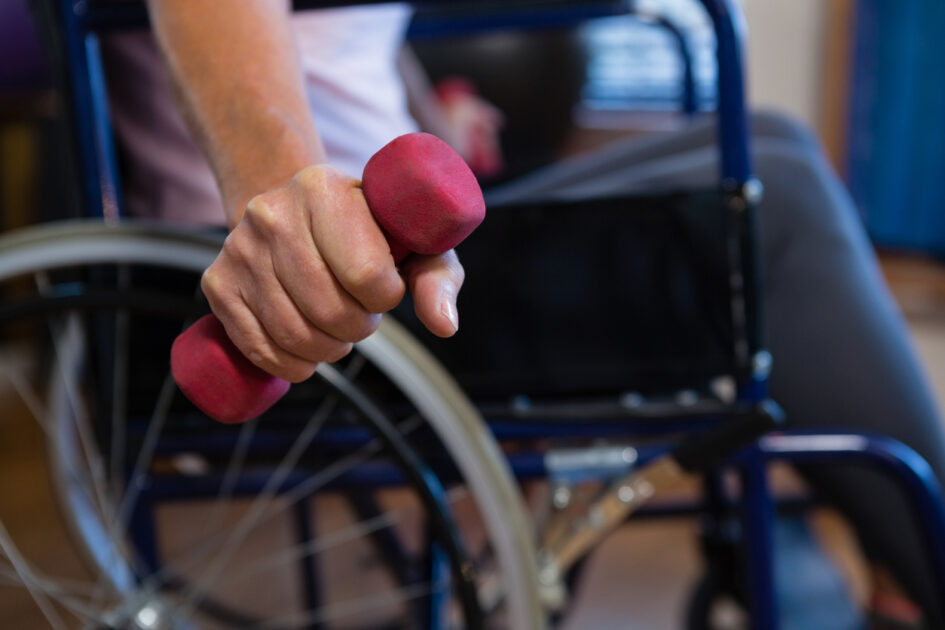 Living with limited mobility or using a wheelchair can make it more difficult to take part in traditional forms of exercise. If you're unable to stand, or can't stay standing for long periods of time, then it may feel like most forms of exercise are unavailable to you.
However, there are a number of exercises you can do sitting down either on a chair or in a wheelchair. Whether you want to strengthen your arm or leg muscles, increase your flexibility, or get your heart racing with cardio, there are plenty of options to choose from.
These kinds of exercises can also benefit people who have a chronic illness that restricts their ability to exercise, or if you have suffered an injury that prevents you from being able to do your regular exercise.
If you want to put together a workout routine, consider breaking it down into the different parts of your body that you can exercise while sitting. If you're new to exercising, it might seem difficult at first. Ease into it and remember that it gets easier the more you do it.
Arms and upper body strength
To strengthen your arm muscles and improve your upper body strength, there are a number of exercises you can do that don't require standing at all. This can include arm circles, using weights, and using a rubber band.
Arm exercises
Hold your arms straight out from either side of your body and begin moving them in a circle shape one way for 30 seconds to a minute, and then reverse the direction of your circle for the same length of time. Continue to do this a few times in a row.
You can also move your arms up and down or forward and back, and introduce weights (or even just hold a full water bottle in either hand) while you do the movements. You could also use a rubber band for resistance when doing your exercises.
To do a bicep curl with your weights or water bottles, hold your arms down by your side and bring your hands up to your shoulders and back down again.
Legs
If you can move your legs while sitting, there are some exercises you can do to strengthen the muscles and stretch them out. Doing leg exercises can also be a great way to strengthen your abdominal muscles, as you will need to use your core muscles to hold your back up straight during the movements.
Leg exercises
This exercise is done using a rubber band or a resistance band. Place your feet flat on the floor, hip width apart, and at 90 degree angle. Wrap the band around your legs and tie it just below the knee. Sit up straight and hold onto the edge of your seat as you begin to pulse your knees away from each other. Keep pulsing for 60 seconds, then rest for 15 seconds. Do this four times.
Flexibility
There are plenty of ways to increase flexibility even from a chair. Taking time to do stretches can be great for your body, and will help you to feel better overall.
Stretches
Sitting in your chair, hold both hands over your head. Grab your left wrist with your right hand, and lean to the right to stretch the left side of your body. Hold for a few breaths, then come back to the centre and do the same thing on the other side, holding your right wrist with your left hand.
You can also do some head rolls, simply rolling your head in a circle one way for a few seconds, and then reversing the circle to go the other way.
Here are some stretches that you can do in and out of your wheelchair. If you're not in a wheelchair, you can still do many of these stretches sitting in a chair.
Yoga
Yoga is not only a great way to stretch and increase flexibility, it also helps to relax the body and the mind, reduce stress and anxiety, and boost your mood. Being in a wheelchair or having limited mobility doesn't mean you can't also do yoga.
Cardio
Cardio exercises are important for your overall health and wellbeing. When you do cardio, your heart rate increases, your breathing becomes heavy, and you will sweat. It helps to burn calories, strengthen your heart and lungs, and improves your metabolism.
Try to exercise at an effort that still allows you to have a conversation (this is known as the Talk Test). If you are doing interval training, you can work a bit harder than this for short bouts with breaks in between.
Cardio exercises
If there's a cardio exercise you think you might be interested in, find out if there's an adapted version out there. For example, if you think you might like to take up boxing, contact a gym and ask if one of their trainers would be willing to work with you on an adapted version of boxing. You could even do a zumba class, following along with the arm and upper body movements while you sit in your chair. Think about what you might like to try, and find out if there are options available to you.
An arm ergometer can be a very good option if you are in a wheelchair, as it allows you to get your heart rate up by using your arms in a cycling motion and you might even be able to join a spinning class while using it.
Joining a club
If you are in a wheelchair, why not look into taking up a wheelchair sport? There are a number of sports you can take up with clubs across the country, including basketball, rugby, and even table tennis. Have a look at the wheelchair sports teams you can join in Ireland here.
Joining a gym
Do some research to find out if there is a wheelchair accessible gym near you. If the gym is accessible, it should include wheelchair accessible equipment such as resistance machines and cardio machines, and there should be staff members there trained to help you. The Irish Wheelchair Association (IWA) have a gym with a range of equipment and a number of trained staff members. Find out more about the IWA Gym here.
Our work is supported by