Emma's vegan courgette porridge recipe
Have you ever added vegetables to your porridge? This courgette porridge is delicious and helps get more vegetables in your diet
Written by Emma O'Toole
Factsheet
Fact checked by experts and reviewed by young people.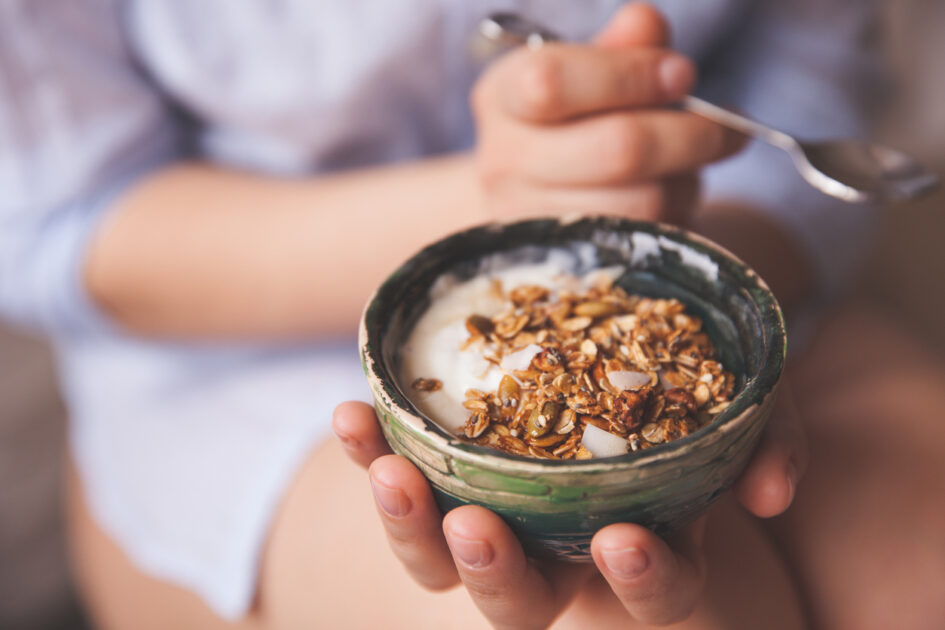 Okay so if you are vegan, non-vegan, partially vegan or if you just want a tasty porridge recipe then this porridge recipe is for you. With this recipe I hope I can transform the minds of anyone who says, "vegan food is boring".
Now have you ever added a vegetable to your porridge? If you have, hopefully you found the controversial experience amazing. If not, do not worry. This may be your chance to delve into the non-basic porridge world. I have added one third – a half a courgette into these oats. I befriended the grater. Courgettes hold a lot of moisture, so they make your porridge expand a little in volume. Because they are grated, they cook super-fast, so you do not have to worry about raw courgette oats (I would not recommend that to anyone!)
I know a lot of people struggle to get there 5 a day in so this is a simple trick to creep in some micronutrients. I sometimes add a carrot too which is in my other porridge recipe on SpunOut.ie (here). This a good way to incorporate more plant-based food into your diet. You can also try swapping one meal a day to veggie/vegan or swap one day a week. It really can be a small change to make a difference. The raw cacao powder gives the oats that extra flavour hit, and I topped them with some soya yoghurt and berries.
Now I make my oat mixture the night before and allow them to sit overnight. This not only helps with digestion, but it allows time for the ingredients to mix. It also saves time so all you need to do is pop them in the microwave for 2-3 minutes and stir in between. If you're feeling fancy, whip out a pan on the hob, place the oats on high, heat the oats and stir until they boil and then reduce the heat down. Keep stirring and when you are happy with the consistency, pour into your bowl. I am a thick oats kind of gal but if you like yours more watery/ less thick, add some more milk/or water to thin the mixture.
Ingredients
¾ cup oats
1 cup oat/ soy/ almond/ cashew/ coconut/ hemp milk
1 tablespoon of chia seeds
1/3-1/2 courgette grated
1-2 teaspoon cacao powder – Aldi stock a super cheap one
Method
Place the oats, milk, courgette and chia seeds into your jar/container.
Stir these ingredients together.
Now add in the cacao powder and stir again.
Place into the fridge and leave for 2-3 hours or overnight.
In the morning open and pour the mixture into your saucepan or bowl and heat as directed above (2-3 minutes in microwave, 4-5 mins on the hop).
Top with: Soy/coconut yoghurt, cinnamon and frozen fruit.
Tip: I always thought you could not eat frozen fruit straight from the packet but because the porridge is warm once you stir them in the dissolve and they are incredible bursts of juicy goodness.
I hope you enjoy and check out my blog for other recipes: FindingUAgain
Our work is supported by