What is trauma? Causes, symptoms and treatments
Trauma can occur any time a person endures stress, fear, or panic
Written by spunout
Factsheet
Fact checked by experts and reviewed by young people.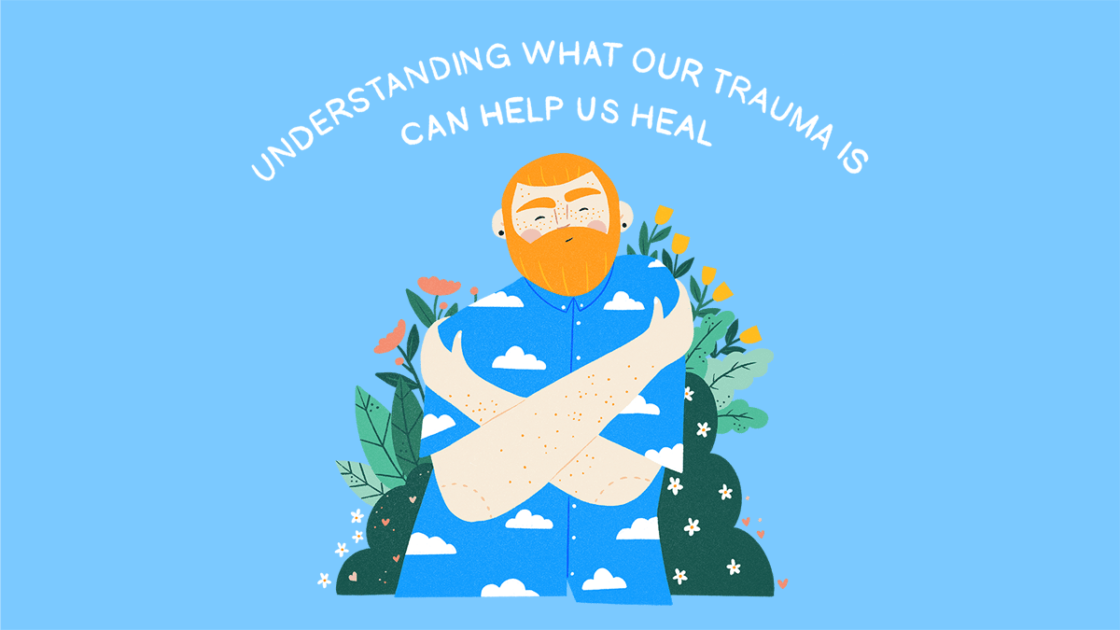 Anyone can experience trauma, and traumatic events can happen at any stage in life. People experience trauma for many different reasons. Experiences which cause a person to fear for their life or safety such as being attacked, sexually abused/assaulted, witnessing/experiencing violence, or surviving a natural disaster are all examples of situations that may cause someone trauma. People can also experience trauma from living, working or studying in high stress or dangerous environments where they experience or are at risk of experiencing any kind of abuse, oppression or pain. There is no one single definition of trauma as trauma can occur any time a person endures stress, fear, or panic.
What causes trauma?
We all respond differently to traumatic experiences and what is considered to be traumatic is individual to each person.
Common causes of trauma include:
Sexual abuse: Including rape, sexual assault and sexual harassment
Harassment: Including verbal or emotional bullying, sexual harassment, threats and blackmail
Bullying: Including emotional, mental, verbal, or physical bullying as well as more subtle peer pressure
Emotional abuse: Including manipulation, bullying, belittling, coercive control, threats
Abuse and domestic violence: Including physical, verbal, mental, or emotional abuse, and neglect of children and young people by their caregivers
Discrimination, racism and oppression
Addiction: Having a personal experience with addiction or the experience of having a family member or loved one experience addiction
Poverty or lack of access to necessary resources
The experience of living or being in a conflict area, a war zone, or a place where a natural disaster has taken place such as an earthquake or a tsunami
Medical procedures including emergency medical interventions and childbirth
Living with trauma
It can be difficult to read about trauma and to recognise the wide range of experiences that can be traumatic. What is considered to be traumatic is individual and means different things for different people. Many people will have traumatic experiences in their life. If reading this article is upsetting to you, take a moment away from the screen and come back to read more at a time you're comfortable with. Experiencing trauma does not mean that it will shape the rest of your life. Trauma can be managed so that experiences from the past, do not define the future.
What are the signs and symptoms of trauma?
Many people find their own ways to cope with their trauma so that they're able to live full and happy lives. Trauma, if unresolved and unacknowledged, can have serious and negative effects on a person's life and on the lives of others around them. People diagnosed with Post Traumatic Stress Disorder (PTSD) often relive (through nightmares and flashbacks) the traumatic event or events that they've lived through. Many symptoms of trauma are similar to other conditions and because of this, it can be overlooked by health professionals.
Response to triggers (events that cause a person to relive or remember the trauma in a way that can be uncomfortable or painful)
Avoidance of triggers (places, people, sounds, smells)
Memory problems, including not remembering aspects of the traumatic event
Physical and mental exhaustion
Low self-esteem
A loss of trust
Flashbacks and nightmares
Feelings of guilt and shame
Physical pain or chronic illness
Disturbances in sleep
Detachment or feeling numb
Difficulty or inability to complete necessary tasks
Substance use or addiction
What are common responses to trauma?
Each one of the 4 F's of trauma response describe a set of responses that someone may do when faced with threatening situations. Some people learn their trauma responses in abusive relationships, in difficult childhood experiences, or in any other situation where they were faced with a traumatic experience.
Fight – A fight response is self-preservation and self-protection against the dangerous or traumatic situation
Flight – A flight response is to get away from the traumatic or dangerous situation as soon as possible
Freeze – A freeze response causes a person to freeze on the spot. Their muscles become tense, they may hold their breath, and while they can't move, they are still very alert. Sometimes, a freeze response can progress to a state of shutdown where the person becomes numb, feels separated from their body, and may not be able to speak.
Fawn – A fawn response to trauma is when a person tries to please others to avoid conflict starting or escalating
Which of the 4 F's we respond to trauma with often varies and isn't predictable before the moment takes place when we're faced with trauma or danger. Understanding the different ways we may respond to trauma can help us understand our own behaviours more fully. Recognising our behavioural patters can be a first step towards changing them. When we take time to work on our responses to trauma, we're able to respond differently if and when we're faced with a similar situation in the future.
Childhood experiences of trauma
Living through traumatic experiences in childhood can have longterm impacts on a person's mental and physical wellbeing throughout their life. There are ten categories of childhood trauma that clinicians often measure when screening a patient for their history of trauma. Five of the categories are personal and five are related to a person's family unit. Not all types of childhood trauma are covered within these ten categories.
Ten types of childhood traumas:
Physical abuse
Verbal abuse
Sexual abuse
Physical neglect
Emotional neglect
A parent/guardian experiencing addiction
A mother experiencing domestic violence
A family member in prison
A family member diagnosed with a mental illness
Experiencing divorce of parents
The amount of traumatic experiences a person has in their early life, can increase the likelihood of that person experiencing mental or physical health challenges throughout their life. People may not remember trauma they experienced as a child, recognising your trauma history can be a positive step towards gaining an understanding of mental or physical health difficulties you may experience as an adult.
What is PTSD?
PTSD is an anxiety disorder that can be caused by experiencing traumatic events. The condition was first recognised in soldiers and was called "shell shock", but PTSD can be experienced by anyone. Each person's experience of PTSD is unique to them. One person might have experienced a similar type of trauma to someone else, yet be affected in different ways.
Factors that increase chances of experiencing PTSD:
Experiencing repeated trauma
Getting physically hurt or feeling pain
Having little or no support from friends, family or professionals
Dealing with extra stress at the same time, such as bereavement, money worries, racism, seeking asylum, homelessness or spending time in prison
Previously experiencing anxiety or depression
Not everyone who experiences trauma will have PTSD. Someone experiencing PTSD remains in 'psychological shock' where the traumatic memories and feelings associated with the trauma are frequently relived by the person who experienced the trauma.
What is the criteria for getting a diagnosis of PTSD?
According to the Diagnostic and Statistical Manual [DSM V], the current criteria for PTSD includes the following:
Exposure to actual or threatened death, serious injury or sexual violence
Symptoms following the event such as intrusive memories, recurring dreams, flashbacks or other bodily reactions to cues related to the event
Avoidance of things associated with the event (for example: similar or actual location, people or related feelings or thoughts)
A generally negative change in thoughts or mood following the event(s)
Changes in level of reactivity or heightened arousal beginning or worsening after the event(s) (for example: being startled very easily, feeling "on edge," or having difficulty sleeping)
Symptoms of PTSD include:
Recurring dreams
Flashbacks or other bodily reactions to triggers
Intrusive memories
Anxiety
Depression
Difficulty sleeping
Feelings of being on edge
What treatment is available for trauma and PTSD in Ireland?
If you are experiencing mental health difficulty due to trauma, speaking to someone about it can help. Processing traumatic experiences can be challenging and painful, but there are professionals who can help you to safely work through traumatic past experiences and give you guidance towards healing strategies and treatment options that may be right for you.
Speaking to your GP can be a great place to start when seeking to access professional mental health support. Your GP will be able to assess you, give you more information about your treatment options and refer you to a specialist if needed. Unfortunately, there can be long waiting times when accessing mental health services in Ireland and this is something to be aware of when speaking about your options with your GP.
Cognitive Behavioural Therapy
One of the options that your GP may recommend to you is Cognitive Behavioural Therapy (CBT). CBT is a very specific form of therapy that can be used to treat many types of mental health problems. Research shows that it is effective for a wide range of disorders, from anxiety to depression to phobias.
CBT works on the premise that our thoughts affect our behaviours and feelings, and that it is our thoughts that make us feel bad rather than our life circumstances or situations. It can be used to treat a variety of conditions, including anxiety disorders (such as post traumatic stress disorder and OCD), eating disorders, phobias and depression.
Each session lasts between 30 and 60 minutes. You can have CBT on its own or combine it with other treatments such as medication.
Medication
Your GP may also recommend that you go on anti anxiety medication, such as Selective Serotonin Reuptake Inhibitors (SSRIs), to help you cope with your trauma. Medication can be taken alongside accessing talking therapies and other non medicinal treatments. Deciding to take medication can be a big decision, but it is important to remember that if you decide to take medication it does not necessarily mean that you will be on it forever. Speaking to your GP about any concerns you may have about taking medication can help you to find the right option for you.
Free counselling services for young people
Jigsaw
Jigsaw is a national centre for youth mental health. They focus on intervening early to support the mental health of those aged 12 to 25 years of age. Jigsaw operates 13 services in communities across Ireland. They offer a place you can visit for free with confidential support from trained mental health professionals.
The services Jigsaw offer include:
One to one sessions for young people aged 12-25
Phone helpline open Monday to Friday 1pm- 5pm, call 1800 544 729
Text helpline open Monday to Friday, 9am to 5pm, text "call me" with your preferred day and time for a call to 086 180 3880
Email [email protected] open Monday to Friday, 9am to 5pm, you can email anytime and clinicians will be responding from
Visit Jigsaw.ie for more information
Turn2me
Turn2Me are a community of fully qualified and accredited mental health professionals that work online to provide a high quality, safe, anonymous and confidential space for you to gain support – wherever you are, whenever you need them, for whatever you are going through.
The services Turn2me offer include:
Up to six free counselling sessions for adults over 18 online via instant chat/messaging, video or email
Eight video counselling sessions for young people aged 12-17
Eight video counselling sessions for couples
They also offer support groups online and peer support online
Visit Turn2Me.ie for more information
Other support services
Here are some other organisations who may be able to offer support based on your situation:
BeLonG To (for LGBTI+ young people)
BeLonG To youth services is the national organisation supporting lesbian, gay, bisexual, transgender, and intersex (LGBTI+) young people between 14 and 23 years in Ireland.
Services include:
support groups for young people and parents
informal one-on-one chat service
professional counselling
drugs and alcohol support service
The services are confidential, free-of-charge and welcoming to all young people. Visit Belongto.org for more information.
Women's Aid
Women's Aid is a domestic violence service for women and children in Ireland. They offer advice and practical support for women and children who are being physically, emotionally and sexually abused in their own homes.
24/7 Freephone helpline, call 1800 341 900
Visit Womensaid.ie for more information
Men's Aid
Men's Aid specialise in supporting men experiencing domestic violence, whether this is ongoing or in a past relationship. They provide specialist counselling, practical information and legal options, while respecting and supporting you in all your decisions should you decide to leave or stay in the relationship.
Call their national helpline on 01-5543811
Visit Mensaid.ie for more information
Dublin Rape Crisis Centre
Dublin Rape Crisis Centre is a national organisation offering a wide range of services to any person affected by rape, sexual assault, sexual harassment or childhood sexual abuse.
Their services include:
National 24-hour Helpline: 1 800 77 8888
Webchat support
One-to-one counselling
Court accompaniment
For those who are deaf or hard of hearing, they provide a text service operating Monday to Friday from 8am to 6:30pm, at 086-8238443
Visit drcc.ie for more information
TENI
TENI is a non-profit organisation supporting the trans community in Ireland. TENI seeks to improve the situation and advance the rights and equality of trans people and their families. Visit Teni.ie to find out more.
Mental Health Supports in Northern Ireland
Shout
Shout is the UK's first 24/7 text service, free on all major mobile networks, for anyone in crisis anytime, anywhere. It's a place to go if you're struggling to cope and you need immediate help.
Text Shout to 85258 to begin.
Mind
Mind is a mental health organisation that offers emergency advice, freephone helplines and mental health resources to those experiencing mental health difficulty. Find out more about Mind.
Feeling overwhelmed and want to talk to someone?
Get anonymous support 24/7 with our text message support service
Connect with a trained volunteer who will listen to you, and help you to move forward feeling better
Free-text SPUNOUT to 50808 to begin
If you are a customer of the 48 or An Post network or cannot get through using the '50808' short code please text HELLO to 086 1800 280 (standard message rates may apply). Some smaller networks do not support short codes like '50808'.
Our work is supported by