Talking to your GP about your mental health
There's no need to worry about going to see your GP
Written by spunout
Factsheet
Fact checked by experts and reviewed by young people.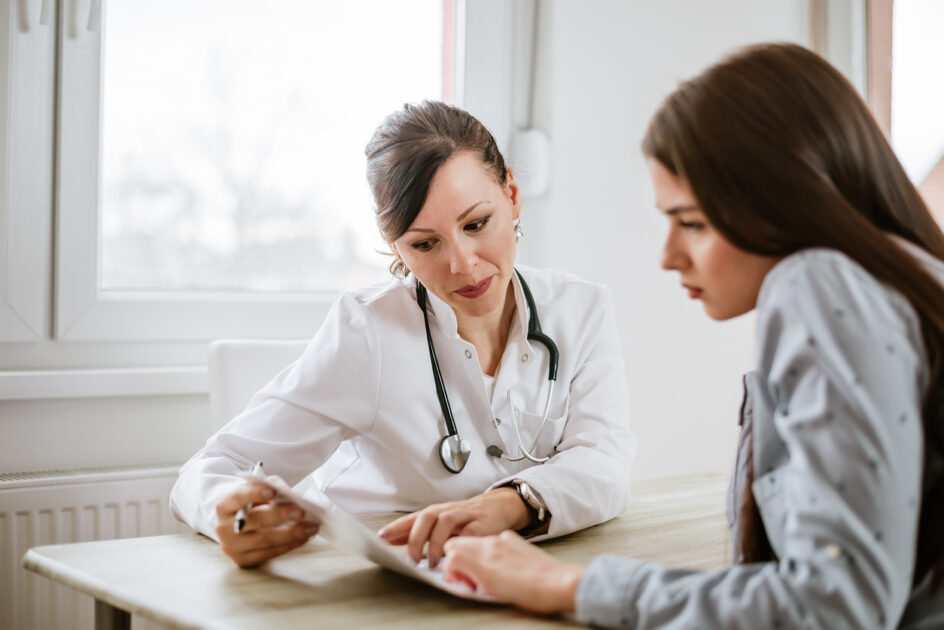 A GP is a doctor (a general practitioner) who is trained to look after your physical and mental health. Your GP should be your first contact if you have any concerns over your health, either physical or mental. You may be feeling down or your anxiety is out of control, or maybe you don't know what is going on for you. If you are having any concerns about your mental health, speak to your GP about what supports are available to you.
Learn about your rights to mental health treatment as a young person.
In this article:
Finding a GP near you
If you don't already have a GP you can find one by searching on the ICGP website. If you're in college, you may also be able to visit a GP in the campus health centre. GP surgeries usually work 9-5 hours, if you require a GP outside of these hours, especially if it's a weekend, contact a GP out of hours service.
How to book an appointment with a GP
It's easy enough to book an appointment with your GP. Simply ring them up or call into the surgery to make an appointment with the receptionist. You can request a male or female doctor if there is one available.
When booking the appointment, you shouldn't have to say what it's for, but if you are asked you can simply say that it's a mental health issue without going into much detail. However, if you are very distressed or feeling suicidal it is important to say that you need an urgent appointment.
You need to be registered to your GP's practice in order to access their services. If you're not registered ask if they are accepting new patients, and sign up.
What should I ask my GP?
It can be difficult to talk to your GP about your mental health, especially if you're not used to talking about how you feel. We've put together a few tips to help you get the best from your appointment.
Don't be scared to ask questions as your GP is there to help you get an understanding of what is going on for you.
Try not be embarrassed about talking to your doctor, they have seen it all before.
Say that you find it difficult to talk about what's wrong. This will prompt your doctor to help you to talk. Be as honest as you can.
Focus on talking about the way you feel and what has been going on for you in the weeks before your appointment.
Talk about what help you would like and what you would like to happen next.
Before your appointment make a list of any concerns or questions you may have. If you have a question don't be afraid to ask it. Your doctor is used to people asking questions and will be expecting you to ask some, so don't be shy.
How can I prepare before my appointment?
GP appointments are usually pretty short so it's usually a good idea to prepare what you want to say before you go in
Write down what you want to say in advance and don't forget to take your notes in with you
Try to be on time for your appointment as if you are late it will only make you more stressed, and you may even miss your appointment
If you are feeling nervous, let your doctor know
If you feel unable to talk about what is going on for you, you can bring a friend or family member into the appointment with you. If they don't attend your appointment with you, talk with them beforehand to go over what you will say. This can help if you find it difficult to talk about what has been going on for you.
What can I expect from my GP?
Your GP should treat you with the utmost respect and be non-judgmental in their treatment of you. Your doctor may give you a diagnosis, although this is very unlikely on a first visit, or refer you onto someone else who may be an expert in dealing with your condition or illness.
Your GP may also give you tips on how you can improve your mental wellbeing yourself. These might include tips for good mental health such as exercising and eating right, or ways you can improve your sleep. Before you make a decision ask all about the different treatment options open to you, and ask which would be the best for you.
Talking about self harm
If you are opening up to your GP about self harm, they may ask you questions about your self harm, such as:
How you self harm
Where you self harm
When you started self harming?
What makes you want to self harm?
They may also ask to see your injuries so they can assess what treatment that you need, if any.
Getting a referral
You may be referred onto the Child and Adolescent Mental Health Services (CAMHS). Most CAMHS services work with young people up to the age of 16, and some of them work with young people up to age 18. If you are 18 or over you will be referred to the Adult Mental Health services. There may be a long waiting list so ask your GP if there is anything you can do to help yourself in the short term.
Depending on where you live, you may be referred to the HSE's psychology service which can be accessed through your GP. Ask your GP for more information.
Jigsaw is a youth mental health service in some areas of the country for young people aged 12 to 25yrs. Your GP may suggest referral to this service if there is one in your area.
You may also be referred to counselling which is a type of talk therapy. This type of support involves talking to someone about your worries and concerns over a number of weeks. Your GP may recommend free or low cost counselling in your area.
Will I be prescribed medication?
You might be prescribed medication by your GP, and if this is the case make sure you know as much as possible about the medication prescribed to you. Ask your doctor to tell you about the medication, any potential side effects and for how long you will have to take the medication.
Not everyone likes taking medication, especially if it is to treat a mental health problem. But just because you are prescribed something now, does not mean you have to take it forever. However, it's important that if you are prescribed medication that you take it exactly as advised by your doctor.
How much does a GP cost?
GPs can vary in cost, but if you have a medical card or a GP visit card you can see your GP for free. If you don't qualify for either a medical card or a GP visit card, an appointment with the GP usually costs between €50-60 – each practice is different, so ask the receptionist when you call to make an appointment. If you are a student, find out if your college has a student health centre, where seeing a doctor is usually free or low-cost. You can also ask your local GP if they do student rates.
Feeling overwhelmed and want to talk to someone?
Get anonymous support 24/7 with our text message support service
Connect with a trained volunteer who will listen to you, and help you to move forward feeling better
Free-text SPUNOUT to 50808 to begin
If you are a customer of the 48 or An Post network or cannot get through using the '50808' short code please text HELLO to 086 1800 280 (standard message rates may apply). Some smaller networks do not support short codes like '50808'.
Our work is supported by