How to get support for self harm
Learn more about who you can turn to for support if you self harm
Written by spunout
Factsheet
Fact checked by experts and reviewed by young people.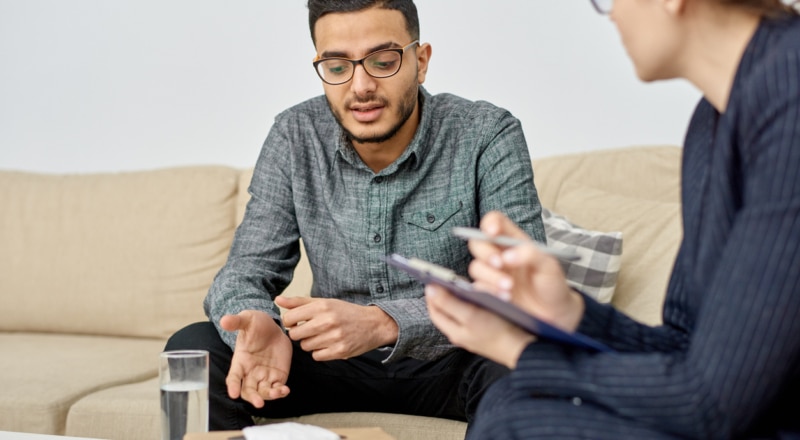 If you would like to get support for self harm, there are several options available to you. Firstly, if you feel comfortable in doing so, open up to someone you trust about what is going on in your life, such as a parent, guardian, or teacher, and ask them if they can support you in getting the help you need. If your parent/guardian would like to learn more about self harm, and supporting someone who is self harming, let them know they can find more information about it at SpunOut.ie.
Getting medical support for self harm
If you would like support for self harm, going to see your doctor (GP) is a good first step. It is natural to feel nervous speaking to someone about self harm, but remember that your doctor is there to help you and they should be able to advise you on what the next best steps to take are.
What will happen when I tell my doctor I self harm?
If you are opening up to your GP about self harm, they may ask you questions about your self harm, such as:
How you self harm?
Where you self harm?
When you started self harming?
What makes you want to self harm?
They may also ask to see your injuries so they can assess what treatment that you need if any.
Getting a referral
Your doctor may refer you to the Child and Adolescent Mental Health Services (CAMHS) if you are under the age of 18 or the Adult Mental Health Services (AMHS) if you are over. You could also be referred to the Primary Care Psychology Services or another suitable local counselling service. There may be a long waiting list so ask your GP if there is anything you can do to help yourself in the short term.
Depending on where you live, you may be referred to the HSE's psychology service which can be accessed through your GP. Ask your GP for more information.
Supports available for self harm
Jigsaw is a youth mental health service in some areas of the country for young people aged 12 to 25yrs. Your GP may suggest referral to this service if there is one in your area.
You may also be referred to counselling which is a type of talk therapy. This type of support involves talking to someone about your worries and concerns over a number of weeks. Your GP may recommend free or low cost counselling in your area.
SpunOut.ie
SpunOut.ie's text message support service is available 24 hours a day, 7 days a week. We provide in-the-moment anonymous support and problem solving when you need it most. We aim to connect every texter to a trained volunteer in less than five minutes to provide crisis help. They will listen to you and help you think more clearly, enabling you to know that you can take the next step to feeling better.
Text SPUNOUT to 50808 to begin. Standard SMS rates may apply.
Samaritans
Samaritans offer a confidential service where you can speak openly about issues you may be facing
Childline
Childline offers text message and instant messaging support. These services allow you to talk with a counsellor about anything and receive support or help with whatever is worrying you at the moment. Whatever is said on the instant messaging service is confidential – so it will stay between you and Childline.
Childline text and instant messaging services are available from 10am-4pm, and their phone line 1800 66 66 66 is 24 hours
Text 'Talk' to 50101 to talk to a trained counsellor by text message
Pieta House
Pieta House offers specialised treatment to clients who self harm, suffer from suicidal thoughts or have made multiple suicide attempts
Pieta House currently offers 24/7 support through SMS text messages, text 'Help' to 51444 to get started (standard text messaging rates apply)
You can also email them 24/7 by sending a message to [email protected]
Traveller Counselling Service
If you are a young Traveller and would like to speak to a counsellor who specifically works with the Travelling Community, the Traveller Counselling Service can support you. The service works from a culturally inclusive framework which respects Traveller culture, identity, values and norms and works from a perspective of culture centred counselling and psychotherapy. They offer counselling both in person and online.
Cognitive Behavioural Therapy
Cognitive behavioural therapy (CBT) is a very specific form of therapy that can be used to treat many types of mental health problems. Research shows that it is effective for a wide range of disorders, from anxiety to depression and self harm.
CBT is a combination of two schools of psychology: behavioural psychology and cognitive psychology. It works on the premise that our thoughts affect our behaviours and feelings, and that it is our thoughts that make us feel bad rather than our life circumstances or situations.
It can be used to treat a variety of conditions, including anxiety disorders (such as post traumatic stress disorder and OCD), eating disorders, phobias, depression and self harm.
Learn more about CBT
There are several different ways to reduce harm and find support for self harming. You may need to try a few different methods and supports until you find the one that works best for you. For information on self harm reduction and finding supports visit our Mental Health section.
Our work is supported by