What type of face mask should I wear?
Face masks are important to prevent the spread of COVID-19. Find out about the different types of face masks and when to wear one.
Written by spunout
News
Information about the latest news and opportunities.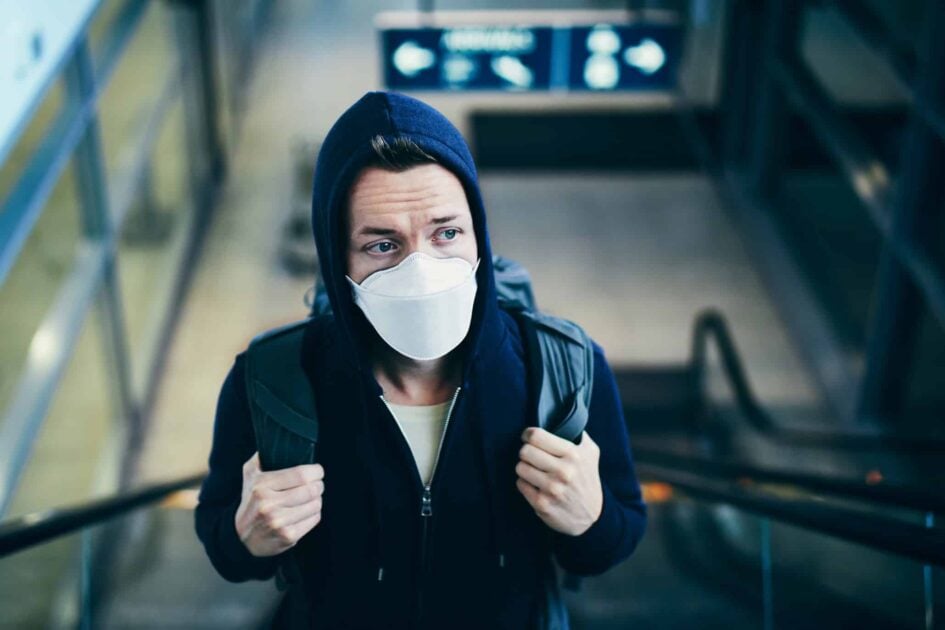 Face masks are being used to help stop the spread of COVID-19. When worn properly, face masks can be an effective tool to prevent someone with COVID-19 from infecting other people. This is especially important in enclosed spaces where it is harder to keep your distance from other people or where there is low ventilation (airflow).
In this article:
How do face masks prevent the spread of COVID-19?
COVID-19 is an airborne virus, which means it is mainly spread through droplets that come from your nose and mouth. These droplets can be released when you cough, sneeze, or talk loudly. The virus can also be spread by even smaller particles called aerosols.
By wearing a face mask that covers your nose and mouth, you can reduce the spread of these droplets and aerosols in the air.
Face masks are one tool in the fight against the spread of COVID-19. It is important to follow other public health advice in addition to wearing a mask. This includes getting vaccinated, washing your hands regularly, keeping a 2 metre distance from other people, and staying at home and getting tested if you are sick.
What type of face mask should I wear?
There are a few types of masks available, but most fall into one of three categories: medical masks, respirator masks, and cloth masks. The type of mask you choose to wear can depend on your health status and the type of activity you're doing.
Medical masks
A medical mask, sometimes known as a surgical mask, is a disposable mask with three layers. They are usually blue or white and will be labelled as 'medical' with a CE marking.
Medical masks provide more protection than cloth masks. They are effective at reducing exposure to large droplets. They are less effective at protecting against smaller airborne droplets (aerosols). This is because medical masks can often be loose-fitting and can allow aerosols to enter around the edges when breathing in.
Sometimes masks can be sold that look like medical masks, but they are in fact non-medical. Make sure to check for the 'medical' label and the CE mark so you can be sure the masks you are buying are the right kind.
Respirator masks (FFP2/FFP3)
Respirator masks or FFP (filtering face piece) are often called FFP2 or FFP3 masks. These are currently considered the most effective masks that offer the highest level of protection. They can protect against both large droplets and smaller aerosols. In order to be effective, the mask must fit well with no gaps around the face.
Cloth masks
Cloth masks are made with layers of fabric, and sometimes come with a disposable filter. Cloth masks can help to protect people around you if you have COVID-19. However, they are less likely to protect you from infection. When cloth masks are worn properly they can help to reduce the spread of COVID-19.
It's important to choose the right cloth mask with the right fit. When wearing cloth masks, make sure it:
Fits snugly on your face with no gaps at the side
Completely covers your nose and mouth
Has two or more layers of washable, breathable fabric
Avoid materials that make breathing difficult. It's also best to avoid masks with valves or vents, as these do not offer protection from COVID-19.
It is also very important to properly wash and store your cloth masks. The HSE advise washing a cloth mask at least every day by putting them in the washing machine or by hand.
Who should wear medical or respirator masks?
The National Public Health Emergency Team (NPHET) has advised people to wear a respirator mask if you are:
Over the age of 12 who have tested positive for COVID-19
Over the age of 12 who have symptoms of COVID-19
Over the age of 12 who are close contacts, for 10 days
At higher risk from COVID-19
Visiting a healthcare setting
Visiting someone who is at higher risk from COVID-19
When do rules around face masks end in Ireland?
Currently in Ireland, face masks are only required in healthcare settings. This means that you can make your own decision to continue wearing a face mask in schools, shops and on public transport if it makes you comfortable. Some private buildings may still ask you to wear a mask while in them, however this is not a legal requirement.
Do children have to wear face masks in Ireland?
Children are only required to wear a mask in healthcare settings.
What will happen if I refuse to wear a mask?
Other than in healthcare settings, there is no legal requirement to wear a mask. However, some places may still ask you to wear a mask while spending time in them, but this cannot be legally enforced.
How to use a face mask correctly
Here are some important points on safely wearing a face mask.
Things to do when putting on a face mask:
Wash your hands properly before putting the mask on
Practice using it so you get used to taking it on and off
Make sure the material you use is comfortable to wear
Cover your nose and mouth and make sure there are no gaps
Carry unused face coverings in a clean waterproof bag that you can close with a seal, for example, a ziplock bag
Carry a second similar type bag to put used face coverings in
Things to avoid:
Do not touch a face covering while wearing it – if you do, clean your hands properly.
Do not use a wet or stained face covering.
Do not share face coverings with friends or family.
Do not lower your face coverings to speak, eat, smoke or vape – if you need to uncover your nose or mouth take the face covering off and put it in the bag for used face coverings
Do not get rid of face coverings in public places.
How do I take off my face mask?
Take it off from your ears or the back of your head if it is tied – do not touch the front of the mask
Put in a sealable clean waterproof bag or wash immediately – put disposable masks in a bin straight away
Clean your hands properly
Should I wear disposable gloves?
It might be tempting to wear disposable gloves when you're outside or doing the shopping, but they do not offer much protection. This is because the virus can get on the gloves in the same way it gets on your hands, making it unsafe when you take them off.
Disposable gloves are worn in medical settings by healthcare workers. They do not work as well in our daily lives. Wearing disposable gloves can make you feel you are protected even when they are not being used safely.
The most effective way to protect yourself is to wash your hands regularly with soap and water, especially when you come in from outside or from the shops.
Can I wear a visor?
Visors or face shields are not considered proper face coverings and should not be used as a face covering. This is because they do not cover your nose and mouth, and so they do not offer protection.
Visors and face shields should only be worn by those who have an illness or another impairment that makes wearing a face mask difficult.
Need more information, advice or guidance?
We offer information, advice and guidance about the issues that matter to you. Our online Youth Information Chat service is for 16 to 25 year olds and is available Monday to Friday, 4pm to 8pm (excluding Bank Holidays).
Our work is supported by