Who is running for President of Ireland?
Who are the candidates, and what does the President do?
Written by Jack Eustace
News
Information about the latest news and opportunities.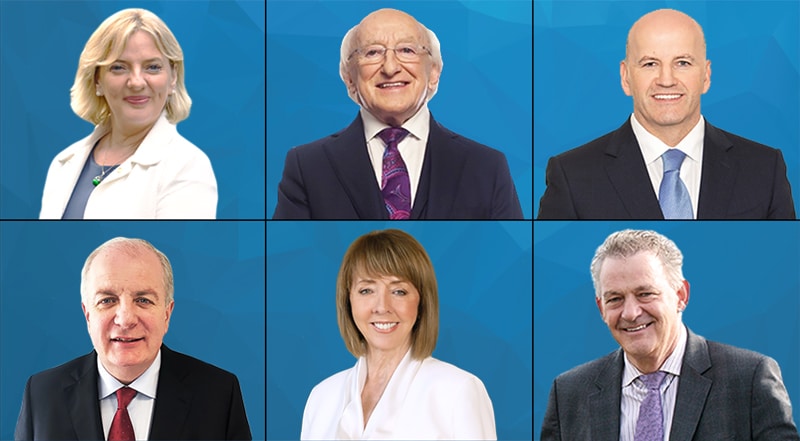 On Friday the 26th of October 2018, Ireland will go to the polls to elect our next President. Anyone who is an Irish citizen aged 18 or over and who is registered to vote will be able to have their say. But why is the presidency important, and who are the candidates looking to fill the country's highest office?
What does the President do?
The Presidency is mostly a symbolic position, which acts as the official face of Ireland to the world. Generally, the President is there to represent the people of Ireland and is independent of ordinary politics. Each President serves a seven-year-term, which can be extended to fourteen years if the current President is re-elected.
Reserve powers
However, the President does have some important powers, known as "reserve powers", which they are expected to use only rarely. For instance, the President signs all bills passed by the Government to turn them into law. However, if the President thinks that a suggested law might go against the Constitution, they can ask the Supreme Court to examine it and, if it's found to be unconstitutional, strike it down.
If the Taoiseach wants to call a General Election, they must first travel to Áras an Uachtaráin (the President's home in Phoenix Park, Dublin) to ask the President's permission. Although the President is usually required to agree, they can refuse the request if the Taoiseach does not have the support of a majority of TDs. In that case, the Taoiseach must resign and a new Government will be appointed without an election. This power is an important one, but has not yet been used by any President.
Who gets to run for President?
There are three ways a person can run for President, so long as they are an Irish citizen over the age of 35.
Local council nomination
Most of the candidates this time were nominated by local councils. You need the support of at least four county or city councils to run in the election.
Nomination by TDs and Senators
A second route for potential candidates is to be nominated by at least 20 members of either the Dáil or Seanad. Historically, this has been the most common route for presidential candidates.
Presidential self-nomination
Finally, a sitting President who has only served one term is able to nominate themselves to run again.
Irish Presidential Elections 2018
There are six candidates running in the 2018 Presidential elections. Four of these candidates have been nominated by local councils (Sean Gallagher, Joan Freeman, Gavin Duffy and Peter Casey). One candidate, Liadh Ní Riada, was supported by Sinn Féin TDs and Senators. Our current President, Michael D Higgins, has nominated himself for a second term.
President Michael D. Higgins
Michael D. Higgins was first elected President in 2011 and is now standing for a second term. A former Labour Party TD, Higgins has been a longtime supporter of progressive causes and was one of only 11 members of Dáil Éireann to vote against restricting abortion access through the Eighth Amendment. As Minister for Culture in the 1990s, Higgins was responsible for creating TG4 and re-starting the Irish Film Board.
As President, he made the first official visit by an Irish head of state to the United Kingdom and has spoken out against racism, homophobia and poverty. He has also received some criticism around the President's budget and for his comments praising the late Cuban leader Fidel Castro.
Seán Gallagher
Seán Gallagher is a businessperson who previously ran for President in 2011, coming second to Michael D Higgins. Gallagher founded the company Smarthomes Ltd. but is probably best known for appearing on the RTÉ version of popular business programme Dragon's Den as one of the potential investors. He has also held jobs as a motivational speaker, business consultant and youth worker.
Since 2011 Gallagher has been politically independent. Before then he was a member of Fianna Fáil, and faced controversy during his last presidential run over the kind of fundraising activities he may have been involved in for the party.
Liadh Ní Riada MEP
Liadh Ní Riada is a Sinn Féin politician who has been a Member of the European Parliament representing the South of Ireland since 2014. Ní Riada lives in the Gaeltacht and has been a lifelong advocate for the Irish language. Before entering politics, she worked as a TV producer and documentary filmmaker with TG4.
Ní Riada ran in the European elections on a platform of opposing austerity and supporting rural areas. As an MEP she has been particularly active on fishing rights, opposing defence spending and pushing for a more progressive EU budget.
Senator Joan Freeman
Joan Freeman is a psychologist and founder of Pieta House, a charity that provides free mental health services to more than 30,000 people each year. She is also a founder of the annual Darkness into Light fundraising walk. Since 2016, Freeman has been an independent member of the Seanad where she chairs the Committee on the Future of Mental Healthcare.
Senator Freeman's plans for the presidency include a stronger focus on mental health and wellbeing. She has faced some questions about her campaign being part-funded by a loan from US businessman Des Walsh.
Gavin Duffy
Gavin Duffy is a businessperson and political consultant. He is well known for appearing on every season of RTÉ's Dragon's Den as an investor. Though he has never before run for political office, Duffy has given paid communications advice to politicians from both the Fianna Fáil and Fine Gael parties. He has also worked as a radio host and TV presenter.
In business, Duffy founded one of Ireland's largest radio stations, LMFM, and is the Chairperson of Bizworld Ireland, a charity which teaches business skills to children, and was previously Chair of the Hunting Association of Ireland.
Peter Casey
Peter Casey is a businessperson who, like fellow candidates Sean Gallagher and Gavin Duffy, is best known for appearing as an investor on RTÉ's Dragon's Den. He is the only candidate born in Northern Ireland and is the founder of Claddagh Resources, a recruitment company active in both America and Europe.
Casey has courted controversy in his run for the presidency by saying he opposes Irish neutrality and supports the country reconsidering its membership of the European Union.
Our work is supported by