My daily mantra for dealing with racism
Geyaamalika details the steps she has taken to build resilience against the racism she has encountered.
Written by Geyaamalika
Voices - Advice
Young people share advice based on their experiences.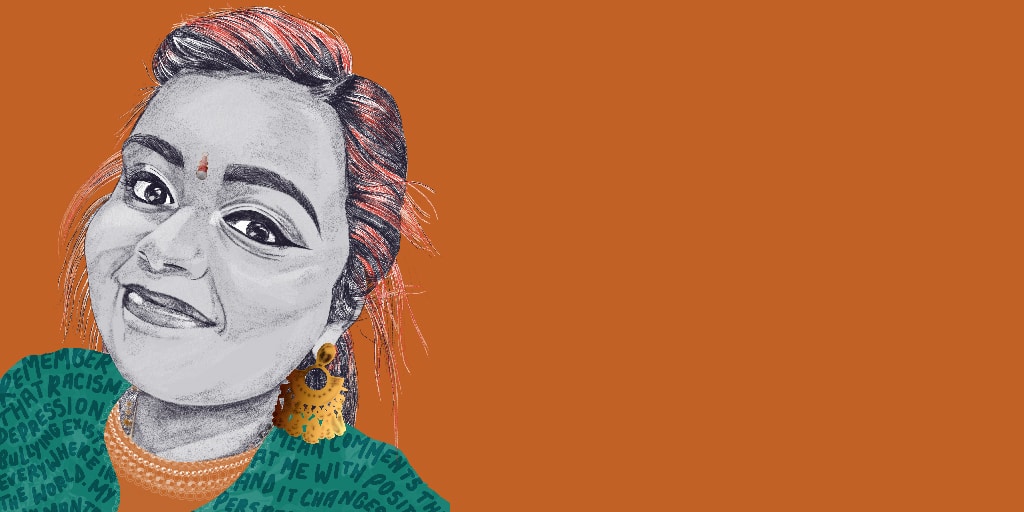 My name is Geyamalika, and I'm a 22-year-old Hindu Telugu Mauritian girl that has been living in Ireland for the past 16 years. To reach where I am today took a lot of courage and patience. Like many others in this world, I too faced great challenges such as battles with mental health, bullying, depression and racism.
As a girl that isn't Irish born, I always would get mean comments thrown at me during my primary and secondary school years. I would be called horrible names such as fat, ugly, and have mean things said to me such as "go back to your country no one likes you."
Dealing with racism growing up
I would always get tormented on my accent as well as I come from Mauritius as had a mixture of a French and Indian accent. Even though I'm not from India I do have ancestral roots and celebrate the same culture as them. We are all equal in this world no matter what our ethnicity is and the colour of our skin.
Being called these names and having horrible things said to me over the years caused me to develop depression leading to one of the darkest years for me. I used to think so negatively and low of myself. In primary and secondary school, I did manage to gain a few friends that were my rock and pillars and that kept me striving for who I am today.
Building resilience against racism
Being bullied and suffering from depression has made me become a stronger person. It has made me learn to fight for myself and for what I believe in. When it comes to racism, I believe it exists everywhere in the world. One of the tools that I have learned is resilience to the hurtful things being thrown at me. One of the best things I would say is not believing what the other is throwing at you. When I tend to believe what they say, that's when it starts to feed on my mind and thoughts and I start to think negatively about myself.
My biggest life hack, or mantra as some people would say, is anytime someone throws an insult or racist comment at me, I replace each of the insults with a positive thought. This changes my perspective of myself and the world out there because at times I think that because one person has insulted me, then everyone is bad but that isn't the case.
Strength through pride in my culture
As a non-Irish born female, I have many experiences of racial comments being thrown at me. Even now that I'm an adult I still get racial comments thrown at me from time to time, but I decided to ignore it and just move on with my day.
I respect my culture a lot and I attend cultural events wearing the proper and formal attire, and yes, sometimes I do get laughed at on the streets coming out of an event, but it is something that I'm proud of so why should I be disappointed.
One thing that I'm glad that I achieved in Ireland is gaining a great support system. I have amazing friends from secondary school that I can still count on and know that they have my back when I need it.
Yes, I would definitely agree and say that when I first came to Ireland growing up as a Hindu girl was very difficult as I didn't have the coping strategies to deal with situations. Now I feel that it is improving as there is a huge diversity in Ireland of many different cultures and their integration within society.
Changing my perspective
I feel fortunate to be sharing this little snippet of my life with you. Remember that racism, depression and bullying exist everywhere in the world. It is just how we can cope and deal with it and not take it to heart that will allow us to progress in life and live happily.
My daily mantra is to always replace these negative words and mean comments thrown at me with positive ones and it changes my whole perspective. It changes how I see and perceive other people. At the end of the day, we are not all perfect and make mistakes and I find it's best to move on and forgive.
This is part of the Fresh Éire collection of lived experience pieces from young people about living in Ireland, while experiencing racism and navigating identity and belonging.
Feeling overwhelmed and want to talk to someone?
Get anonymous support 24/7 with our text message support service
Connect with a trained volunteer who will listen to you, and help you to move forward feeling better
Free-text SPUNOUT to 50808 to begin
If you are a customer of the 48 or An Post network or cannot get through using the '50808' short code please text HELLO to 086 1800 280 (standard message rates may apply). Some smaller networks do not support short codes like '50808'.
Our work is supported by