Taking an at-home free STI self test is easier than you'd expect
D'Andra shares her experience taking an at-home STI test, a service available to anyone over 17 in Ireland.
Written by D'Andra Andrews
Voices - Experiences
Young people share their personal experiences.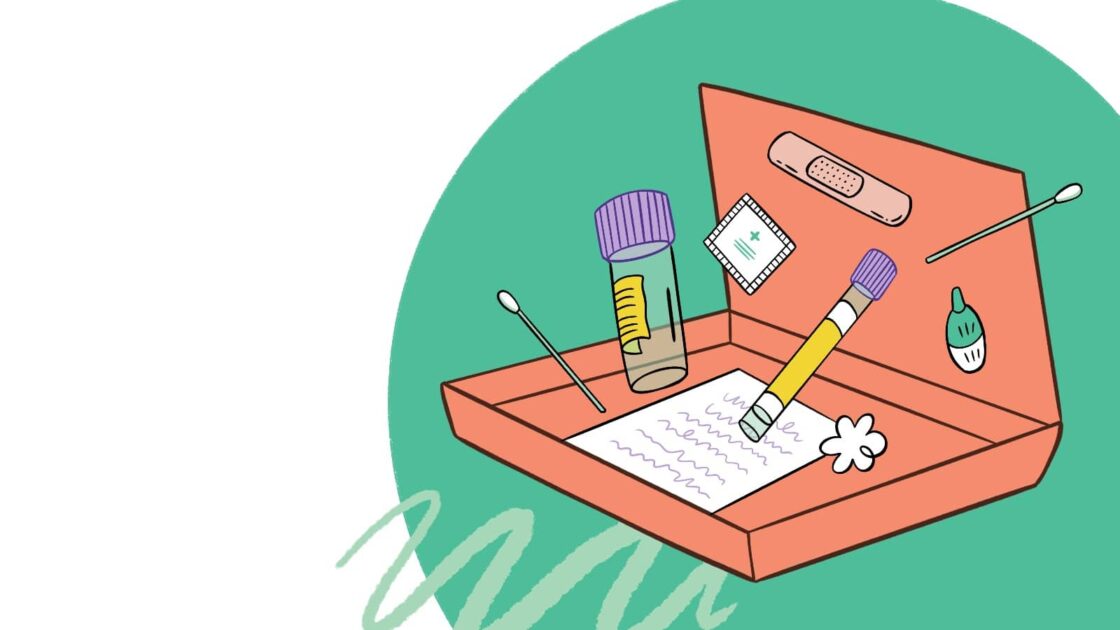 CW: This article includes mention of blood and needles.
My decision to order an at-home STI test was completely random and by chance. I was aimlessly scrolling through Instagram when I saw an ad for the free at-home STI test offered by SH:24, a free, online sexual health service.
Prior to seeing this ad, I had no idea that it was possible to do STI tests at home in Ireland. I had always assumed that it would have to be done in a hospital or a clinic and that it might cost me an arm and a leg to get it done. I decided to order a free at-home test, as it wouldn't hurt to check, especially knowing that some STIs can lie dormant and be asymptomatic.
Easy and quick
I followed the link to the SH:24 website to order the self-test kit. It was fairly easy and quick to do. When ordering the kit, I was first asked for my date of birth (you must be 17 or older), my e-mail address, and whether I was showing any symptoms of a sexually transmitted disease. If I had of selected yes to symptoms, the advice would have been to go to a clinic.
Then I was asked about my gender identity, what kind of kit I'd need, such as a swab for a vagina or a urine test for a penis, and with whom I have sex. These questions are asked in order to offer the right kind of kit.
Following that, there were some questions about my contact details, my situation, and my background. Currently, not all counties have access to the testing. A confirmation code was then sent out to my phone to confirm the order. About 2-3 hours later, I received a text message to notify me that my kit had been dispatched, and could take up to 15 days to be delivered. My only worry at this stage was that the packaging may not be very discrete and my mother would get to the mailbox before me and ask me questions she's not really ready to hear the answers to.
Fortunately, my worries were eased as I did in fact get to the mailbox before my mother. However, even if I hadn't, it would have been no problem as the packaging was very discrete.
Kit contents
The kit included instructions for how to test myself, a freepost envelope to send off the samples, a vaginal swab, a disinfectant wipe, a few lancets, a small tube for blood collection which contained an anti-coagulant solution, and a couple of plasters.
The kit I received tested for HIV, chlamydia (genital), gonorrhoea (genital), and syphilis (EIA). Carrying out the tests was quite easy, especially with the clear instructions that were given. For the vaginal swab, I had to sanitise my hands, insert the swab and rub it against the vaginal wall, then pop the swab into its designated container.
Collecting the blood sample was a bit more tricky as it involved pricking my own finger. On the instruction cards, there was a link to a video to show you how to properly collect a blood sample. The video was easy to follow and straightforward.
In the video, they recommended warming up my hand before collecting the sample so that it would be easier to get the desired amount. I ran my hand under warm water, but as I was collecting the blood, I realised I hadn't warmed up enough.
As such, I had to prick two of my fingers to get enough blood to fill the small tube. The finger tips that I had pricked were a little sore for a couple days after, but other than that there were no other issues with testing. It took me about 20 minutes to complete all of the testing but most of that time was spent squeezing blood out of my fingers. If I had properly warmed up my hand I'm sure it would have taken a lot less time.
After that I packed all the samples into the envelope, and dropped it into the nearest post-box on my way to college the next morning. A couple days later I received a message to notify me that they had received my kit and it would be processed within 72 hours.
Receiving results
I got my results the following morning via text message but SH:24 may also call to share the results. I tested negative and required no more support. SH:24 does provide support in the event of a positive result(s). Should further support be required, a reply can be sent to any of the text messages received from them and a specialist sexual health clinician should respond as soon as possible.
It is a 24hr service, so they can be contacted at any time. On the SH:24 website and sexualwellbeing.ie, there are many other supports and helpful information about all things sexual health and wellbeing, such as listings of all sexual health clinics, where you can get free and confidential support in Ireland.
This piece is part of 'Under the Sheets', the National Action Panel's Voices campaign to raise awareness of the importance of unbiased fact-based inclusive sex education for all young people. Access more information and supports for sexual health.
Illustrations by Ezra Pinkerton.
Feeling overwhelmed and want to talk to someone?
Get anonymous support 24/7 with our text message support service
Connect with a trained volunteer who will listen to you, and help you to move forward feeling better
Free-text SPUNOUT to 50808 to begin
If you are a customer of the 48 or An Post network or cannot get through using the '50808' short code please text HELLO to 086 1800 280 (standard message rates may apply). Some smaller networks do not support short codes like '50808'.
Our work is supported by