Mental health supports for college students in Ireland
There are a range of services across Ireland to help support the mental health of college students
Written by spunout
Factsheet
Fact checked by experts and reviewed by young people.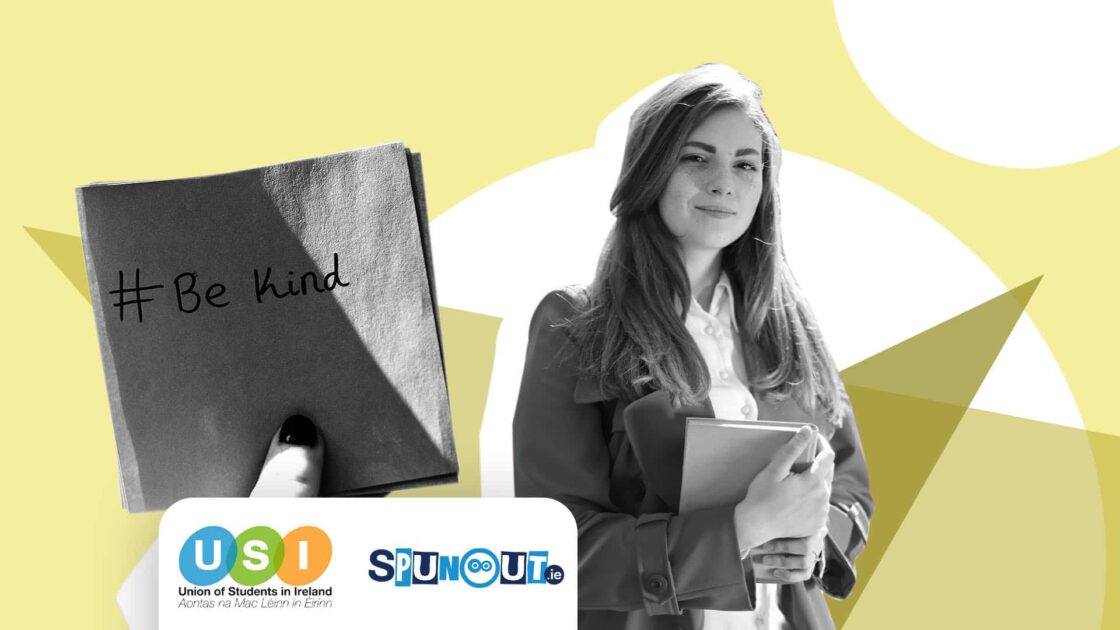 This article was developed in partnership with the Union of Students in Ireland (USI).
Starting college can be a new and exciting experience but it can also come with difficulties. Leaving secondary school or going into a new course where you do not know anyone can be a daunting experience and it can leave you feeling lonely and isolated. What is important to remember is that if you do experience a mental health difficulty during college, there are always mental health supports to help and that you are not alone.
Our mental health is something that is always with us, but many people only associate mental health with experiencing a mental health difficulty. As with physical health, our mental health needs continuous care and attention to help keep it healthy. The idea of positive mental health is not that a person will never experience a mental health difficulty, but that we can all make choices to help promote overall health and wellbeing that can support us throughout our lives.
Getting mental health support in college
If you would like some support with your mental health, or just need someone to talk to, find out about services available to you below.
If you access multiple services as part of your mental health care, it is recommended that you inform these services of one another so that they can work together to support you. This is called multidisciplinary, joined up or wrap-around care. Speak to your service provider in your college to discuss the best way to make this happen.
Seeing a college counsellor
If you experience a mental health difficulty while at college or if you would like to talk to someone about a past or current experience that may be negatively affecting your life, there will be supports available at your college to help you. Most of the colleges in Ireland offer free counselling to their students and provide online resources to help support students' mental health wellbeing also.
Due to the COVID-19 pandemic, your college may now be providing their counselling services online instead of in person, but even with the restrictions they will still work to help provide you the support you need. Speaking to a counsellor online can be just as effective as speaking to someone in person, so if you are having a hard time, reach out to your college as soon as possible to see if they can help you. You can read our article on mental health supports available at third level to find out more about the supports that your college may offer. College counsellors are part of the academic environment, so they will have specific knowledge on further supports available to you if your academic progress is being negatively impacted.
College Disability Service
If you have a diagnosed mental health condition, it is recommended that you get in touch with the college disability service. They provide a range of supports that will support your time in college. Find out more about college supports for students with disabilities.
Student Health Centre
Most colleges have an on-campus or close-to campus medical service. These usually provide no cost or low cost access to doctors and other health professionals. You will be able to find more information about your student health centre on your college's website. If you are feeling worried about speaking to a GP (doctor) about your mental health, you can find more advice on how to do so in our article about going to see your GP for a mental health difficulty.
Helplines for students
If you want in-the moment support, get in touch with a helpline:
50808
50808 is a first of its kind for Ireland. It is a free 24/7 text service, providing everything from a calming chat to immediate support for people going through a mental health or emotional crisis – big or small.
From breakups or bullying, to anxiety, depression and suicidal feelings, their Crisis Volunteers are available 24/7 for anonymous text conversations. Their aim is to provide immediate support in the short term and connect people to resources that will help them in the future.
Free-text SPUNOUT to 50808 to begin.
NiteLine
NiteLine is a listening, support and information service run by and for the students of:
Dublin Business School (DBS)
Maynooth University
National College of Art and Design (NCAD)
National College of Ireland (NCI)
Royal College of Surgeons Ireland (RCSI)
Trinity College Dublin (TCD)
University College Dublin (UCD).
Their volunteers go through a rigorous screening and training programme based on the Samaritans model and run with the help of the college counselling services.
Their services include:
Available every night of college term
Lines open 9pm – 2:30am
Freephone: 1800 793 793
Samaritans
Samaritans provides confidential non-judgemental support, 24 hours a day for people experiencing feelings of distress or despair, including those which could lead to suicide.
Call for free on 116 123.
Pieta House
Pieta House provides free therapy to those engaging in self-harm, with suicidal thoughts, or bereaved by suicide.
Call Freephone on 1800 247 247
TEXT HELP to 51444 (Standard message rates apply)
Visit Pieta.ie for more information
Free counselling services for young people
If you would like to see a counsellor outside of your college campus, these services are available:
Jigsaw
Jigsaw is a national centre for youth mental health. They focus on intervening early to support the mental health of those aged 12 to 25 years of age. Jigsaw operates 13 services in communities across Ireland. They offer a place you can visit for free with confidential support from trained mental health professionals.
The services Jigsaw offer include:
One to one sessions for young people aged 12-25
Phone helpline open Monday to Friday 1pm- 5pm, call 1800 544 729
Text helpline open Monday to Friday, 9am to 5pm, text "call me" with your preferred day and time for a call to 086 180 3880
Email [email protected] open Monday to Friday, 9am to 5pm, you can email anytime and clinicians will be responding from
Visit Jigsaw.ie for more information
Turn2me
Turn2Me are a community of fully qualified and accredited mental health professionals that work online to provide a high quality, safe, anonymous and confidential space for you to gain support – wherever you are, whenever you need them, for whatever you are going through.
The services Turn2me offer include:
Up to six free counselling sessions for adults over 18 online via instant chat/messaging, video or email
Eight video counselling sessions for young people aged 12-17
Eight video counselling sessions for couples
They also offer support groups online and peer support online
Visit Turn2Me.ie for more information
Other support services
Here are some other organisations who may be able to offer support based on your situation:
BeLonG To (for LGBTI+ young people)
BeLonG To youth services is the national organisation supporting lesbian, gay, bisexual, transgender, and intersex (LGBTI+) young people between 14 and 23 years in Ireland.
Services include:
support groups for young people and parents
informal one-on-one chat service
professional counselling
drugs and alcohol support service
The services are confidential, free-of-charge and welcoming to all young people. Visit Belongto.org for more information.
Women's Aid
Women's Aid is a domestic violence service for women and children in Ireland. They offer advice and practical support for women and children who are being physically, emotionally and sexually abused in their own homes.
24/7 Freephone helpline, call 1800 341 900
Visit Womensaid.ie for more information
Men's Aid
Men's Aid specialise in supporting men experiencing domestic violence, whether this is ongoing or in a past relationship. They provide specialist counselling, practical information and legal options, while respecting and supporting you in all your decisions should you decide to leave or stay in the relationship.
Call their national helpline on 01-5543811
Visit Mensaid.ie for more information
Dublin Rape Crisis Centre
Dublin Rape Crisis Centre is a national organisation offering a wide range of services to any person affected by rape, sexual assault, sexual harassment or childhood sexual abuse.
Their services include:
National 24-hour Helpline: 1 800 77 8888
Webchat support
One-to-one counselling
Court accompaniment
For those who are deaf or hard of hearing, they provide a text service operating Monday to Friday from 8am to 6:30pm, at 086-8238443
Visit drcc.ie for more information
TENI
TENI is a non-profit organisation supporting the trans community in Ireland. TENI seeks to improve the situation and advance the rights and equality of trans people and their families. Visit Teni.ie to find out more.
Mental Health Supports in Northern Ireland
Shout
Shout is the UK's first 24/7 text service, free on all major mobile networks, for anyone in crisis anytime, anywhere. It's a place to go if you're struggling to cope and you need immediate help.
Text Shout to 85258 to begin.
Mind
Mind is a mental health organisation that offers emergency advice, freephone helplines and mental health resources to those experiencing mental health difficulty. Find out more about Mind.
Our work is supported by