Self care activities you can do with a friend
Practicing self care activities with a friend might encourage you to prioritise your self care
Written by spunout
Factsheet
Fact checked by experts and reviewed by young people.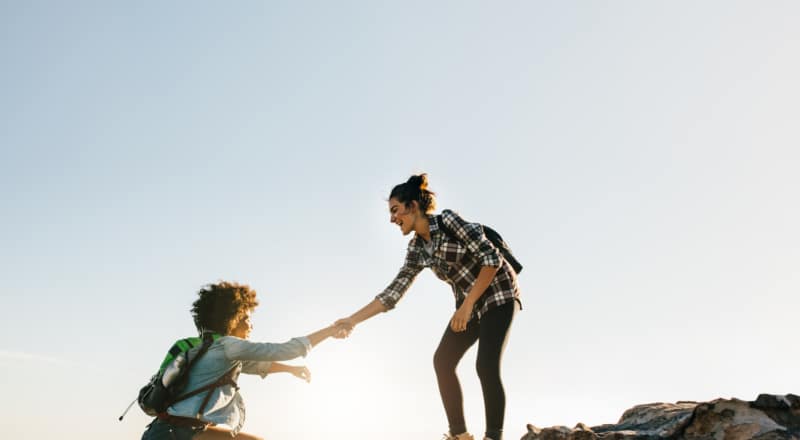 Practicing self care is important for your mental and physical health. It's also easy to overlook when you're busy. Some people might like to spend some time alone to unwind from a busy day, whereas others may enjoy the company of a friend. Practicing self care activities with a friend might motivate you to prioritise your self care and you might find some of these activities more enjoyable with company.
Doing self care with a friend
Here are some self care ideas that you can do with a friend, or even with a group of friends:
Outdoor activities
Whether it's sea swimming, hiking, birdwatching, whatever your choice of outdoor activity may be it might be more enjoyable to do it with a friend. See our article 'Outdoor activities to help you get exercise' for some ideas on what you could do.
Classes
Signing up to a class with a friend might be a great opportunity to learn something new while enjoying yourselves. Depending on where you live, you may be able to find classes at college, your community centre or in your local area.
Meditation is a valuable skill and you might like to find a class with a friend to help guide you in developing the skills. Yoga also helps relax the mind while being really good for your physical health. Some people may also enjoy a more vigorous exercise class like pilates or spinning.
Regardless of the class you choose to do, having a friend there might make that first day a bit less daunting, and also encourage you to go each week.
Make time for each other
Try to regularly make time with your friend to sit down and talk about what has been going on in your lives. Talking about how you are feeling and what is happening in your life is beneficial to your mental health and is a great way to connect with people. Listening to what is happening in your friends' lives is also important to building strong friendships together.
Get creative
You don't need to sign up to a class to get creative. Share what you have been working on, whether it's a piece of poetry, writing, art, etc, with each other or work on something together. Whatever you choose to do doesn't have to be perfect, it's just for fun. Even if you do different things, you and a friend could show each other your work and give and get constructive feedback. You could also collaborate – if you like drawing and your friend plays music, you could design their album cover. It is really down to what you both enjoy.
Go out for a meal or cook together
Eating healthily is an important part of self care. You and a friend could get together and cook some healthy meals and share some tips and recipes. You could make it a regular thing and meet once or twice a week to cook together. If there's a special occasion coming up, you could arrange to go out for a meal together to celebrate. This would also give you and your friend an activity to look forward to together.
Respect each other's limits
An important part of self care is knowing your limits and giving yourself a break when you need to. Respect a friend's decision to take some time to themselves to recharge on their own and let them know when you need to take some time to yourself also. What is important is creating the balance between spending time together and having time to yourself.
Here are some opinion pieces you might also like:
Our work is supported by