Ahead of the launch of the X-HALE 2019 short films made by youth groups across the country on World No Tobacco Day (May 31st), the Irish Cancer Society are inviting everyone to join in the fun and capture your motivation for living a smoke free life by taking part in their photography competition.
Quitting smoking in 2019
Tobacco is the leading cause of preventable death across the world. In Ireland, around 6,000 people die each year from smoking related illnesses. Smoking affects nearly every organ in the body, and when you smoke a cigarette, you are inhaling toxic chemicals along with addictive nicotine.
Quitting smoking is not only better for your health, but it can also improve your mental health, save you money, improve opportunities, and contribute to sustainable development on the planet.
What does a Smoke free life mean to you?
This competition invites you to take a photo and write a caption to accompany the photo, illustrating what it means to you to live a smoke free life. Maybe you are someone that has made a commitment to stay smoke free, or maybe this is a chance for you to reflect on your reasons to quit.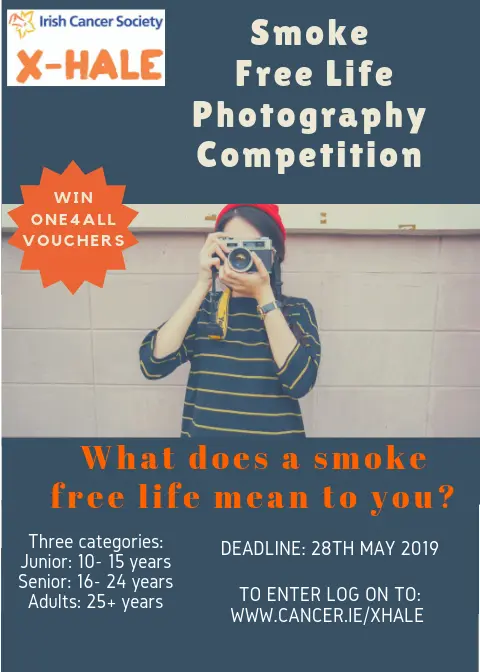 Who can enter the Smoke Free Life photography competition 2019?
Age categories
There are 3 age categories for this competition:
10-15 years
16-24 years
25+ years
You can submit your entry as an individual or as part of a group.
How to enter
Take a photo illustrating what a tobacco free life means to you (JPEG or TIFF)
Write a caption to go with your photograph
Fill out your details on the entry form and submit your photo/caption by 12pm on 28 May 2019
Late submissions will not be accepted. Only one submission per individual or group is allowed.
Some things to consider when planning your entry
The photo must not feature cigarettes, e-cigarettes, or cigarette packaging
It must be an original photograph, owned by you, and not entered into any other photography competitions.
You must have permission from anyone in the photograph.
Read more about the details and rules for the competition.
The judging
The photographs will be reviewed by the Irish cancer Society Cancer Prevention team and a winner in each age category will be decided.
All entries will be posted on the Irish Cancer Society's X-Hale Facebook Page for a public vote on 29 May
Public voting will close 29 May @ 12am
The photograph with the most likes will be the People's Choice winner.
All four winners will be announced on the Irish Cancer Society Facebook page on May30th ahead of the launch of the X-HALE 2019 short films made by youth groups across the country on May 31st World No Tobacco Day.
The prizes
The winner in each category will receive a €50 One4All voucher.
The winning photographs from each category will also be displayed at the X-HALE Youth Awards in July.