The mental health impact of being the 'minority of minorities'
Akeno (Goose) Barret discusses how with the support of their friends, they were able to feel valued as a person and love their identity.
Written by Amy O'Brien
Voices - Experiences
Young people share their personal experiences.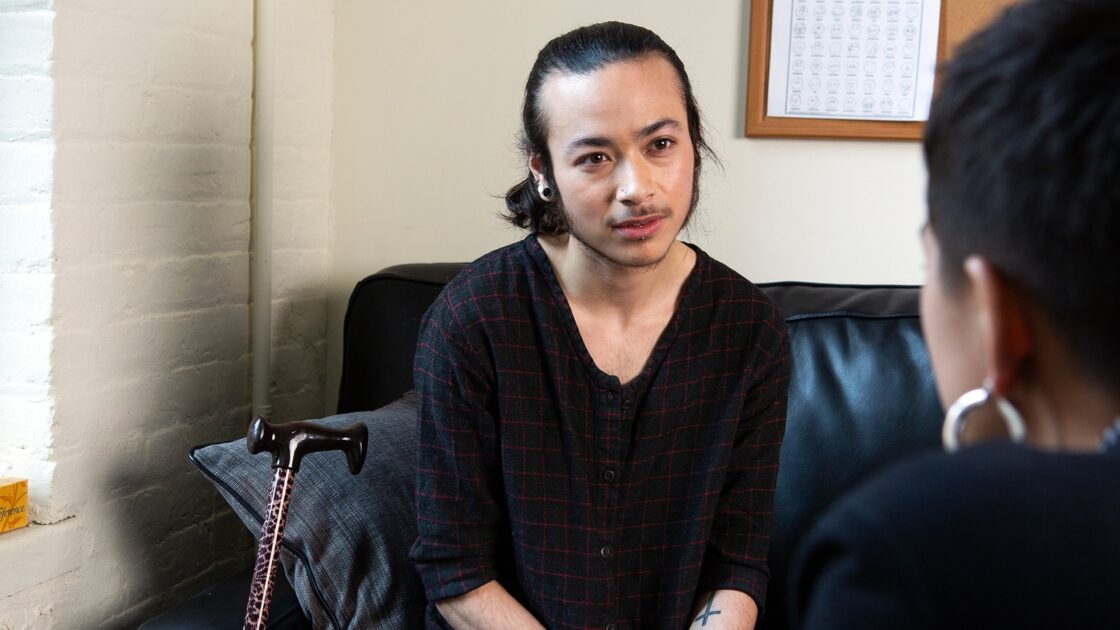 "Being the 'minority of minorities' has most definitely impacted my mental health."
Akeno (Goose) Barret is 18 and uses he/they pronouns. He is a first year University College Cork (UCC) student and the disability officer for the ISSU (Irish Second Level Students Union).
He spoke to Amy O'Brien about his mental health journey.
Bullying caused anxiety
"I was bullied when I was a junior student at secondary school for being Asian and an immigrant. This took a huge toll on how I perceived myself and just fuelled my insecurity and I started to get anxious all the time.
"I was outed at school too, which added more to the social pressure and this unnecessary burden of trying to conform to some unrealistic standards I set for myself. Isolation and anxiety were two feelings I struggled heavily with until I reached the senior cycle. Those were really dark times if you catch my drift."
'We do not live single issue lives'
Holding marginalised identities can have a huge impact on your mental health, Akeno has honestly shared his experiences of this as a trans, queer, Asian immigrant. This is because although your intersecting social identity does not define you, it does affect how you move through this world built by predominantly cis, white, able-bodied men. 
Akeno is not alone, in the LGBTI+ community, half have experienced depression and three in five have experienced anxiety, according to Stonewall. One in eight LGBTI+ people aged 18-24 have attempted suicide. Mentalhealth.org reports that in BAME (Black, Asian and Minority Ethnic) communities in the UK, black men are more likely to have experienced a psychotic disorder in the last year than white men, while older South Asian women are an at-risk group for suicide.
Different groups face different discrimination such as racism, sexism, ableism and homophobia. Being exposed to this treatment is incredibly harmful to self-worth as individuals and well-being. On top of that, many people like Akeno identify with more than one minority group and experience the impact of layers of stereotypes, social pressure, aggression and mental health problems. As the black lesbian feminist writer, Audre Lorde said, "There is no (such) thing as a single-issue struggle because we do not live single-issue lives."
Mental health journey
Akeno shared their mental health journey and how he felt as a 16, 17 and finally 18-year-old.
Piecing together identity
"When I was about 16, I finally started to piece together who I was as a person. I came out to my parents, I went on a big self-discovery journey. For the next year, my mental health dipped. Possibly lower than it had ever been before. From feelings of guilt and now a lot more noticeable anxiety symptoms, I was afraid to be myself. I honestly felt like a disappointment in every area, from academics to home life, to everything. To put it simply, I was not mentally okay for a lot of my teenage years."
Friendship helps me see my value
"I had a 'eureka' moment when I turned 17, which started my healing journey. I was in a position where I had a lot of good friends, I was content with how I presented myself to people, things were looking well. It took a good friendship to really make me feel valued as a person. I stopped blaming myself for being trans, for being queer, for being 'weird' etc."
Reclaiming what was stolen
"Fast forward to now, recently turned 18, I am a different person to when I discovered what mental health is at the age of 13. Although I still struggle with anxiety and gender dysphoria, I am finally in control of my own narrative. I reclaimed a lot of what was stolen from me; my sense of humour, my smile, my interests…
"Really cliche but being able to have chats with friends about how you're struggling helped me more than I can probably imagine. I am a VERY proud individual and opening up was hard at the start but in the right company, everything flows, I also healed through helping others, seeing myself in others, it was therapeutic in a way."
Different strokes for different folks
We all have things in common and things that make us unique, how we look after our minds is similar. You might find that like me, making lists and being with people you trust is helpful but you might also need practices that don't suit me, like playing candy crush and playing camogie. Akeno explained that what he does is actually quite contradictory to most self-help books so find what works for you, taking advice from different places and trying different things!
Organised chaos
"What I currently do to manage my mental health is a bit of chaos now that I think about it. I either spend time surrounded by my ridiculously large friends group and just jam it out screaming sea shanties and 70s songs in Fitz Park or being in bed listening to Arctic Monkeys and reading a book about behavioural science or something.
"There is really no 'right' way when I'm managing my well being. Being a natural ambivert, sometimes doing something stupid and having fun in public chills me out, other times I hate being in public. It really has no pattern. A lot of 'self-help' style techniques don't work for me either and my life can definitely be described as 'organised chaos' but as the Beatles once said, 'I get by with a little help from my friends'.
Feeling overwhelmed and want to talk to someone?
Get anonymous support 24/7 with our text message support service
Connect with a trained volunteer who will listen to you, and help you to move forward feeling better
Free-text SPUNOUT to 50808 to begin
If you are a customer of the 48 or An Post network or cannot get through using the '50808' short code please text HELLO to 086 1800 280 (standard message rates may apply). Some smaller networks do not support short codes like '50808'.
Need more information, advice or guidance?
We offer information, advice and guidance about the issues that matter to you. Our online Youth Information Chat service is for 16 to 25 year olds and is available Monday to Friday, 4pm to 8pm (excluding Bank Holidays).
Our work is supported by